Puerto Rico, island of lost dreams: People are leaving the debt-hit territory in droves as near neighbour Cuba's star rises
Puerto Rico is billions of dollars in debt and its people are leaving in droves. But America is turning its back on the territory, focusing instead on its near neighbour Cuba, whose electorate want closer ties. David Usborne reports from San Juan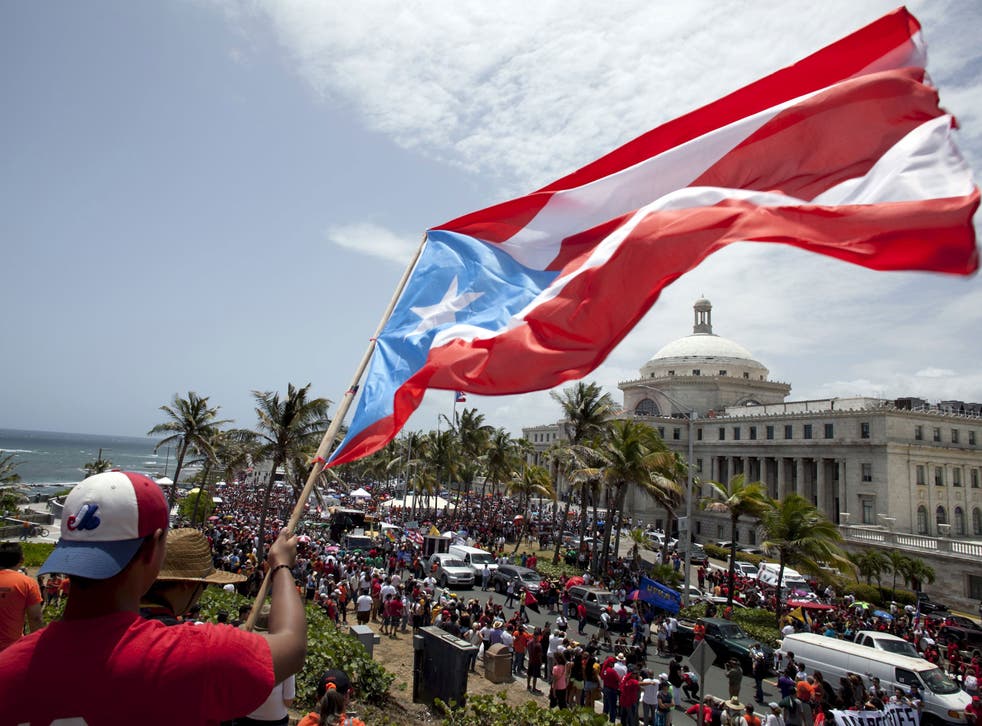 The posh boutiques that once lined cobbled Calle Fortaleza are gone now, replaced by T-shirt and souvenir shops grasping for dollars from passengers swarming down the gangways of the Carnival cruise ships that dock here most mornings. Bars advertise "happy hours" lasting from noon till night, while old men pushing tatty ice-cream carts go mostly unnoticed.
Old San Juan, the colonial gem of Puerto Rico's capital San Juan, is tired but clinging on. Elsewhere on the island, the story is graver. Exhausted by a recession that has lasted for most of the past eight years and by talk of a possible default on government debt, Puerto Ricans are leaving in droves. Many who stay are jobless; doctors who haven't been paid in months are downing their stethoscopes.
The pain that is Puerto Rico's – and could soon be Wall Street's if the debt crisis isn't resolved – is poignant. Some blame its step-child relationship with America, neither a fully-fledged US state nor an independent nation. It hardly helps that Washington barely seems to care while at the same time it is suddenly lavishing attention on Cuba, its near neighbour to the west. The island has lost 20 per cent of its jobs since 2006. The unemployment rate stands at over 13 per cent. It's no wonder people want to get out.


"People who graduate from the university go straight to the airport and never come back," lamented Christopher Torres, 25, an activist studying computer engineering at the University of Puerto Rico, who recently led a student protest against proposed spending cuts. Some 144,000 Puerto Ricans decamped for the US last year and a higher number may depart in 2015. A White House official privately described it as the biggest population displacement ever seen outside of a war.
Among those packing their bags are disenchanted doctors. Victor Ramos, the president of the Physicians and Surgeons Association, noted in an interview that there are now only two paediatric neurosurgeons left on the island and also only two paediatric cardiac specialists. Of those one is 90 years old. "Last year we calculate that 361 doctors left the island, that's one per day. This year we expect 500 or more."
While the rest of the region and the US bounce back, the economic picture here could barely be more scary. Because successive governors, from either of its two main parties, have for years papered over budget deficits by borrowing, Puerto Rico now lies $73bn (£47bn) in debt, compared with the $18bn owed by Detroit when it declared bankruptcy. Moreover, while US laws allowed Detroit to get out of its hole by declaring bankruptcy they forbid Puerto Rico from doing the same.
The debt hole is worse than anyone is admitting. Beyond what it owes to bond investors, the government is also facing a $34bn gap in money that should have been paid into the public workers' pension system. If you reckon that its obligations therefore exceed $100bn that then translates into a jaw-dropping $100,000 in debt for every working person on the island.
Where to stay in Puerto Rico

Show all 6
"We are really in a very, very tight bind," Sergio Marxuach, public policy director of the think-tank, the Centre for a New Economy, explained in his office above San Juan harbour. Barring a miraculous recovery in revenues, the administration will soon face a choice, he says, between servicing the debt or keeping the government going.
In April federal officials in Washington told San Juan not to expect a bailout from them. It's why Mr Marxuach has that famous front page, "Ford to City: Drop Dead", pinned to his wall. That was Gerald Ford brushing off a begging New York 40 years ago.
When the crunch will come exactly is anyone's guess. The next big payment on debt, of $655m, is due on 1 July. Meanwhile, the current administration of Governor Alejandro Garcia Padilla has publicly warned it may run out of cash by 30 September. In its latest report, the Government Development Bank, its lending arm, which faces its own liquidity crisis, raised the possibility of a "moratorium" on debt servicing to maintain at least essential government services – an opaque way of saying default.
"It's highly likely, if you ask me," said Mr Marxuach, adding that he has been warning since 2006 that this day would eventually come for Puerto Rico. That, he went on, would have consequences far beyond these shores. The fallout may be greatest for the debt insurers who would have to pass their pain on to all with higher premiums. Yields on Puerto Rican bonds have already surpassed those of Greece while almost half of all municipal mutual funds in the US hold Puerto Rican-issued bonds.
"In the short term, you might see a massive irrational selling-off of municipal bonds in the US," he added. "There is the 'run-to-safety' effect that may happen though I wouldn't expect it to last long."


In hopes that disaster may yet be staved off, the Padilla administration last week presented a plan to raise sales tax from 7 per cent to 11.5 per cent to the island's legislature. This was coupled with a new budget that includes spending cuts of nearly $700m, which would result in a closing of state schools in addition to the 150 closed in the past five years. That means more pain for everyone. The tax law was approved by the lower chamber on Thursday and now goes to the Senate.
The prospect of higher tax revenues, depending on how the elevated rates affect an already sickly economy, may just lure investors back to buy yet more Puerto Rican debt, including debt for the decrepit electricity utility that is effectively in default on its $9bn debt already. But so far the only institutions showing interest in helping Puerto Rico are vulture hedge funds, who may be willing to take the risk of buying additional debt but at a cost that may prove too high for the island to accept.
Accumulating still more debt at an even higher price hardly addresses the systemic problems of the island. That includes a culture of tax cheating – a recent KPMG report found the island collects barely half the sale tax due to it – a huge underground economy that is entirely off the books, including a cocaine trafficking trade, and a government structure riddled with patronage and inefficiencies.
The medical abyss is especially grim. A block grant from Washington to cover the poor, through the Medicare system, that was meant to last until the end of 2019 could run out in late 2017. Dr Ramos says doctors have not been paid their fees for treating Medicare patients since March, while the insurance companies that disburse the funds will now only approve surgeries in life-threatening situations. In one case, a company recently declined to pay for the post-surgery drugs for a liver transplant patient. That man has missed his chance of a new liver. "This is genocide, this is horrible," Dr Ramos said, predicting that unless the fees start being paid in the next month or two the entire system would "collapse".
Among those despairing of the government's decision to resort to still higher taxes and potentially more borrowing is Martha Duperray, a journalist on the island and contributing editor of Caribbean Business. "You keep on hitting the people to pay for these problems and the government never gets hit. People are hurting. This means people who go to the supermarket once a week will now go once a month." Half seriously, she offers: "Puerto Rico needs a benevolent dictator."
What it surely needs is an end to its current limbo political status, suggested Kenneth McClintock, who in the past decade has served both as the President of the Senate here and as a Secretary of State. To him gaining statehood is the only solution. "Seeking statehood is the only way that Puerto Rico can expect to find the tools necessary to crawl out of the hole we are in. It's the only scenario where Puerto Rico will cease to be in this fiscal black hole."
In a 2012 referendum, the people narrowly voted for statehood but nothing has happened since. That, Mr McClintock asserted, means that "the US is governing Puerto Rico without the consent of the governed".
If the island does default it would be on all the front pages of America and of Europe, Mr Marxuach noted. "Perhaps the only good thing to come out of that is it may force Puerto Rico to reach a decision on its future political status and it might force the US Congress to confront the issue finally." Because, he says, the current arrangement between the US and Puerto Rico is "untenable and unsustainable".
As for Mr Torres, who is now organising a general strike on campus to protest against the new sales tax hikes, he can't wait. As soon as his thesis is done, he means to clear off to California.
Puerto Rico in numbers
$655m Next debt repayment due on 1 July
$73bn Puerto Rico's current debt
$34bn Shortfall on payments to public pensions
361 Doctors left the island last year
150 State schools closed in last five years
Register for free to continue reading
Registration is a free and easy way to support our truly independent journalism
By registering, you will also enjoy limited access to Premium articles, exclusive newsletters, commenting, and virtual events with our leading journalists
Already have an account? sign in
Register for free to continue reading
Registration is a free and easy way to support our truly independent journalism
By registering, you will also enjoy limited access to Premium articles, exclusive newsletters, commenting, and virtual events with our leading journalists
Already have an account? sign in
Join our new commenting forum
Join thought-provoking conversations, follow other Independent readers and see their replies