Puerto Rico accused of silencing the press as criticism grows over coronavirus response
Local government officials taking steps 'not even president Trump would dare to do' as public television station bans journalists from virus briefings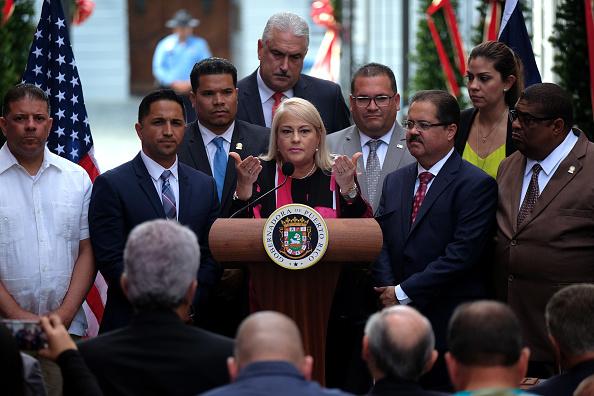 Puerto Rico officials have been accused of attempting to silence the press and banning journalists from televised coronavirus briefings by multiple Spanish-language news outlets, as criticism grew over the government's response to the pandemic.
Telemundo Puerto Rico, one of the leading local networks based in San Juan, Puerto Rico, slammed governor Wanda Vázquez Garced and her administration in a statement after it was reported that outside journalists would no longer be allowed to participate in "coronavirus task force briefings", hosted by WIPR-TV.
The network alleged WIPR — a government-owned television station funded by taxpayers — was "following the instruction from the governor" and "silencing the press", in announcing a ban on journalists from three weekly briefings on the coronavirus pandemic.
Journalists were initially invited to participate in the briefings, which include government and health officials, and ask questions about the administration's response to the pandemic.
Recent reports about the government's $19m deposit for Covid-19 testing kits that didn't show up on time and were not approved by the US Food and Drug Administration have raised question's about Puerto Rico's handling of the outbreak, as the island confirmed nearly 1,000 cases and at least 45 deaths due to the novel virus.
With the recent decision, the only reporters allowed to question the officials will be WIPR-affiliated journalists, according to the station's announcement.
Telemundo Puerto Rico described the move to ban reporters from the briefings as "something that not even President Trump would dare to do" and said that it "cannot in good conscience lend itself to broadcast propagandist programming".
Puerto Rico's response to the pandemic has been criticised by opponents of the local government as disjointed from that of the federal government, and civil rights groups alleged certain restrictions violated the US constitution.
The American Civil Liberties Union sued the island earlier this month over its strict curfew announced in response to the pandemic, with the organisation saying in a statement: "There's been no martial law declared, and there are no circumstances for it …. As such, emergency states cannot be used to suspend fundamental rights."
Officials say they are taking the most stringent steps to ensure public safety and provide enough information to local residents.
"The worst is yet to come for Puerto Rico", health secretary Lorenzo Gonzalez said in a statement.
But they also claimed the decision to ban journalists from the three weekly shows, all of which run at least one-hour long, was made by WIPR alone, without input from the administration.
"That is a decision of the president of the public corporation," Public Affairs Secretary Osvaldo Soto reportedly said in a radio interview.
Eric Delgado, the president of the public television station in Puerto Rico, defended the decision to ban additional journalists from the shows in an interview with CBS anchor David Begnaud.
"Let's say we gave them from 12 to 15 minutes and all a sudden in a show," he said, "they decided without asking or anything to take from that time and use it for some other journalism purposes, or news purposes."
He added: "Unfortunately, I had to pull out."
Join our commenting forum
Join thought-provoking conversations, follow other Independent readers and see their replies