Vladimir Putin feels 'slighted' after not receiving White House invite from Donald Trump
Mr Trump has been feting every Theresa and Justin at the White House or at his Mar-a-Lago estate in Florida
Neil Macfarquhar
Thursday 04 May 2017 21:46 Comments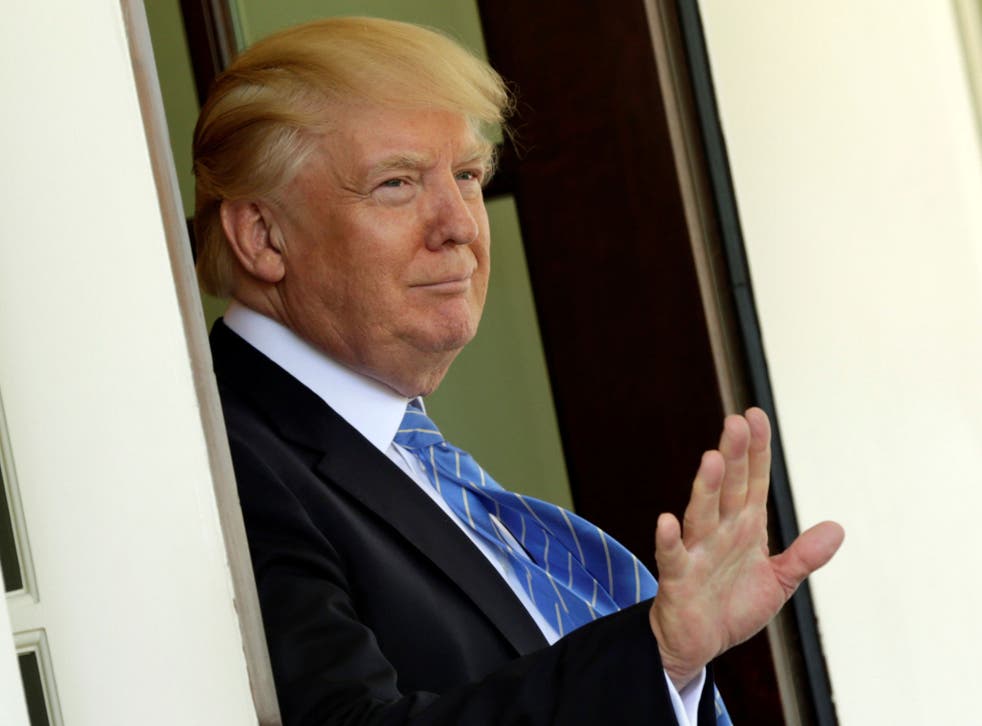 Given the spotlight focused on Russia during the American presidential campaign and Donald Trump's warm words as candidate for President Vladimir Putin, the Kremlin anticipated a starring role as foreign policy partner No. 1 under the Trump administration.
Instead, while Mr Trump has been feting every Theresa, Justin and Abdel-Fattah at the White House or at his Mar-a-Lago estate in Florida, including a high-profile dinner with President Xi Jinping of China, Mr Putin has had to content himself with three measly telephone calls since the inauguration.
"They feel slighted," Vladimir Frolov, a prominent foreign policy analyst and columnist, said of the Russian leadership.
First, it looks bad at home. Mr Putin, after all, sold Russian interventions in Ukraine and especially Syria as proof that Moscow was back on the global stage as the indispensable equal to the United States in world affairs, just as in the Soviet days.
Second, it has left the Kremlin perplexed as to how it can move forward in its relations with Washington, especially as Russia slouches toward a presidential election campaign in March 2018, although Mr Putin has not yet officially declared his candidacy for a fourth term.
Worse, instead of heralding a new chapter in relations, Washington seems to be piling on the demands. Even anticipated friends like Rex Tillerson, the secretary of state awarded a medal by Mr Putin when he was head of Exxon Mobil, have proved disappointing.
Mr Tillerson showed up in Moscow for his first trip as secretary of state last month, only to start resurrecting positions that Moscow thought had been laid to rest with the Obama administration.
Mr Tillerson endorsed the idea that President Bashar Assad of Syria, Russia's main friend in the Middle East, had to go, for example. The Trump administration has also made clear it wants Russia out of Ukraine and an end to what it calls violations of a key missile treaty, and even dredged up Afghanistan again as an issue.
Asked about Russia in an appearance on Fox News on Sunday, the national security adviser, Lt. Gen. H.R. McMaster, said he thought Mr Putin was not serving Russia's best interests. "We need changes in words and the nature of the relationship," he said, "but what we really need to see is change in behavior."
Aleksei Pushkov, a prominent voice in foreign affairs in the Federation Council, tweeted in response that McMaster's remarks sounded like the Obama administration. "Counterproductive approach," he wrote.
The chain of similar statements from Washington has pretty much curdled the idea that there will be a grand bargain on global issues with Washington.
Furthermore, according to some analysts, while Russia is eager for improved relations, the Trump administration has not exactly made clear what reward Russia might get for executing a major, across-the-board reversal in its foreign policy.
"It has not detailed the definition in terms of what an improved relationship would be, in other words what is the bag of goodies in exchange for a dramatic U-turn in their foreign policy," Frolov said.
He added, "The Russians are basically scratching their heads and asking, 'What are we going to get from this?'"
In the third Trump-Putin phone call, on Tuesday night, the two presidents agreed to coordinate more closely on Syria and Korea, and possibly to meet on the sidelines of the G-20 summit meeting in Hamburg, Germany, in early July.
The standard explanation in Russian circles for thecold shoulder from Trump is that U.S. foreign policy mandarins will not let Trump be Trump when it comes to Russia.
"Trump rejected the idea of holding a separate meeting early due to fear of hysteria by his enemies in the USA," Pushkov wrote on Twitter after the latest telephone call.
Naturally, the idea that Trump and Putin are equals has not died entirely either. "The third contact between the two presidents has confirmed that the Russian-American dialogue is not at a standstill, that both sides are interested in its development, and that it can proceed only on an equal footing," Konstantin Kosachev, the head of the foreign affairs committee in the Federation Council, told Russian reporters on Wednesday, according to RIA Novosti, the state-operated news agency.
Sergey Lavrov, the Russian foreign minister, is expected to hold talks with Tillerson on the sidelines of an Arctic conference in Alaska next week, talks that the Russians are hoping might bring some clarity.
World news in pictures

Show all 50
There are things the Russians want, like the withdrawal of the U.S. missile defense system in Romania and Poland, but nothing so specific has been broached. Trump's effusive praise of the Russian leader while running for president has slowly faded as other issues have come to the fore, including multiple investigations into Russian meddling in last year's presidential campaign and the stark differences over Syria's use of chemical weapons against its own people again in April.
On the other hand, Frolov noted, the Kremlin appreciates that the Trump administration has been largely silent on Russian domestic issues like violence against opposition leaders, arrests of political protesters and the persecution and torture of homosexuals in Chechnya.
Angela Merkel, the German chancellor, was not so nice in her joint news conference with Putin on Tuesday, questioning the prosecution of civil society groups, homosexuals and religious sects while pooh-poohing Putin's stance that the change of government in neighboring Ukraine had been undemocratic.
The more discreet U.S. approach indicates that Washington wants to keep channels open, Frolov said, so the Kremlin will most likely welcome a one-by-one approach to foreign policy issues rather than a grand bargain.
Russia is looking for an agreement in Syria in particular, because Putin wants to avoid any violent surprises from there once the Russian presidential campaign begins in earnest at the end of 2017.
Both sides are aware of the dangers of letting any confrontations between them overheat. There remains the risk of a collision in Syria, noted Dmitry V. Trenin, the head of the Carnegie Moscow Center, but there is also room for a deal on a diplomatic solution there.
Putin repeated at news conferences two days running that the United States would be instrumental in solving the Syria problem, noting on Wednesday that Trump had endorsed the idea of safety zones that Russia began formally pushing as part of a new round of Syrian peace talks in Astana, Kazakhstan, on Wednesday. Trump dispatched a high-level U.S. diplomat to the talks.
"Optimists in Moscow and Washington hope that the U.S.-Russian relationship wouldn't decline any further," Trenin wrote in a piece on the Carnegie website.
It is premature to expect outright cooperation, he and others said, predicting that relations might remain where they are until the terms of engagement are hammered out. That might take a meeting between the two presidents in Hamburg, they noted, assuming that Trump finally stops shunning Putin there.
© New York Times
Register for free to continue reading
Registration is a free and easy way to support our truly independent journalism
By registering, you will also enjoy limited access to Premium articles, exclusive newsletters, commenting, and virtual events with our leading journalists
Already have an account? sign in
Join our new commenting forum
Join thought-provoking conversations, follow other Independent readers and see their replies