Rand Paul says calling same-sex unions marriage 'offends' him and that gay marriage should have been replaced with 'contracts'
The possible GOP nominee said it offends him and others to label same-sex union marriage during an interview with Fox News host Bret Baier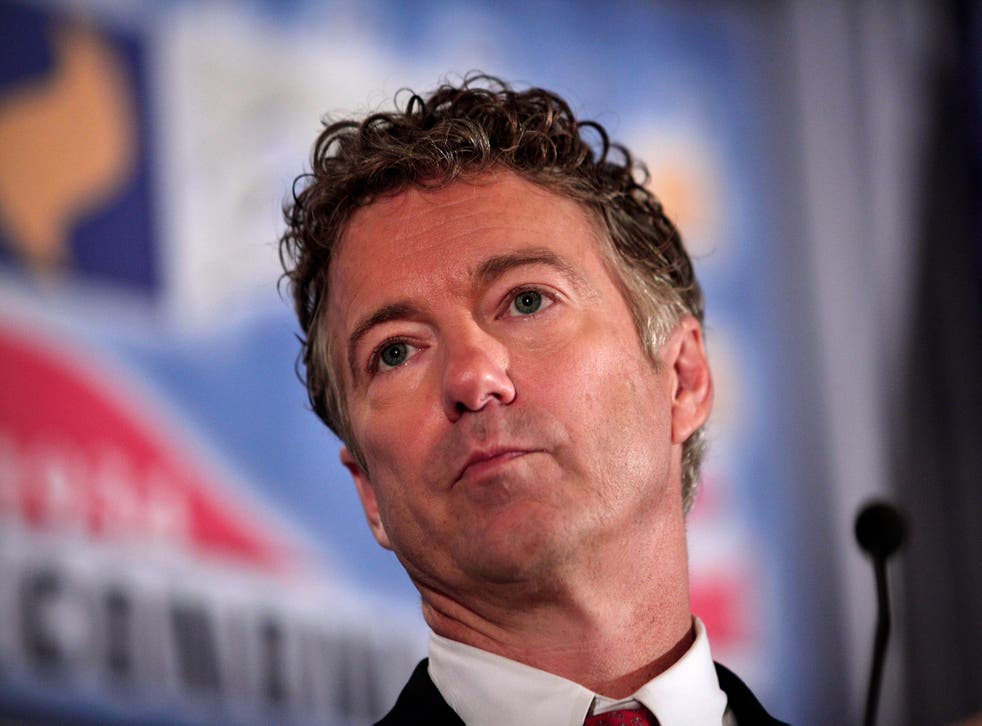 Rand Paul has said calling same-sex unions marriage "offends" him and others and believes gay marriage should have been replaced by "contracts between adults".
The Senator, who is thought to want to stand for the Republican presidential nomination in 2016, made the comments during an interview on Fox News with Bret Baier on Friday.
The interview covered a range of topics for the potential nominee, including his views on the economy, defence and security.
But Baier also questioned him on whether critics were right that he has been moderating his values on social issues to fit for a presidential run.
The self-described "libertarian conservative" insisted this was not the case, explaining that while he supports marriage, it "offends" him and others that the institution could be extended to gay and lesbian Americans, citing that "competing contracts" should have been issued instead.
"I'm for traditional marriage. I think marriage is between a man and a woman," said Paul.
"Ultimately, we could have fixed this a long time ago if we just allowed contracts between adults. We didn't have to call it marriage, which offends myself and a lot of people.
"But I think competing contracts that would give them equivalency before the law would have solved a lot of these problems and it may be where we're still headed."
The Senator believes individual states should be left to decide on same-sex marriage rather than passing federal laws.
He has become known for his sometimes brash statements during interviews, such as saying in 2014 that there was no 'war on women' because the women in his family "are doing great" and he does not believe that women are "downtrodden".
Paul's remarks on gay marriage come days after another possible GOP candidate, Ben Carson, told CNN that homosexuality is "absolutely" a choice.
Dr Carson, a retired neurosurgeon, made the remarks on Wednesdays during an interview with Glenn Beck who later described his comments as the "dumbest thing" listeners will ever have heard.
"Goodbye to his president career," Beck said on his radio show on Friday. "It's over. It's over."
He later apologised for the comments, saying he "realized that my choice of language does not reflect fully my heart on gay issues".
Carson was the first doctor to surgeon to successfully separate conjoined twins joined at the head and, in 2008, received the Presidential Medal of Freedom from then-president George W. Bush.
READ MORE:
WHAT YOU NEED TO KNOW ABOUT CPAC 2015
THE 19 REPUBLICANS WHO WANT TO BE PRESIDENT
Register for free to continue reading
Registration is a free and easy way to support our truly independent journalism
By registering, you will also enjoy limited access to Premium articles, exclusive newsletters, commenting, and virtual events with our leading journalists
Already have an account? sign in
Register for free to continue reading
Registration is a free and easy way to support our truly independent journalism
By registering, you will also enjoy limited access to Premium articles, exclusive newsletters, commenting, and virtual events with our leading journalists
Already have an account? sign in
Join our new commenting forum
Join thought-provoking conversations, follow other Independent readers and see their replies