Snakes alive! Man shocked to find he had 20 rattlers in his garage
Nest of venomous western diamondbacks found lurking near water heater in Mesa, Arizona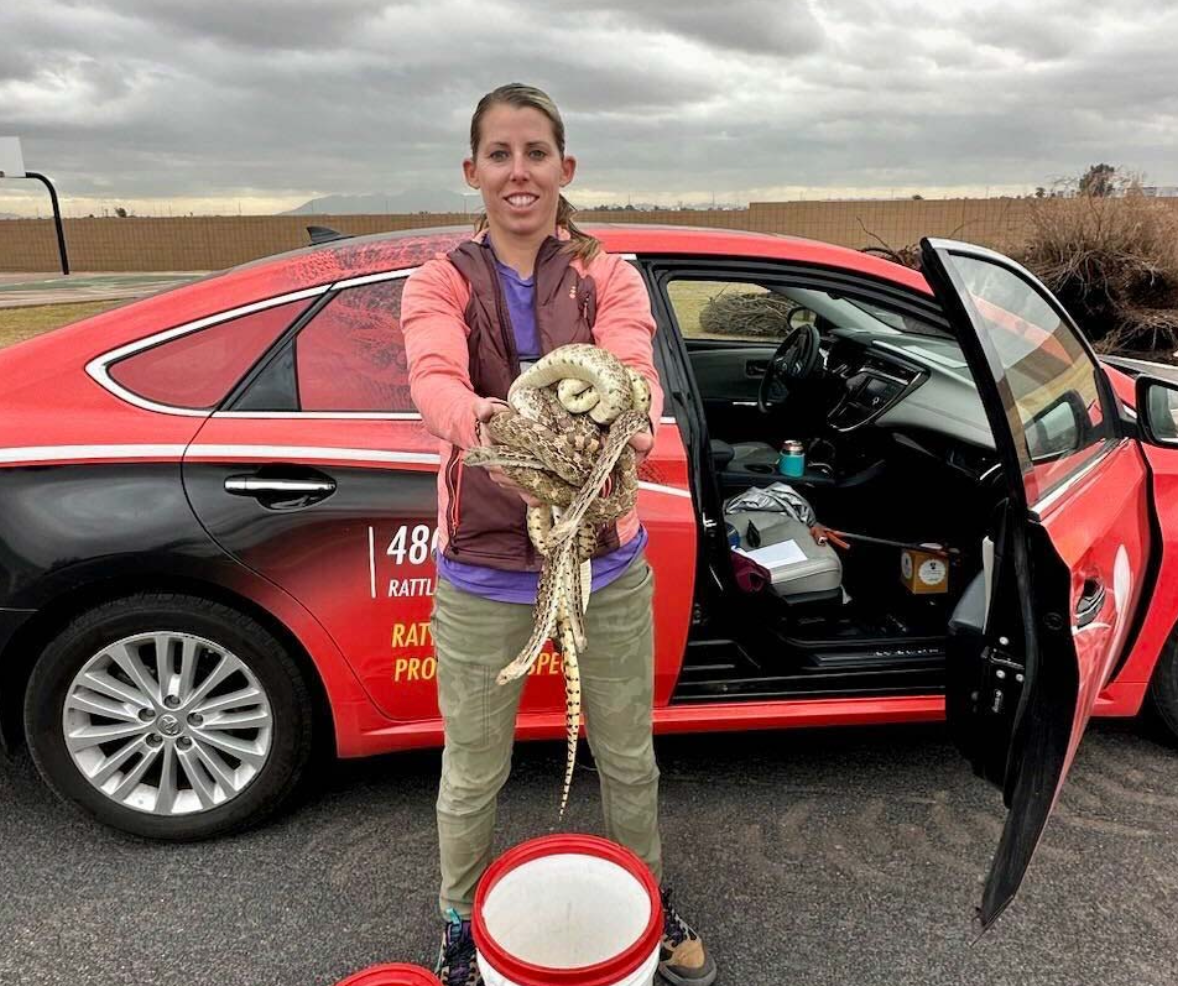 A professional snake wrangler called to remove three rattlesnakes from a home in Arizona found a nest of 20 vipers lurking behind a water heater in the garage.
Marissa Maki of Rattlesnake Solutions made the startling discovery after being contacted by a terrified homeowner in Mesa who had spotted an adult snake and a couple of babies.
Chilling footage posted to YouTube shows Ms Maki locate the snakes coiled around the heater's base and remove five adult western diamondback rattlers and 15 babies. One of the adults was pregnant.
"That is a lot of snakes. I'm not going to lie. This is crazy," Ms Maki says in the footage.
It was the largest single haul of rattlesnakes the company had ever come across, Rattlesnake Solutions owner Bryan Hughes told the Associated Press.
The unidentified resident told Ms Maki that he had spotted several snakes in the garage and had left the door ajar in the hopes they would make their own way out.
But it wasn't to be, and, using tongs and dressed in protective gear, Ms Maki removed the adult snakes first and placed them into a bucket, where they squirmed and hissed.
She also found dozens of snake skins, indicating the find could have been much larger.
Ms Maki then relocated the snakes into their natural habitat in the desert. Footage of the nerve-wracking operation has been viewed more than 36,000 times.
Western diamond rattlesnakes are venomous pit vipers who have a distinctive triangular-shaped head, and are found across the southwestern United States.
They grow up to six feet and can live for 20 years on a diet of mice, rats, rabbits and ground-dwelling birds.
The Centers for Disease Control and Prevention (CDC) recommends calling an animal control service if the snakes are found in a home.
The CDC estimates that of the 7,000 to 8,000 people who get bitten by venomous snakes each year, only five to 10 are fatal.
In July, Rattlesnake Solutions removed a three-to-four-foot-long coachwhip snake from a toilet bowl of a home in Tucson.
Join our commenting forum
Join thought-provoking conversations, follow other Independent readers and see their replies