Young people less likely to view refugees as major threat, survey finds
Majority of Americans aged over 65 view refugees coming into the US as a major threat, compared with less than a third of people younger than 35, according to findings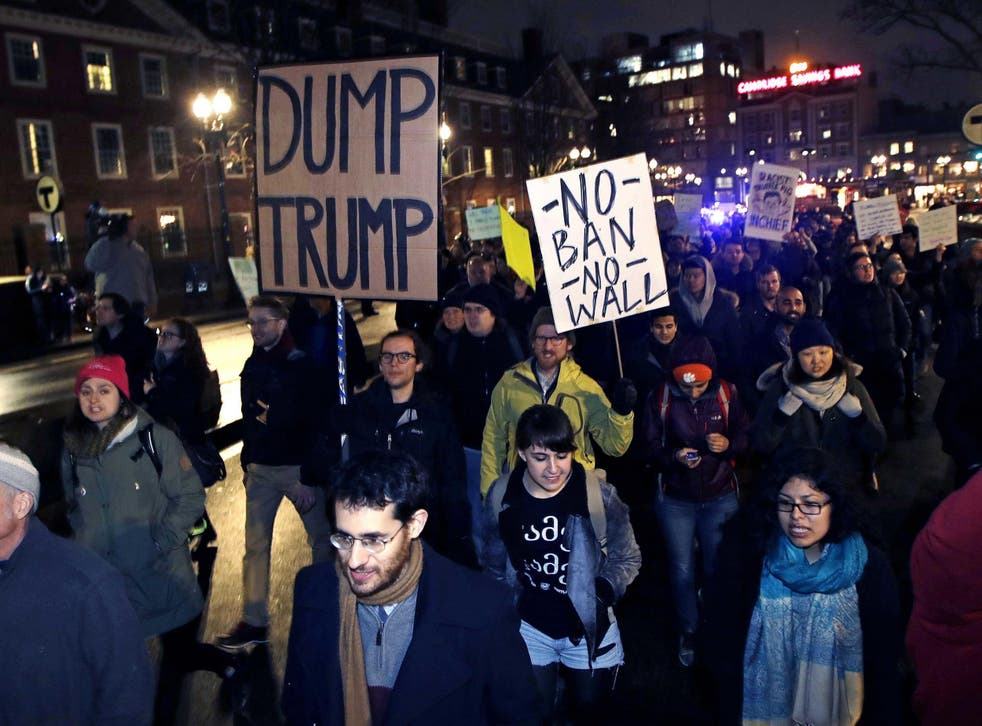 Young people in the US are less likely to view Iraqi and Syrian refugees as a danger to the country, a survey has revealed.
Six out of 10 Americans aged over 65 view large numbers of refugees from Iraq and Syria coming into the US as a major threat, compared with less than a third (31 per cent) of people younger than 35.
The survey, conducted by Pew Research in January, meanwhile reveals that nearly a quarter (23 per cent) of under 35s believe these refugees are "not a threat", while 11 per cent of those aged between 50 and 64 and just eight per cent of people over 65 considered this to be the case.
Overall, 46 per cent of the public said "a large number of refugees leaving countries such as Iraq and Syria" was a major threat to the well-being of the US, while about a third (35 per cent) considered this a minor threat and 16 per cent said it was not a threat at all.
This marks a decrease in the presumed threat over the past 10 months, with the share of adults who said refugees from Iraq and Syria posed a major threat falling by nine percentage points between April 2016 and last month, especially among younger adults.
The survey also showed high school students were considerably more likely than college graduates or post grads to consider refugees as a danger to the US, with exactly half of them considering it a major threat compared to 35 per cent of the older age group.
In terms of political leaning, about twice as many Republicans and Republican-leaning independents (63 per cent) as Democrats and Democratic leaners (30 per cent) said they considered refugees to be a major threat to the country.
Ideological differences were even more pronounced, with 70 per cent of conservative Republicans and Republican leaners saying refugees represented a major threat, compared with just 19 per cent of liberal Democrats and Democratic leaners.
Fewer than half of Republicans younger than 35 (45 per cent) said these refugees were a major threat, compared with 78 per cent of Republicans aged 65 and older, while among Democrats, just 21 per cent of those younger than 35 saw refugees as a major threat, compared with 41 per cent of those 65 and older.
Divisions over attitudes towards refugees appear to have widened in the US since Donald Trump took office. Vast crowds have attended marches and protests across the country in support of those fleeing conflict. Meanwhile the Trump administration has maintained a relentless anti-refugee sentiment.
Mr Trump signed an executive order in late January that banned entry to the US for 90 days by citizens from Iraq, Syria, Iran, Libya, Somalia, Sudan and Yemen and indefinitely halting refugees from Syria. The so-called travel ban sparked numerous lawsuits, including US District Judge James Robart in Washington state who blocked the ban on 3 February.
The President issued a new order on Monday that removed Iraq from the list of countries and will temporarily shut down the refugee programme. Unlike the first order, it will not affect current visa holders and removes language that would give priority to religious minorities.
The new travel ban has already suffered its first legal setback after a federal judge blocked its enforcement against a Syrian family trying to flee the war in their own country. Hawaii filed a lawsuit challenging the new ban on Wednesday, while other states with Democratic attorneys general are reportedly planning to sue next week.
Register for free to continue reading
Registration is a free and easy way to support our truly independent journalism
By registering, you will also enjoy limited access to Premium articles, exclusive newsletters, commenting, and virtual events with our leading journalists
Already have an account? sign in
Register for free to continue reading
Registration is a free and easy way to support our truly independent journalism
By registering, you will also enjoy limited access to Premium articles, exclusive newsletters, commenting, and virtual events with our leading journalists
Already have an account? sign in
Join our new commenting forum
Join thought-provoking conversations, follow other Independent readers and see their replies