Republican leader who said Putin pays Trump insists it was 'a joke'
House Majority Leader Kevin McCarthy backtracks on 'joke' made a month before US President secured party nomination last July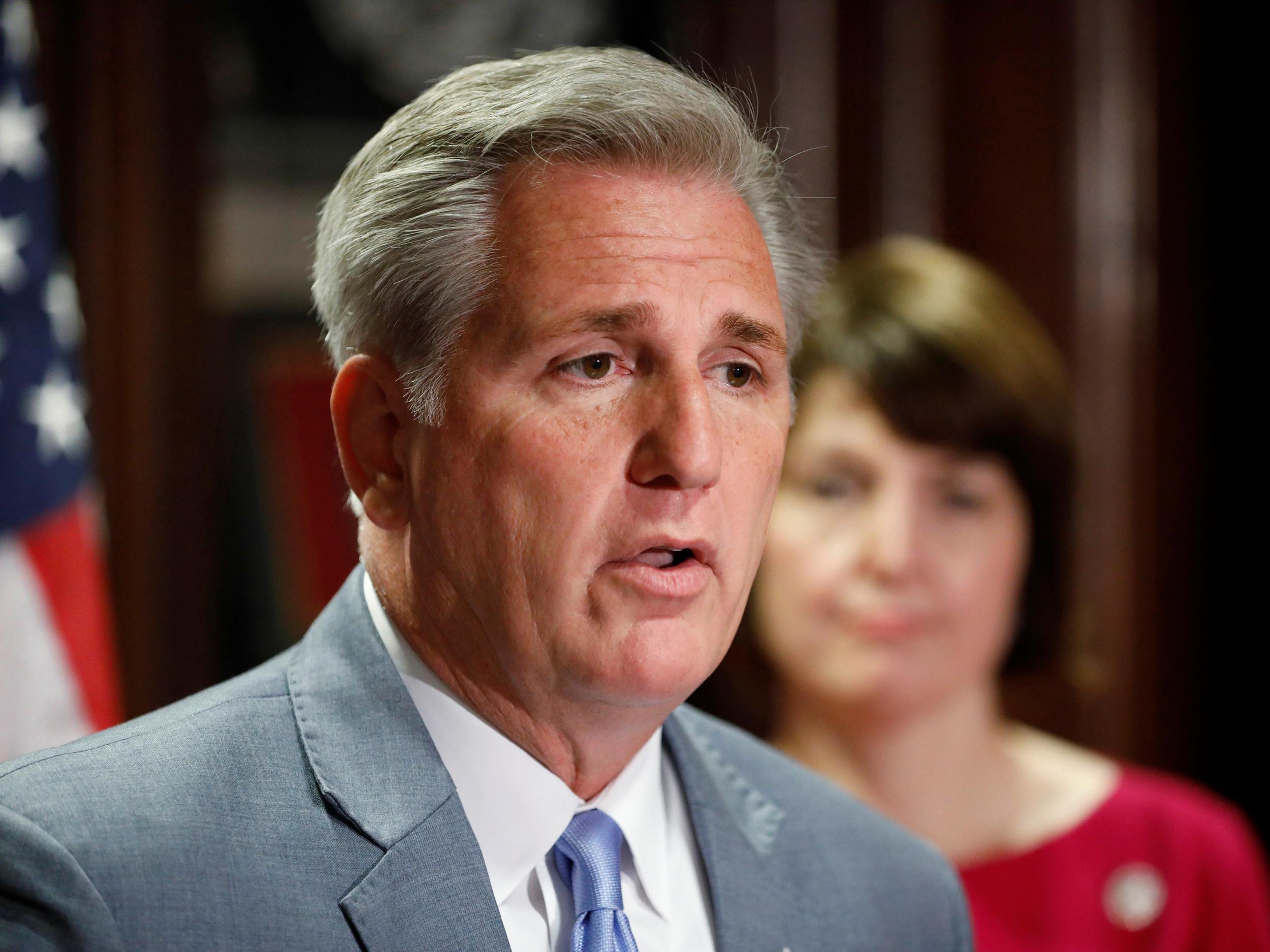 The Republican House Leader who claimed Russian President Vladimir Putin was paying Donald Trump has insisted his comments were a "joke."
Majority Leader Kevin McCarthy said his assertion that both the US President and Republican Representative Dana Rohrabacher, who is a staunch defender of Mr Putin, were being paid by Moscow was just a bad attempt at humour.
He had originally denied making the comments but later backtracked when it was revealed the Washington Post had obtained a recording of the 2016 conversation with fellow Republican leaders.
"There's two people I think Putin pays: Rohrabacher and Trump…swear to God," the Post reported him as saying.
Mr McCarthy's spokesperson Matt Sparks originally denied the exchange ever took place, saying: "The idea that McCarthy would assert this is absurd and false."
However his aides quickly u-turned before the transcript of the conversation was released.
Mr McCarthy told reporters on Wednesday: "It was a bad attempt at a joke.
"That's all there is to it. No one believes it to be true."
The biggest names involved in the Trump-Russia investigation
Show all 17
When questioned as to why he would joke about that, he said: "You don't have a sense of humour anymore? People aren't supposed to be able to laugh?
"There's a reason why I'm not a comedian."
Another GOP House leadership spokesperson said: "The speaker and leadership team have repeatedly spoken out against Russia's interference in our election, and the House continues to investigate that activity."
It came as the Department of Justice named former FBI Director Robert Mueller as special counsel to oversee the federal investigation into Russian interference in the 2016 election.
He will be tasked with probing any potential ties Trump campaign officials may have had with Moscow.
Deputy Attorney General Rod Rosenstein was charged with appointing the special prosecutor after Attorney General Jeff Sessions recused himself from the Russia probe because he had lied about meeting with Kremlin officials.
The decision by Mr Rosenstein follows a week of intensifying pressure on the Justice Department to make sure that its investigation into the White House is independent.
Join our commenting forum
Join thought-provoking conversations, follow other Independent readers and see their replies