Donald Trump's healthcare bill to repeal and replace Obamacare collapses
Two more Republican senators announce opposition, meaning bill has no chance of surviving vote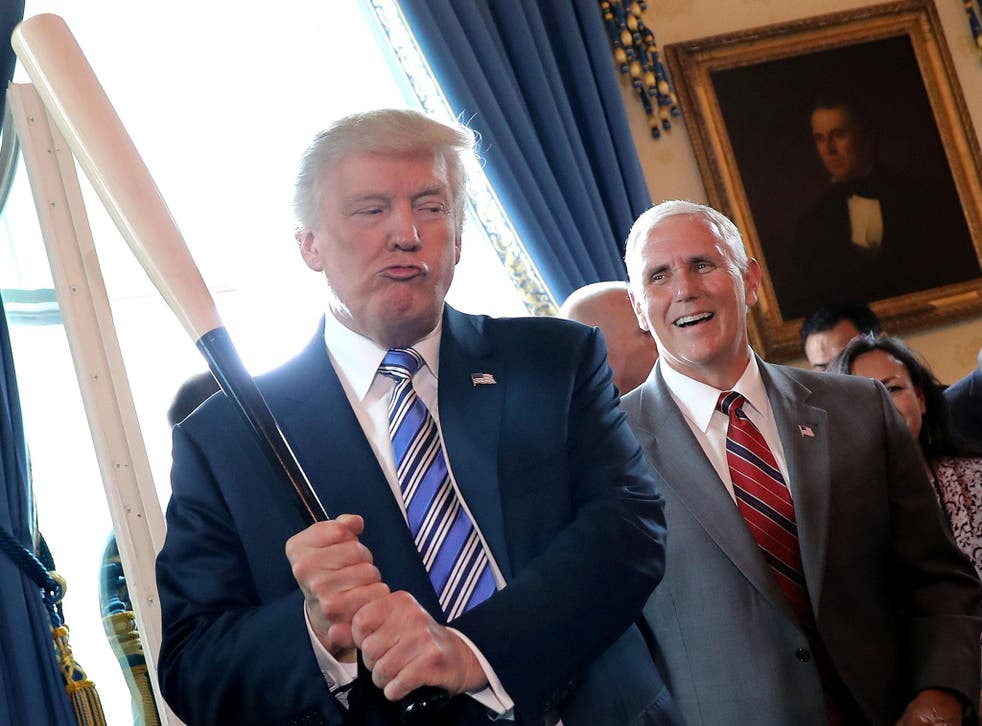 Republican efforts to replace Obamacare have collapsed, with two of the party's senators announcing their opposition to the bill.
The GOP has been divided on the issue, with some moderates concerned about its impact on vulnerable people.
The failure is a heavy blow to Donald Trump's administration, which has prioritised replacing President Barack Obama's Affordable Care Act.
Donald Trump wields a baseball bat and poses in a fire truck
When it became apparent the bill would not pass, Mr Trump called for Obamacare simply to be repealed without a replacement, so Republicans could start from a "clean slate".
Only hours earlier, faced with indications of wavering support, Mr Trump appeared confident that Republicans would ultimately back the bill, saying: "We're getting it together and it's gonna happen".
But Republican senators Mike Lee, who represents Utah, and Jerry Moran, of Kansas, sealed the bill's fate late on Monday when they each announced they would vote "no".
Their announcements meant that at least four of the 52 GOP senators were ready to block the measure — two more than Majority Leader Mitch McConnell could spare in the face of a wall of Democratic opposition.
"Regretfully, it is now apparent that the effort to repeal and immediately replace the failure of Obamacare will not be successful," Mr McConnell said.
He added that the Senate would now vote on a measure the GOP-run Congress approved in 2015, only to be vetoed by Mr Obama — a bill repealing much of the Affordable Care Act, with a two-year delay designed to give lawmakers time to enact a replacement.
Mr Trump embraced that idea, tweeting: "Republicans should just REPEAL failing ObamaCare now & work on a new Healthcare Plan that will start from a clean slate. Dems will join in!"
Yet the strategy of introducing a clean repeal bill and then working on replacement legislation may not be straightforward for the White House.
The President and party leaders started this year championing the plan, but they abandoned it when it seemed incapable of passing Congress.
Many Republicans were worried it would cause insurance market and political chaos because of uncertainty about whether they would approve substitute legislation.
Mr McConnell's failed bill would have left 22 million uninsured by 2026, according to the nonpartisan Congressional Budget Office, a number that many Republicans found unpalatable.
Faces of Obamacare: The health scheme at the centre of the shutdown

Show all 3
And the vetoed 2015 measure would have even more of an impact, the budget office said last January, producing 32 million additional uninsured people by 2026.
Senate Minority Leader Chuck Schumer, a Democrat, said in a statement: "The core of this bill is unworkable."
He added that Republicans "should start from scratch and work with Democrats on a bill that lowers premiums, provides long-term stability to the markets and improves our health care system."
Besides Mr Lee and Nr Moran, two other GOP senators had previously declared their opposition to McConnell's bill: moderate Maine Senator Susan Collins and conservative Rand Paul of Kentucky.
Additional reporting by Associated Press
Join our new commenting forum
Join thought-provoking conversations, follow other Independent readers and see their replies