Residents of Republican-dominated US island refuse to acknowledge climate change despite rising sea level
Inhabitants of Tangier Island in Chesapeake Bay off Virginia continue to ignore evidence of global warming and demand new sea wall in place of lectures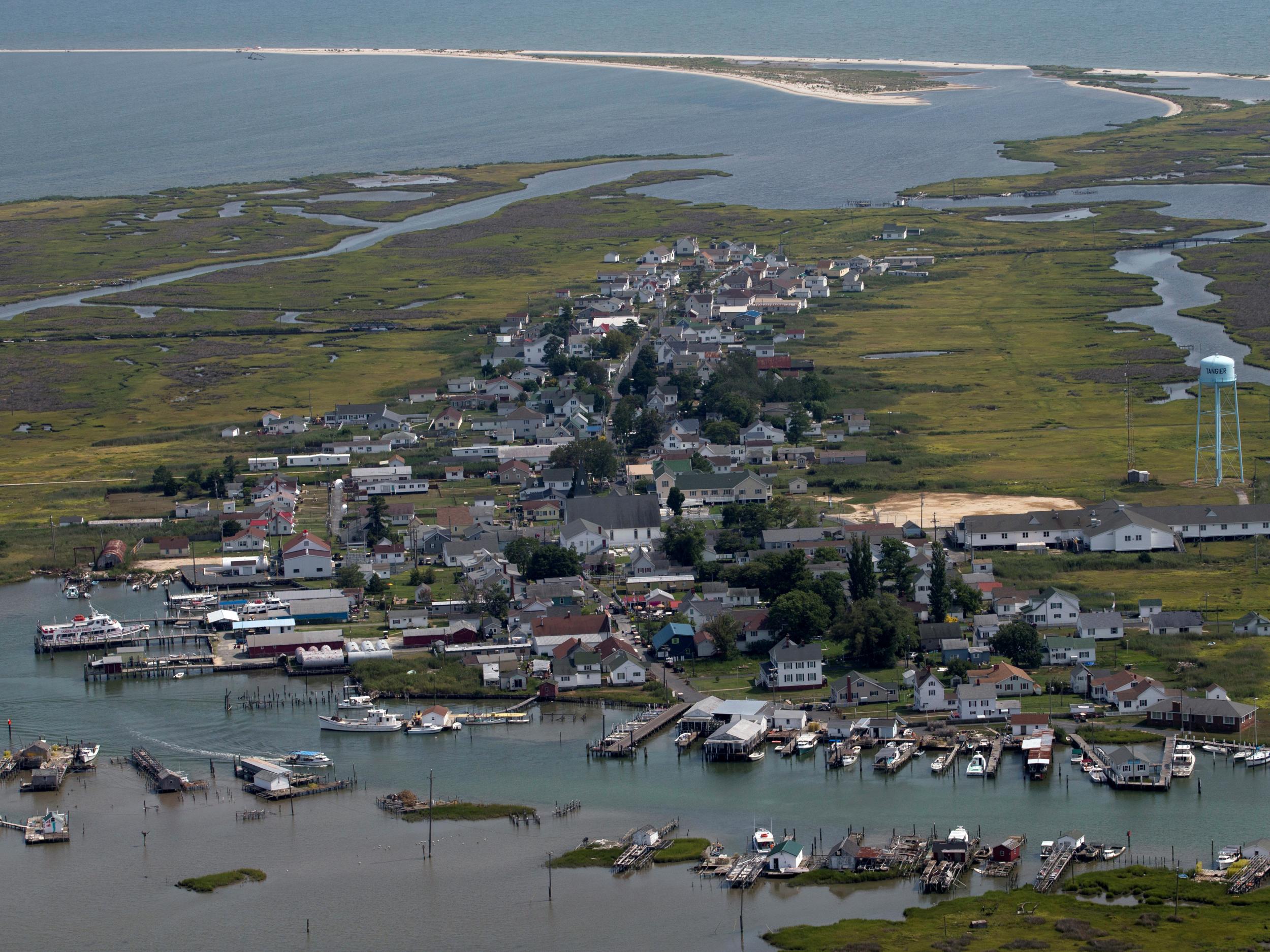 This summer, a delegation of Republican climate activists visited Tangier Island, a speck of grassland in Virginia's Chesapeake Bay, to try to convince its 450 residents to take climate change seriously.
At a dinner attended by island residents on 2 August, the activists from RepublicEn headed by former Republican Congressman Bob Inglis laid out the stakes: The sea level is rising, and some scientists estimate that within decades the island, already suffering severe erosion, will need to be abandoned.
The people of Tangier Island were used to this kind of message. Former Vice President Al Gore, a prominent Democratic climate activist, had given the same speech to islanders three days earlier. They were also used to rejecting it.
"We'll talk to everybody," said James Eskridge, mayor of the mainly Republican island community. "But they're not going to change many minds here." Residents, he said, do not believe in climate change: they want a new sea wall to prevent erosion, not a lecture about saving the world with solar panels.
Tangier Island's steadfast rejection of climate change reflects the rigidity of American opinions about global warming, often defined along political party lines.
Reuters/Ipsos polling shows more than a third of Americans, mainly Republicans, reject the scientific consensus that climate change is driven by human activity. Less than a third of Americans believe global warming poses an imminent threat to the United States. These views barely budged after a series of devastating hurricanes this summer.
That rift in opinion has proven to be a headwind for US lawmakers seeking broad solutions to stem climate change, like imposing a cost on carbon emissions or encouraging cleaner renewable energy technologies to replace fossil fuels.
And while conservatives have long been sceptical about climate change, doubters have a powerful new ally: US President Donald Trump. He has called climate change a hoax and has started withdrawing the United States from a global pact to combat it, citing what he calls the huge economic cost.
Eskridge told Reuters Trump called him in June after seeing a report about severe erosion problems on the island, telling him not to worry about sea level rise.
"I believe man plays a part in it but not to the extent that others have been talking about - that's what me and Donald Trump were talking about," Eskridge said.
An Army Corps of Engineers study in 2015 showed Tangier has lost two thirds of its mass since 1850 because of erosion, a process scientists say is being exacerbated by climate change. Journalists and politicians now view the island as a symbol of the climate crisis.
Tangier residents are happy with the attention but believe their problem is simpler. A sea wall built on one side of the island in the late 1980s has prevented the land behind it from eroding, they say, so another sea wall is the answer.
"We're not looking to have our light bills cheaper, we're looking to stay here," said Deborah Pruitt, 57, who works at the island's museum, where printouts of news reports about the island are displayed on a wall.
10 photographs to show to anyone who doesn't believe in climate change
Show all 10
Conservative climate activists like Rob Sisson of ConservAmerica and Mitch Hescox of the Evangelical Environmental Network said the rejection of climate change by Tangier residents is not surprising: their groups often have trouble convincing fellow Republicans global warming is a real issue. Often, they say, people object to the idea that humans could possibly change the climate even if they wanted to.
Florida Congresswoman Ileana Ros-Lehtinen, one of a handful of Republicans to publicly declare a belief in climate change, said she has a strategy for getting fellow Republicans to think of solutions: "I've found that the best way... is to not dwell on the causes," she said in an email.
Reuters
Join our commenting forum
Join thought-provoking conversations, follow other Independent readers and see their replies