Rex Tillerson accuses Iran of 'alarming provocations' spreading terror amid nuclear deal review
US Secretary of State attacks Tehran after meeting with Saudi prince and ministers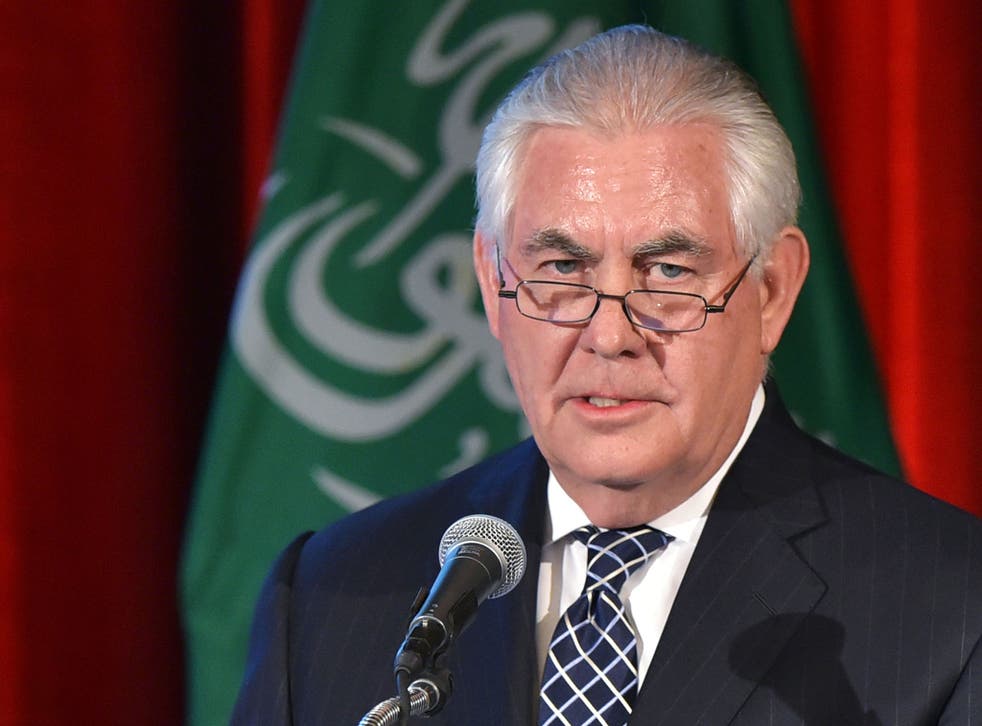 Rex Tillerson has accused Iran of "alarming and ongoing provocations" that export terror and destabilise the world after a friendly meeting with Saudi leaders.
"Iran is the world's leading state sponsor of terrorism and is responsible for intensifying multiple conflicts and undermining US interests in countries such as Syria, Yemen, Iraq, and Lebanon, and continuing to support attacks against Israel," he said.
"An unchecked Iran has the potential to travel the same path as North Korea, and take the world along with it."
The US Secretary of State said a government-wide review of American policy on Iran was underway, following Donald Trump's repeated criticism of a landmark deal struck by the Obama administration to limit its nuclear capability.
Mr Tillerson said the review would assess the "many threats posed by Iran" and establish whether the suspension of sanctions related to the agreement was "vital to the national security interests of the United States" – even through Tehran is in compliance.
"Iran's provocative actions threaten the United States, the region, and the world," he added.
Russia and Iran have threatened the US over Syria
Mr Tillerson cited Iran's support for Bashar al-Assad in Syria and Houthi rebels in Yemen, as well as its hostility to Israel as threats, alongside attempted assassinations abroad, weapons tests and cyber attacks.
He accused Iran of having "one of the world's worst human rights records", listing executions and political persecution, but made no mention of similar abuses perpetrated in Saudi Arabia at a business summit earlier in the day.
In a speech watched by Prince Saud al-Faisal, ministers and the ambassador, Mr Tillerson hailed "a successful new chapter" for relations between Saudi Arabia and the US, and their "shared economic and strategic goals".
"We have a long relationship with Saudi Arabia that extends over 80 years, and our support for a strong and steady partner on economic cooperation remains as firm as ever," he added, weeks after Saudi leaders met Donald Trump in Washington.
Saudi Arabia is a member of the US-led coalition bombing Isis in Syria and Iraq but has drawn accusations of war crimes for its intervention in Yemen, where thousands of civilians have been killed in indiscriminate bombardment.
The US, Britain and the Kingdom's other allies have been urged to stop arms sales and military support over the deaths, as well as extensive human rights abuses on its own soil.
Alongside Iran and China, Saudi Arabia is one of the world's most prolific executioners, publicly beheading convicts - including those arrested as children - according to the government's interpretation of Sharia law.
10 examples of Saudi Arabia's human rights abuses

Show all 10
Its fundamentalist Wahhabi doctrine is used as the basis for severe restrictions on fundamental rights, including the discriminatory male guardianship system that bans women from driving, while dozens of activists have been arrested and sometimes flogged for calling for government reforms.
Saudi Arabia, where 15 of the 9/11 attackers hailed from, has also been accused of fuelling global terror by funding extremist mosques around the world.
Mr Trump heavily criticised the Saudi government on Twitter before his election victory but has since remained silent, while fostering a close relationship and excluding the country from his attempted immigration bans.
The President and his Defence Secretary, James Mattis, have instead turned on Saudi Arabia's enemy Iran, repeatedly calling it the "world's biggest state sponsor of terrorism" and accusing it of forming militias compared to Hezbollah.
Iran and Saudi Arabia, who hail themselves as the global leaders of Shia and Sunni Islam respectively, are engaged in a global proxy war drawing in conflicts in Syria, Yemen, Iraq and Lebanon.
Mr Tillerson sent a letter House Speaker Paul Ryan announcing the policy review on Tuesday, saying the nuclear deal had merely "delayed Iran's goal of becoming a nuclear state".
Iran's Supreme Leader, Ayatollah Khamenei, warned in November that Tehran would retaliate if the US breached the nuclear agreement and has called mass protests against Mr Trump.
Mr Tillerson's notice to Congress was part of a 90-day process in which the President has to certify that Iran is complying with the nuclear accord.
The next test of Mr Trump's attitude will be in May, when he must decide whether to extend sanctions waivers for Iran first signed by Barack Obama.

Register for free to continue reading
Registration is a free and easy way to support our truly independent journalism
By registering, you will also enjoy limited access to Premium articles, exclusive newsletters, commenting, and virtual events with our leading journalists
Already have an account? sign in
Register for free to continue reading
Registration is a free and easy way to support our truly independent journalism
By registering, you will also enjoy limited access to Premium articles, exclusive newsletters, commenting, and virtual events with our leading journalists
Already have an account? sign in
Join our new commenting forum
Join thought-provoking conversations, follow other Independent readers and see their replies