Rex Tillerson says Russian meddling in US election is 'well-established'
Secretary of State threatens fresh sanctions but his Russian counterpart says the US has nothing 'that would look even remotely like facts' to back this up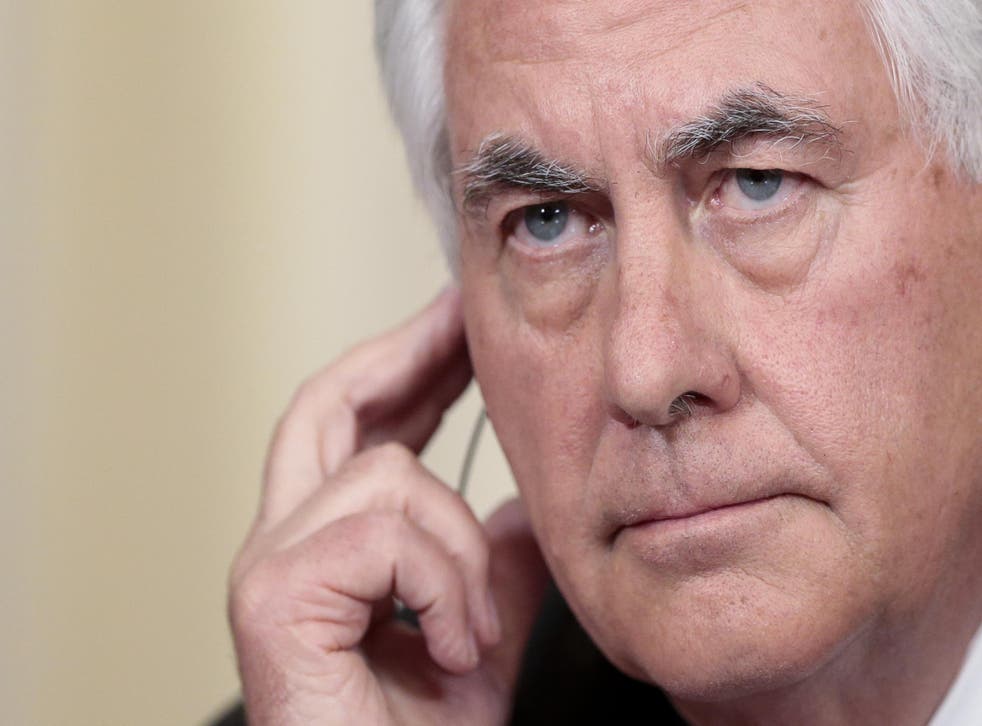 Russia's meddling in last year's US presidential election has been "fairly well-established", Rex Tillerson has said, following talks with his counterpart in Moscow.
The Secretary of State described Russia's alleged involvement in the 2016 vote as a "serious issue" and "one that we know" about.
But Russian foreign minister Sergey Lavrov responded that "not a single fact has been confirmed".
The two diplomats spoke at a US-Russia summit, where they discussed relations with North Korea, air safety, and the situation in Syria. Mr Tillerson said there is a "low level of trust" between the two countries, and many issues on which they disagreed. Allegations of Russian interference on Wednesday appeared to be just one of them.
"We heard some statements today saying that the US has evidence that we meddled in their campaign," Mr Lavrov told reporters. "I would like to say again that we never saw any facts; anything that would look even remotely like facts [to prove this]."
All seventeen American intelligence agencies have reported evidence of Russian interference in the 2016 presidential election. A joint report from the CIA, FBI and NSA claims orders for a hacking and propaganda against candidate Hillary Clinton came from the "highest levels" of the Russian government.
Officials from all three agencies determined Russian hackers accessed both parties' campaign servers and released damaging information about the Democratic National Party.
Mr Tillerson affirmed the agencies' findings on Wednesday, saying they are serious enough to warrant additional sanctions.
"As to the question of the interference in the election, that is fairly well established in the United States," Mr Tillerson said. "We are mindful of the seriousness of that particular interference in our elections and I'm sure that Russia is mindful of it as well."
His comments stray from the line towed by Mr Trump, who has attempted to downplay the role played by Russia in the election.
"While Russia, China, other countries, outside groups and people are consistently trying to break through the cyber infrastructure of our governmental institutions, businesses and organisations including the Democrat National Committee, there was absolutely no effect on the outcome of the election including the fact that there was no tampering whatsoever with voting machines," Mr Trump said in a statement in January.
The Senate, House, and FBI have all confirmed ongoing investigations into whether the Trump campaign collaborated with Russia to enhance their standing in the election.
Join our new commenting forum
Join thought-provoking conversations, follow other Independent readers and see their replies