Richard Spencer: White supremacist leader 'glitter bombed' by anti-fascist protester outside White House
After alt-right protesters chanted 'Make America great again', counter-protesters said 'Make America punch Richard again'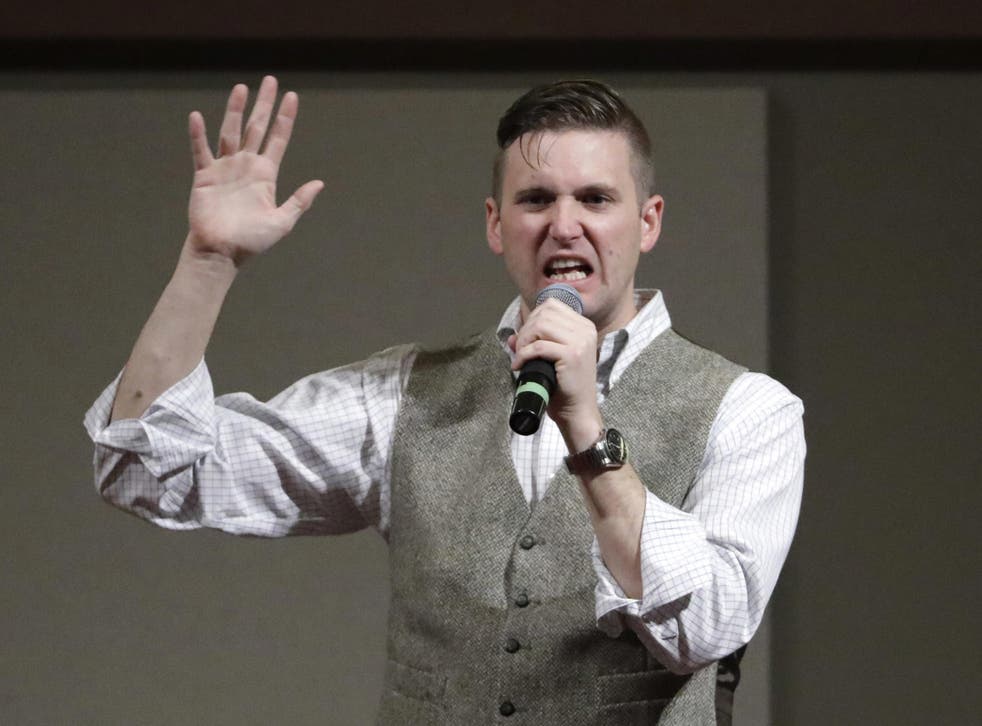 Richard Spencer appears to have been "glitter bombed" by an anti-fascist protester outside the White House over the weekend.
The white supremacist, who rose to fame for being punched at an anti-Trump protest, was in Washington to lead a protest against President Donald Trump's decision to launch a cruise missile strike on a Syrian airbase on Friday.
While Spencer, an "alt-right" leader, has long been a vocal supporter of Mr Trump, he has distanced himself from the president in the wake of the Syria strikes, calling the attack a "total betrayal".
The wider so-called "alt-right" movement, which is made up of loyal Trump supporters, has also distanced itself from the president in the aftermath of the strikes. Accompanied by Spencer, who is credited with coining the term "alt-right", protesters chanted "We want walls, not war!" and held signs saying "No more wars for Israel".
Tension between Spencer's supporters and counter-protesters came to a head after the groups exchanged opposing chants. Anti-fascist activists shouted "f*** white supremacy" while the "alt-right" figurehead and his supporters chanted: "Commies go home".
After alt-right protesters yelled, "Make America great again," the opposite side responded with: "Make America punch Richard again."
Footage shared on social media then shows the two groups scuffling and Spencer being approached by someone appearing to throw glitter at his face.
Glitter bombing is an act of protest in which activists chuck glitter on their targets. Glitter bombers are often spurred by, though not limited to, their target's opposition to same-sex marriage. Spencer is against same-sex marriage which he has described as "unnatural" and a "non-issue," arguing that "very few gay men will find the idea of monogamy to their liking".
After fleeing the protest, Spencer, who has added a Syrian flag to his Twitter profile, reportedly had his cab surrounded by anti-fascist activists. Explaining the ordeal in a video he posted after the protest, he said: "The car that was my getaway car was there and we couldn't get into it because of the anti-fa (anti-fascists). So the police said 'go get in that cab' so we ran across the street".
In the video, Spencer then appeared to mock his cab driver for having an Indian accent and joked that he hoped the driver had been punched by protesters.
In pictures: US missile strike against Syria

Show all 7
Many celebrated the news Spencer had been "glitter bombed" on Twitter. "I just love the idea of Richard Spencer fleeing through the DC streets, hunted, disillusioned, and covered in glitter," said one.
This is by no means the first time Spencer has been a target for anti-Trump protesters. A video of him being punched in the face while being interviewed by a journalist after Mr Trump's inauguration went viral.
Spencer was explaining the meaning of his Pepe the Frog badge, a cartoon character who has become a symbol for white nationalism, when he was punched by a man dressed in black. The clip immediately prompted a torrent of jokes, memes and even remixed videos online, with Spencer saying at the time: "I'm afraid this is going to become the meme to end all memes".
Alt-right leader Richard Spencer punched in the face during inauguration protest
Spencer is a leader and spokesperson for the so-called "alt-right" movement – a political movement which has been accused of racism, antisemitism and misogyny and of sharing an ideology with far-right parties such as the French National Front.
Spencer, who is president of the far-right National Policy Institute, has previously said he rejects the label of white supremacist and instead calls himself an "identitarian". He supports a white homeland for a "dispossessed white race" and calls for "peaceful ethnic cleansing" to put a stop to the "deconstruction" of European culture.
Spencer sparked outrage when he made a number of allusions to Nazi ideology during a speech at a conference in Washington in November.
"Hail Trump! Hail our people! Hail victory!" he declared, prompting audience members to leap to their feet in applause, with several appearing to make drawn-out Hitler salutes.
Register for free to continue reading
Registration is a free and easy way to support our truly independent journalism
By registering, you will also enjoy limited access to Premium articles, exclusive newsletters, commenting, and virtual events with our leading journalists
Already have an account? sign in
Register for free to continue reading
Registration is a free and easy way to support our truly independent journalism
By registering, you will also enjoy limited access to Premium articles, exclusive newsletters, commenting, and virtual events with our leading journalists
Already have an account? sign in
Join our new commenting forum
Join thought-provoking conversations, follow other Independent readers and see their replies