Rio 2016: Athletes complain the Olympic pool is hurting their eyes after return to normal colour
'My eyes are stinging,' says Australian water polo player
May Bulman
Friday 12 August 2016 18:58 Comments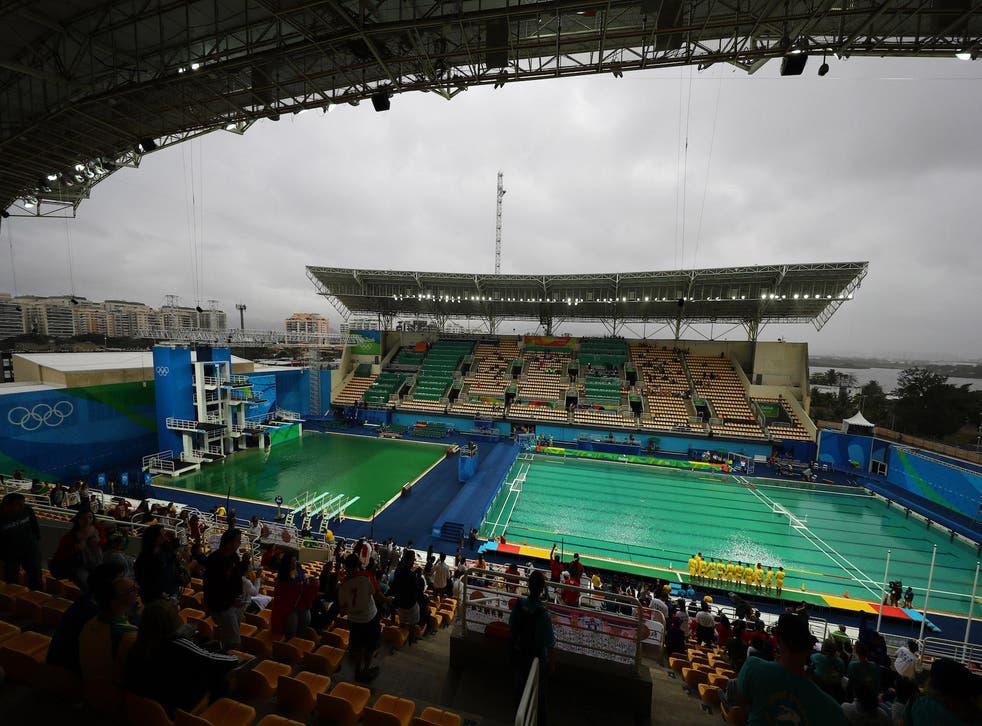 First it turned green and then it turned a swimmer's hair green. But now the water at Rio Olympics has sparked complaints by water polo players that it is hurting their eyes.
During the first week of the Games competitors and viewers got an unexpected surprise when one of the pools turned a murky shade of green.
In order to fix the problem, officials in Rio said they would pump more chemicals into it - which the US team has now claimed is making it difficult for them to see.
Tony Azevedo, captain of the US water polo team, complained about the problem following his team's 6-3 victory over France.
"This is the Olympic Games and they are putting so much chlorine in the water that people can't see. You can't have that," Azevedo said.
Meanwhile Hungarian water polo player Gergo Zalanki said the pool was hurting his eyes, and questioned whether it was chlorine or something else.
"My eyes hurt from the water. It's not good. It feels like they added more chlorine to the water but I'm not sure," Zalanki said.
"I'm used to it because we have a lot of water like this in Hungary, but I think there might be something else wrong too".
Richie Campbell, representing the Australian water polo team, claimed his eyes were "stinging" after Australia's 8-6 victory against Japan.
He said: "I don't know what's happened. I think they bumped up the chlorine or something because my eyes are stinging.
Rio 2016 Olympics - in pictures

Show all 74
"It hurts at the end of the game and we'll probably get teary eyes for the next couple of hours but that's alright.
"I felt it more towards the end. It wasn't too bad in the water but now it's really starting to sting."
But Campbell said that it's not the worst they've experienced, adding: "We've probably played in worse pools."
While some of the athletes have blamed it on high chlorine levels, it is not known why the pool is hurting competitors' eyes.
Despite the widespread shock caused by the transformation, officials said the pools were "safe" to swim in and that they would use chemeicals to treat the water.
The pools now appear to be returning to their normal colour.
Several explanations have been circulating as to why the Olympic pools turned green, including fake tan, urine and ink from the large banners on the side of the pool.
A statement is understood to be being prepared by Rio's Olympic organising committee containing an official explanation.
Register for free to continue reading
Registration is a free and easy way to support our truly independent journalism
By registering, you will also enjoy limited access to Premium articles, exclusive newsletters, commenting, and virtual events with our leading journalists
Already have an account? sign in
Join our new commenting forum
Join thought-provoking conversations, follow other Independent readers and see their replies