Rio 2016: Favela residents being evicted days ahead of Olympics
'These are the exclusion games... It is an event by the rich for the rich,' said one resident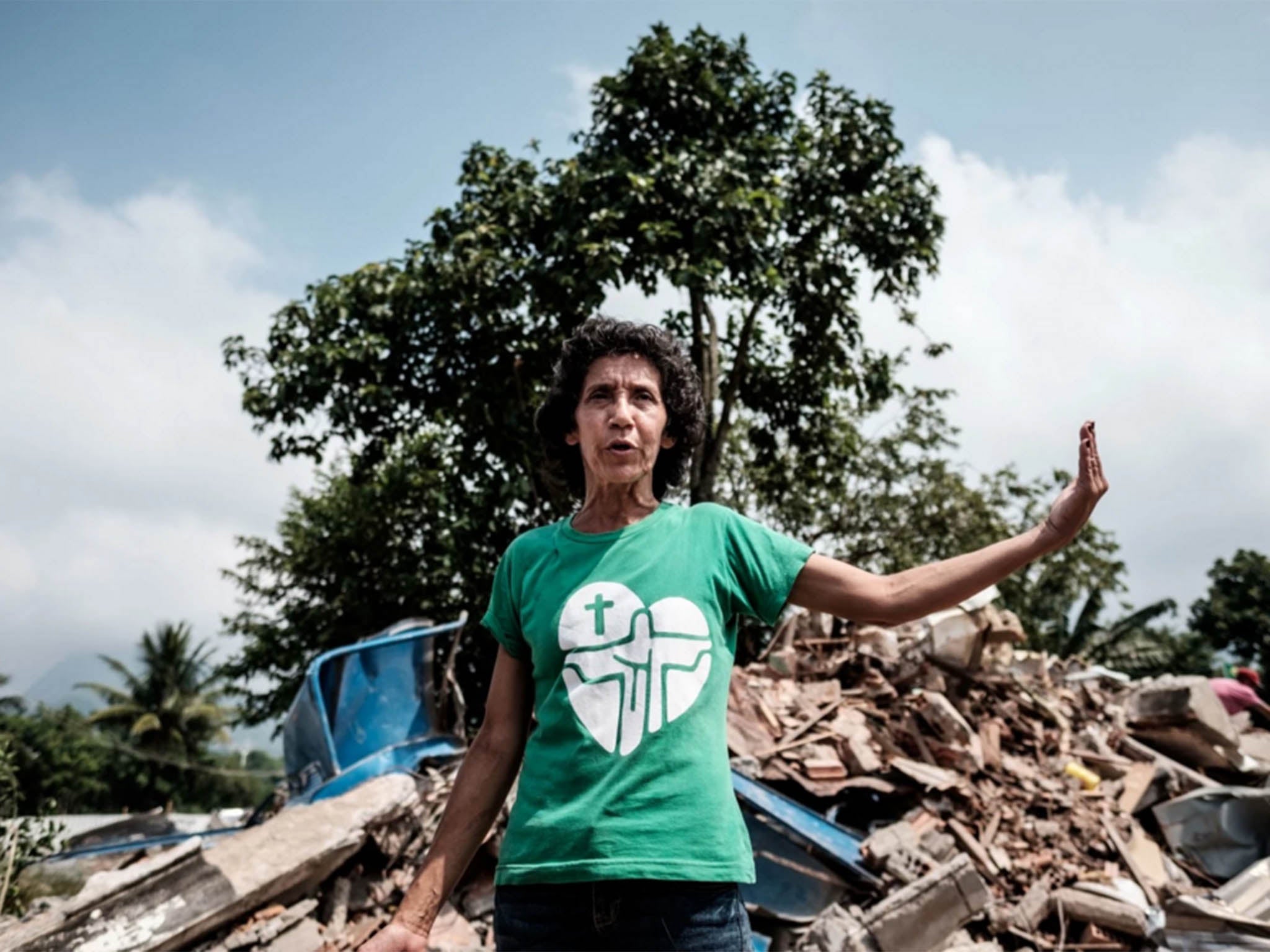 As Maria da Penha Macena and her husband moved last weekend into one of the new bungalows the city had reluctantly built for them and 19 other families alongside the Olympic Park, they were filled with mixed feelings.
The move, da Penha said, was certainly a victory of sorts for the 20 families - the last holdouts from the ramshackle working-class community, or favela, that stood here before the city began demolishing it after winning its Olympic bid in 2009. She and her husband, Luiz da Silva, 53, had been living in a container since their old house in Vila Autodromo was knocked down in March.
"What we most wanted was to stay," said da Penha, 51.
At the same time, there was sadness over what was vanishing.
Vila Autodromo grew up over many decades around a fishing village set on the shore of a lagoon. In 2005, Rio's municipal chamber decreed part of it an "area of special social interest." The community lacked proper sanitation, but its residents said they never suffered from the drug trade that dominates other favelas in the city. Theirs was a quiet little village among the trees.
"It is a very sad scene here," da Silva said as he watched a digger claw take apart one of the community's last buildings, a three-floor structure that housed tiny apartments. A piece of masonry with graffiti that read, "Memory cannot be evicted" crashed to the ground. "There are no words for what is happening."
Rio 2016's slogan is "a new world." But outside the gleaming Olympic Park, that new world has no room for the poor, da Silva said.
Critics say that infrastructure built for the Rio Olympics, such as three new bus-rapid transit lines (BRTs), has come at a high price for some poorer residents. In their 2015 book, SMH 2016: Evictions in Olympic Rio de Janeiro, journalist Lena Azevedo and architect Lucas Faulhaber calculated that more than 60,000 people in the city lost their homes between 2009 and 2013. SMH, for Municipal Housing Secretariat, are the initials officials paint on buildings slated to be torn down.
In 2009, after Rio committed to building an Olympic Park in the western suburb of Barra de Tijuca, right beside Vila Autodromo, 275 of the favela's 800 families were ordered to leave.
A spokeswoman for the city, speaking on the condition of anonymity in line with internal regulations, said in an email that these 275 families either lived on land needed for access roads and services for the Olympic Park or on lagoon margins that needed restoration. They were offered new public housing a couple of miles away or compensation. Most lived in "irregular constructions, in unhealthy conditions" near the lagoon, she said. The other approximately 500 families went willingly, she said.
Some residents told a different story. The city started demolishing their houses around them, offering some of them money, some of them relocation, and some both. City officials cajoled or intimidated residents, suggesting that they would get nothing if they didn't grab what was offered. At one point, garbage collections stopped, Silva said. The new bungalows were announced in March. Few families left happily.
Da Penha, her husband and some other residents campaigned to save the community using social and international media, support from academics – anything they could think of to counter the city, the Olympic planners and the real estate developers who had turned Rio's west-side suburbs into a maze of highways, shopping malls and high-end condominiums. But just 20 families in Vila Autodromo fought long enough to get one of the white-painted bungalows.
"These are the exclusion games," said Sandra de Souza, 48, another Vila Autodromo resident with a new bungalow, of the Olympic extravaganza due to open on Friday. "It is an event by the rich for the rich."
Rio's mayor, Eduardo Paes, said that 57 per cent of the $12 billion being spent on the Games is private money - much of it from public-private partnerships, or PPPs. The consortium that built a large portion of the Olympic Park will turn 60 per cent of it to public use after the Games, the city spokeswoman said.
The rest will of the land will become high-end condominiums. Da Silva said that is why the favela had to go.
"This is a city being made for the elite, and it seems the social sanitising has no end," he said.
The consortium behind this PPP consists of two construction companies – Odebrecht and Andrade Gutierrez, both of which are embroiled in a corruption scandal at Brazil's state-run oil company Petrobras – and the real estate development firm Carvalho Hosken, which owns big swaths of land in the west Rio suburbs.
Odebrecht and Carvalho Hosken also built the Olympic Athletes' Village nearby, a condominium that will be sold privately after the Games, helping transform the whole area into a new neighbourhood – a process helped by the BRT lines the city built linking it to the rest of Rio.
Last year, Carvalho Hosken's billionaire owner, Carlos Carvalho, said the poor did not belong in this upmarket new neighbourhood.
Rio 2016 water contaminated by raw sewage and waste
Show all 8
"You can't stay in an apartment and live with an Indian alongside, for example," he told BBC Brasil in August 2015, using the colloquial Portuguese term for Brazil's indigenous people. "We don't have anything against Indians, but some things won't do."
But powerful arguments were also raised for leaving the favela where it was.
The 2011 winning design for the complex, by the British firm AECOM, left Vila Autodromo intact. Architects from two government universities developed a $4 million urbanisation plan for the community that included proposals for paving roads, building sanitation networks, improving drainage and renovating precarious houses.
The plan was presented to Paes in 2012. The following year it won an international urbanism award.
"He did not want to consider the plan," said Gisele Tanaka, one of its authors, said of Paes. "He went ahead with the demolition."
Tanaka, a postgraduate student in urban planning at the Federal University of Rio de Janeiro who has campaigned for the community's survival, said that some residents moved to new apartments and then faced loan repayments while others got very little money and moved to other favelas.
As the Games drew nearer, the city began increasing compensation offers. It became clear that Rio wanted the favela gone before the Olympics began.
Da Penha, her husband, her daughter Natalia, and her mother, Antonia, lived in a spacious, three-story house with fruit trees in a yard and a view from a top-floor terrace overlooking the Olympic Park. Last year, the city offered her $611,000 for her house. Others had accepted big sums, but she refused. Now her daughter and her mother also each have a bungalow.
In June 2015, she said, municipal guards - a city-run security force - broke her nose during a residents' protest. By October 2015, when a Post reporter visited, demolition was well underway.
Now the area beside the Olympic Park is almost favela-free. One man, Delmo de Oliveira, 51, is hanging on. He got $225,000 when a business he owned was knocked down, but nothing for the house he lost. His mother and son got bungalows.
In recent weeks he built a third floor on top of his mother's house to live in, despite the destruction going on around him.
"I want to stay," he said, "until they give me a house, too."
Washington Post
Join our commenting forum
Join thought-provoking conversations, follow other Independent readers and see their replies