The chef who's cooking 108 meals every day for Rio's homeless
A single meal to feed the Olympics' 18,000 athletes and their coaches requires 250 tonnes of raw ingredients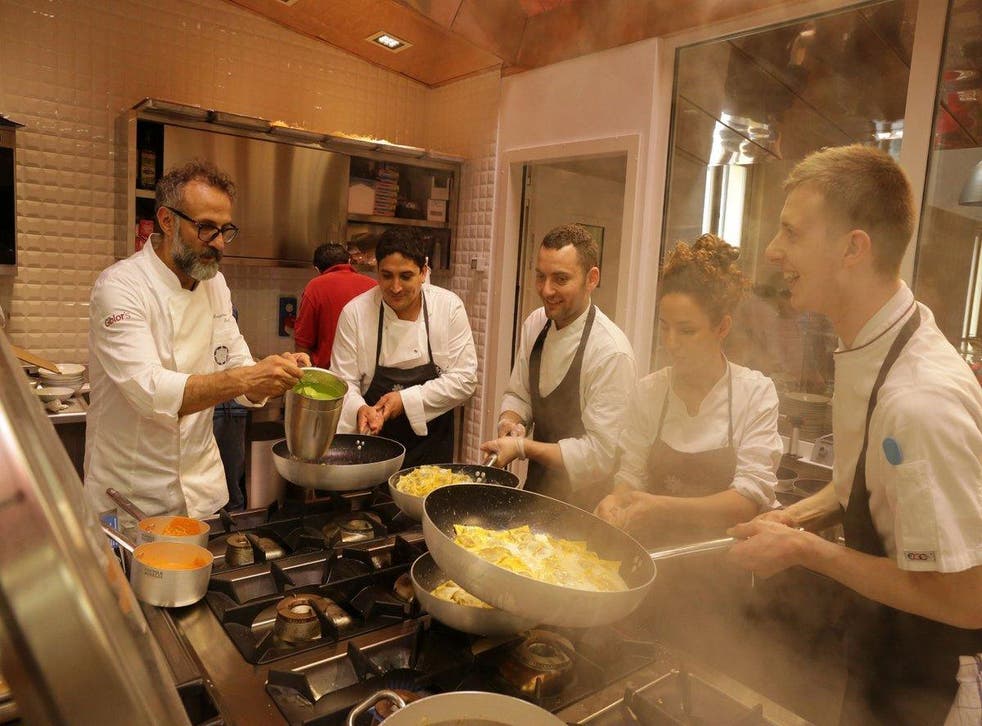 One of the world's leading chefs who has been running a project throughout the Olympics to provide meals for the homeless of Rio de Janeiro has said he was inspired to do it because it was an opportunity to make a difference.
Italian Massimo Bottura and his volunteers are using leftover raw ingredients from the athlete's village to provide 108 free dinners each evening.
He was inspired after calculating that each meal for the 18,000 participating athletes, their coaches and competition officials, required a massive 250 tonnes of raw food ingredients.
The chef, whose Modena restaurant was recently named the world's best eatery, wanted to help the Brazilian coastal city's poorest residents and make a powerful point about food waste.
Mr Bottura, 53, told the New York Times: "I thought, this is an opportunity to do something that can make a difference.
"This is not just a charity; it's not just about feeding people.
"This is about social inclusion, teaching people about food waste and giving hope to people who have lost all hope."
Rio 2016 Olympics - in pictures

Show all 74
One recipient of Chef Bottura's creations, Rene da Conceição, who has lived rough with his wife for nine years, said: "Oh my God, he takes banana peels and makes incredible ice cream. And you know, we ate food from Italy!"
Another diner added: "These guys, they shake your hand and they treat you like you're a boss.
"I thought I was dreaming and told my wife to pinch me. But it wasn't a dream."
Some of the world's most acclaimed chefs, such Alain Ducasse, Virgilio Martínez Véliz and Joan Roca, have pledged their time to working shifts at the charitable pop-up.
Italian Prime Minister Matteo Renzi and the Brazilian actress Regina Casé have stopped by to offer their support.
Register for free to continue reading
Registration is a free and easy way to support our truly independent journalism
By registering, you will also enjoy limited access to Premium articles, exclusive newsletters, commenting, and virtual events with our leading journalists
Already have an account? sign in
Register for free to continue reading
Registration is a free and easy way to support our truly independent journalism
By registering, you will also enjoy limited access to Premium articles, exclusive newsletters, commenting, and virtual events with our leading journalists
Already have an account? sign in
Join our new commenting forum
Join thought-provoking conversations, follow other Independent readers and see their replies