Mystery motive, anxious manhunt and warning signs: Key questions around the Maine shooting
Almost 48 hours on from a mass shooting left 18 dead in Maine, many questions still remain. The suspect has been found deceased but the motive is still unknown, and whether the massacre could have been prevented is now the focus of debate. Rachel Sharp reports
Saturday 28 October 2023 14:13 BST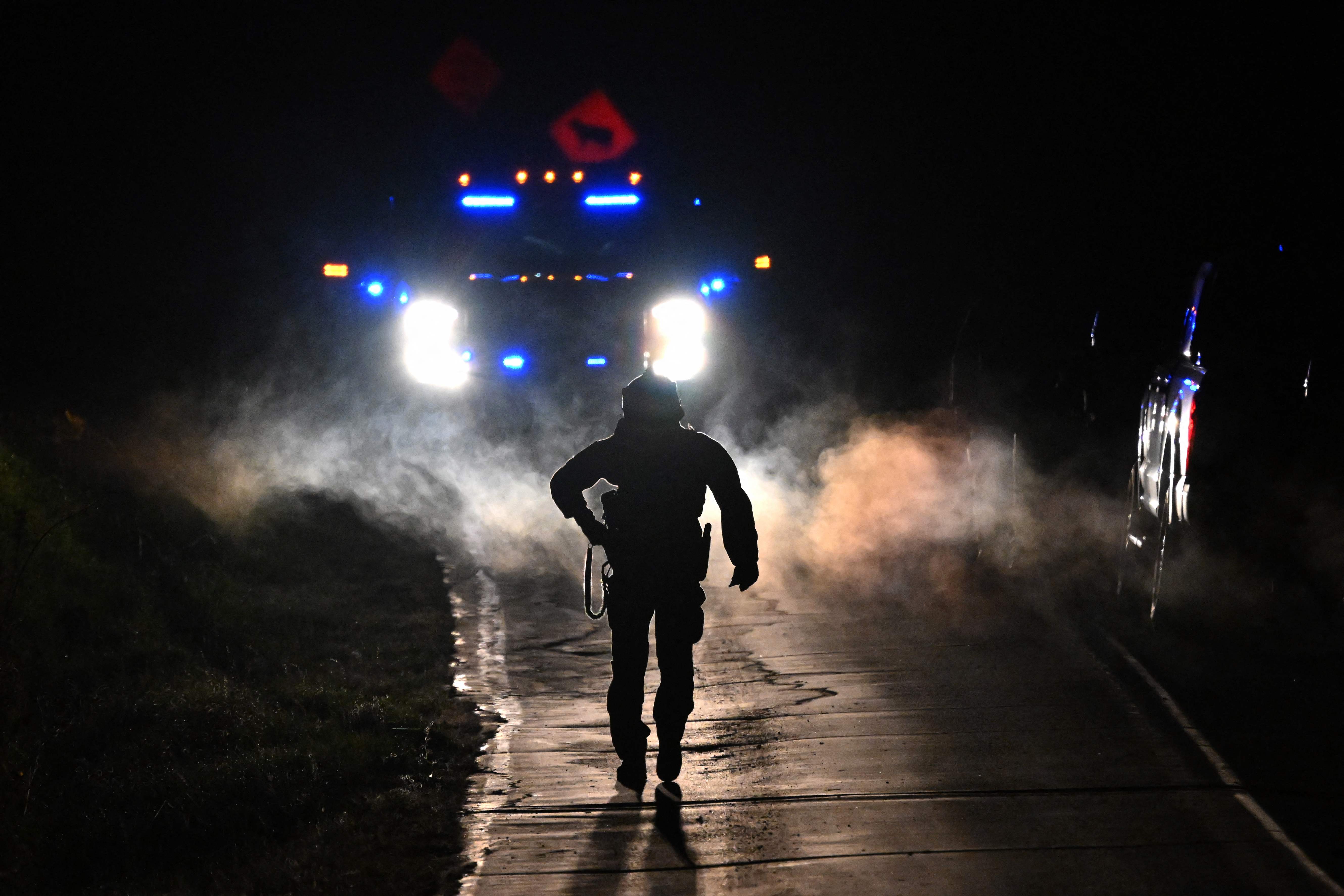 The small town of Lewiston was turned upside down when 18 residents, locals, family members and friends were gunned down in America's latest major mass shooting.
The gunman – identified as suspect Robert Card – first targeted the popular Just-In-Time Recreation bowling alley just before 7pm, killing seven people.
The suspect then went to the Schemengees Bar & Grille Restaurant and opened fire there minutes later, according to authorities.
Seven males were killed inside the restaurant and one male was killed outside.
Three other victims died after they were taken to a local hospital, while another 13 were wounded in the attacks.
Card – a 40-year-old US Army Reservist – disappeared, plunging a grief-stricken community into deeper fear of what he could do next.
Over 48 hours later, police announced that Card had been found deceased, though many questions still remain.
The motive is still unknown.
And whether it could have been prevented is now the focus of debate.
Here The Independent takes a look at the unanswered questions.
Maine Governor confirms Lewiston shooting suspect found dead
What happened to Robert Card?
Maine's Public Safety Commissioner Michael Sauschuck confirmed on Friday evening that the body of Robert Card had been found in an area of woodland, some eight miles from the scene of the shootings.
The US Army reserve is believed to have taken his own life in an area near a recycling facility where he had been recently fired from, CNN reported.
Maine Department of Public Safety commissioner Mike Sauschuck said the body had been found at 7.45pm ET, and that he had called the gunman's family – as well as victims' families – prior to the press conference.
"They lost a loved one in this scenario, and there were many of that family that was very cooperative with us throughout. So they deserved that phone call," he said.
Prior to this, Card had not been seen since he allegedly opened fire at the bar in Lewiston on Wednesday night.
Investigators traced his vehicle to a boat landing in Lisbon – around eight miles from the crime scene – just hours later.
Multiple law enforcement agencies had combed through counties in Maine ever since to find him and residents in Auburn, Lewiston, Lisbon and Bowdoin were all told to shelter in place.
Speculation mounted that police were closing in on the suspect on Thursday evening when a dramatic raid was executed on Card's home in Bowdoin.
Maine police and FBI agents were heard shouting "FBI! Open the door!" before entering the property.
The dramatic scene however ended with no arrest and no sign of the US Army Reservist.
On Friday, authorities announced that divers had joined the search, scouring the waterways close to the boat landing where Card's vehicle was found abandoned.
Mr Sauschuck said that the dive teams were checking for evidence as well as "potential bodies" in the Androscoggin River – raising questions as to whether he entered the river that night.
What was the motive for the attack?
The motive remains a mystery with authorities offering no clues as to what may have driven Card to carry out the attack.
However, Mr Sauschuck confirmed at an early press conference on Friday that the suspect did leave behind a mystery note after allegedly going on the killing rampage.
Officials have refused to reveal the contents of the note, hinting that it may point to a possible motive for the killings.
Police sources had previously told ABC News that a "suicide note" addressed to his son had been found inside Card's home during a search.
The sources said the note contained the suspect's rantings as well as some personal information such as bank account details.
As well as the note, a law enforcement official told CNN that Card's cellphone had also been recovered.
Card's family members were said to be cooperating with the investigation and suggested that he might have been looking for an ex-girlfriend at one of the shooting locations, ABC News reported.
It is not clear who this former partner may be – or if this did form part of a motive for the shooting – but court records show that Card was divorced by his ex-wife in 2007.
In 2013, the court granted them both shared parental rights of their child, who lives primarily with his mother.
Card's family has said that the US Army Reservist was struggling with his mental health in the months leading up to the mass shooting.
His sister-in-law Karen Card told The Daily Beast that "in the past year, he had an acute episode of mental health, and it's been a struggle".
In a law enforcement bulletin sent out on Wednesday, officials said that Card had recently made threats to carry out a shooting at a National Guard facility in Saco and had reported mental health issues including hearing voices.
He spent two weeks in a mental health facility this summer after military officials at West Point sent him for an evaluation.
Ms Card said that things had gone further downhill recently.
The suspect had started wearing hearing aids for his hearing loss and was claiming that he could now hear people speaking badly of him – including at the bowling alley and restaurant where the shootings took place.
On Wednesday night, a cornhole competition for members of the deaf community was being held at the restaurant.
Several of the community members were killed in the shooting.
Could the shootings have been prevented?
The warning signs appear to have been there with Card – with his threats against a National Guard base and serious mental health concerns.
Now, questions are being asked as to whether the mass shooting could have been prevented if steps had been taken to prevent him from having access to firearms.
Maine has very lax gun laws and people don't need a permit or a background check to buy or conceal carry a gun. Possession of semiautomatic weapons is also legal in the state.
The state also does not have a red flag law in place – a law used to prevent individuals from purchasing or possessing guns if they are feared to be a danger to themselves or others.
However, it does have a yellow flag law that enables family members to contact law enforcement and seek a temporary order restricting a relative from accessing firearms if they appear to be suffering a mental health crisis.
Under the law, the individual must first be taken into police custody for a medical evaluation – something that did happen to Card in the summer.
On Thursday, Maine Senator Susan Collins said that the yellow flag law should have been used.
"I don't know whether there was a report to trigger the yellow flag law," she said in a briefing.
"It certainly seems that on the basis of the facts that we have, that the yellow flag should have been triggered.
"If, in fact, the suspect was hospitalized for two weeks for mental illness, that should have triggered the yellow flag law and he should have been separated from his weapons. I'm sure, after the fact, that's going to be looked at very closely."
It is not clear what happened after he spent time in the mental health facility.
It is also unclear if Card's family or military officials took any steps to limit his access to firearms.