Statue of Supreme Court judge who defended slavery taken down in wake of Charlottesville clashes
Maryland Governor Larry Hogan ordered the dismantling of the memorial to Roger B. Taney – who had ruled that black people could not become citizens of the U.S.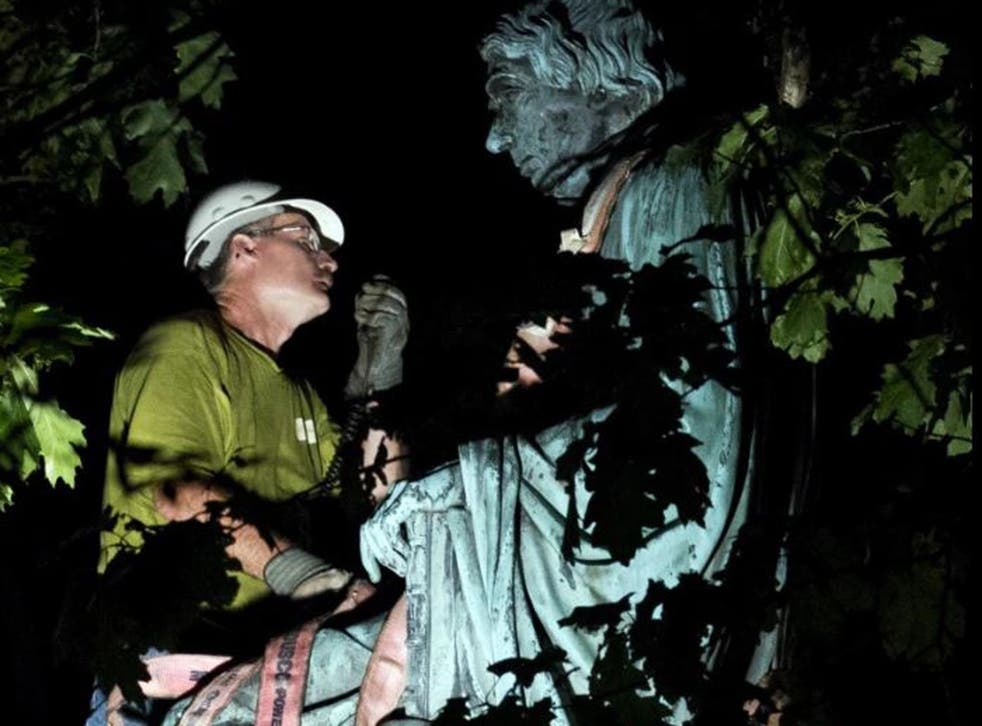 Workers have pulled down a statue in tribute to a US Supreme Court justice who defended slavery – days after plans to remove a similar symbol of racism in Charlottesville sparked mass riots.
Maryland Governor Larry Hogan ordered the dismantling of the memorial to Roger B Taney outside the Maryland State House – which came after decades of pressure from civil rights groups.
Mr Taney ruled in a landmark case in 1857 that black people should not be given US citizenship – a move which historians say indirectly triggered the civil war in the country.
Governor Hogan said it was "the right thing to do" to remove the tribute to the controversial figure after fascists clashed with counter-protestors in ugly scenes in Charlottesville.
It came after ultra-right wing groups marched in their thousands in protest at plans by city officials to remove a statue in honour of Confederate Army General Robert E Lee.
Police in Maryland blocked off the streets around the State House overnight to allow workers move in and dismantle the tribute to justice Taney after midnight.
Some two dozen people looked on as a crane wrenched the statue from its base and hoisted the memorial on to a flatbed truck.
Some witnesses commented that Taney's likeness, gazing slightly down, appeared to be bowing its head in shame as workers pulled straps around his frame.
"It's just a bad statue overall," said Robb Tufts, 43, of Annapolis told the Washington Post. "He's all hunched over like Ebenezer Scrooge . . . we deserve to celebrate the heroes of Maryland, not the villains of history."
Mr Hogan's spokesman, Doug Mayer, said the monument would be placed in an undisclosed state storage facility. The perch remained on the lawn, covered by a wooden box.
Violence on the streets of Charlottesville

Show all 9
Mr Hogan a day earlier called for the statue to be removed. "While we cannot hide from our history — nor should we — the time has come to make clear the difference between properly acknowledging our past and glorifying the darkest chapters of our history," Mr Hogan said in a statement.
"With that in mind, I believe removing the Justice Roger B Taney Statue from the State House grounds is the right thing to do, and we will ask the State House trust to take that action immediately."
It came as dozens of cities across the U.S., including in Baltimore and Washington, have called for monuments in honour of pro-slavery figures to be removed.
Donald Trump sparked controversy when he called the memorials "beautiful".
"Sad to see the history and culture of our great country being ripped apart with the removal of our beautiful statues and monuments," he wrote in a series of tweets on Thursday.
"You can't change history, but you can learn from it. Robert E Lee, Stonewall Jackson - who's next, Washington, Jefferson? So foolish!"
Join our new commenting forum
Join thought-provoking conversations, follow other Independent readers and see their replies