Rolling Stone Boston bomb suspect cover sparks outrage
Decision to put Dzokhar Tsarnaev on its cover has caused outrage. It's not the first time someone so notorious has been given the rock star treatment, says Ian Burrell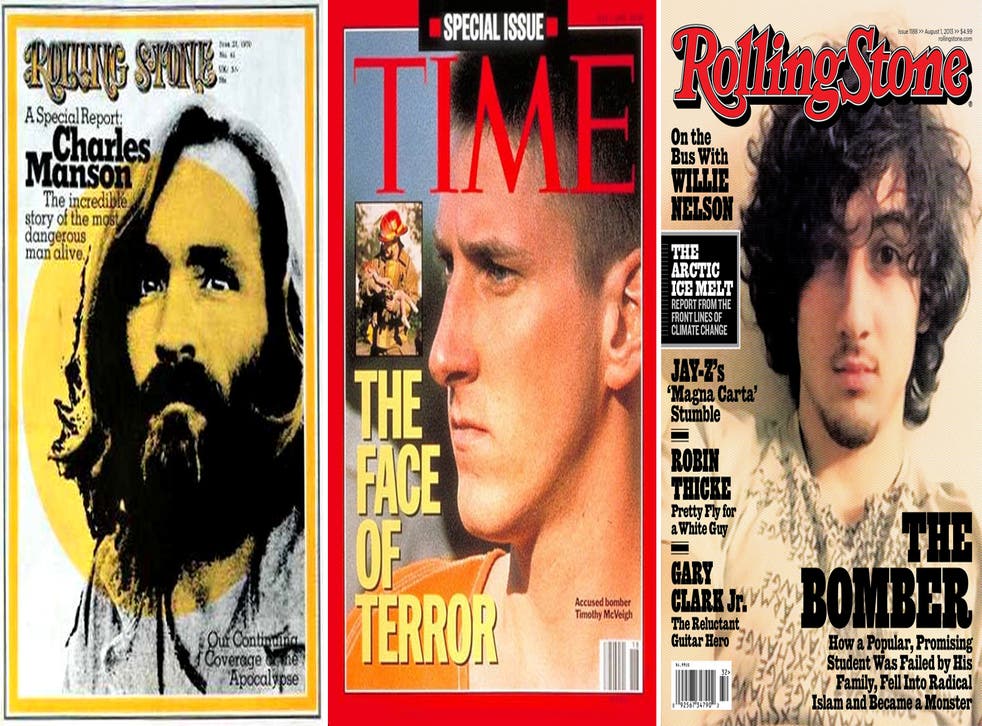 It was Dr Hook that best encapsulated the kudos of getting front-page treatment in the world's best-known music magazine. "The thrill we've never known," went the lyric, "is the thrill that'll get ya, when you get your picture, on the cover of the Rolling Stone."
But cover star status on the rock 'n' roll bible is a more dubious honour after the decision this week to confer the distinction on Dzokhar Tsarnaev, currently accused of killing three people and injuring more than 200 others in the Boston Marathon terror attack. The likeness to a previous issue featuring Jim Morrison of The Doors was so striking that some readers may have been under the impression that "The Bomber", as the tousle-haired and goatee-bearded Tsarnaev was tagged in the magazine's cover line, was a new rock star. And if they didn't think that, many who went on the magazine's Facebook page to complain of an "un-American" piece of publishing, were convinced that they were the objects of a ghastly betrayal. "I am so disappointed with Rolling Stone magazine," said one. "I will no longer buy/read the mag. You have just made him a 'rock star'. How could you?"
Several suggested that the magazine should have given cover star status to the victims of the bombing, such as Jeff Bauman, who lost both legs. "I hope not a single person from Boston or New England ever buys your magazine again," stormed another commenter. "Want to see true terrorism? Look to the media."
The episode showed how, even in an age where digital media has reduced the importance of the news-stand, a magazine cover image can still have enormous impact.
That is especially so in America, where star billing by household name titles is widely regarded as an endorsement – something to be framed and put on the wall.
But Rolling Stone has a long history of serious journalism and the current cover story is the result of a two-month investigation that introduced new insights into the bombing suspect, including details of how he surrendered to the FBI after being persuaded to talk to his former wrestling coach. It would not seem unreasonable for the magazine to illustrate its article with the best-known image of the subject, a self-portrait. The very same picture was used on the front page of the New York Times in May. Time magazine – considered one of the most prestigious covers of all – gave the front page to Oklahoma City bomber Timothy McVeigh in 1995.
The picture of McVeigh in profile was balanced with a smaller image of a fire fighter nursing a child – but Time was promoting an interview with the terrorist.
Rolling Stone itself put mass killer Charles Manson on its cover in 1970, with the salacious strap: "The incredible story of the most dangerous man alive."
Even Dr Hook, with a long record of musical crimes, managed to blag their way into the hallowed spot in 1973 by recording "The Cover of Rolling Stone" (see lyric above). Weeks later, the magazine granted their wish, with a lurid cartoon of the band and the caption "What's-Their-Names make the cover."
What do you think about Rolling Stone's decision to feature Tsarnaev on the cover? Take our poll here.
Register for free to continue reading
Registration is a free and easy way to support our truly independent journalism
By registering, you will also enjoy limited access to Premium articles, exclusive newsletters, commenting, and virtual events with our leading journalists
Already have an account? sign in
Register for free to continue reading
Registration is a free and easy way to support our truly independent journalism
By registering, you will also enjoy limited access to Premium articles, exclusive newsletters, commenting, and virtual events with our leading journalists
Already have an account? sign in
Join our new commenting forum
Join thought-provoking conversations, follow other Independent readers and see their replies