Romney and Obama refine themes for campaign's final throes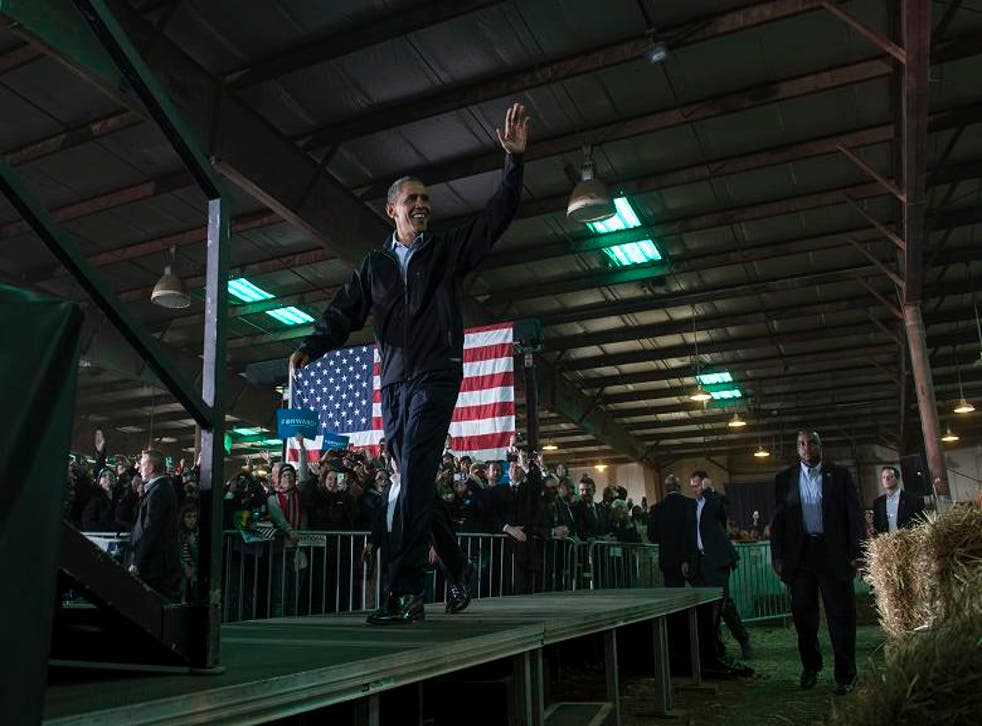 There was a familiar ring to the new speech in which Mitt Romney called Friday for a shared sense of purpose and promised an era of national healing.
It sounded very much like the themes Barack Obama ran on four years ago.
"I will lead America to a better place, where confidence in the future is assured, not questioned," the GOP challenger told an ebullient crowd at the Wisconsin state fairgrounds here. "This is not a time for America to settle. We're four days away from a fresh start, four days away from the first day of a new beginning."
From the start, the two campaigns have had different theories of the race — Romney's being that it would be a referendum on Obama; Obama's that it would be a comparative choice between the two candidates. But in the final days, both sides appear to have realized that this election is both. The challenger seeking to unseat an incumbent must make a case for himself. The incumbent seeking to hold on to his office must convince voters not only that the alternative would be worse but also that he has earned the right to another term.
So Obama found himself heading into Election Day in the traditional posture for an incumbent under siege — the fighter, not the conciliator, wiser for the experience.
"I'm a very nice guy, people will tell you. I really am," Obama said.
But if "the price of peace in Washington" means cutting deals to slash student financial aid or give health insurance companies more power, "I'm not going to make that deal," the president said at a high school gym in Springfield, Ohio, at the second of three rallies Friday in that crucial state.
And he pledged: "I am a long ways away from giving up on this fight. I got a lot of fight left in me. I don't get tired. I don't grow weary. I hope you aren't tired either, Ohio."
Though the polls show the race to be close, it is not because the voters lack a contrast, and both candidates are using their last hours of frenzied campaigning to highlight that choice.
Romney ended the day in West Chester, Ohio, a suburb of Cincinnati, where he reunited with wife Ann, their five sons and nearly 100 top surrogates for a huge rally kicking off the three-day sprint to Election Day.
From there, Romney set off on a swing from New Hampshire to Iowa to Colorado and, on Sunday, to Pennsylvania. Romney is making an eleventh-hour gamble to contest Pennsylvania, which leans Democratic but, with 20 electoral votes, could give him an alternate path to victory. Meanwhile, he is dispatching his running mate, Rep. Paul Ryan, R-Wis., to Minnesota, another leaning-Democratic state that Romney is trying to snatch away from Obama.
Obama is setting off on a whirlwind tour of his own, with plans to stump on Saturday in Iowa, Ohio, Virginia and Wisconsin and on Sunday in a slew of other states. At various stops, he will be joined by former president Bill Clinton and singers Katy Perry, Dave Matthews and John Mellencamp.
Adding punctuation to the two candidates' rhetoric was a fresh monthly jobs report — one that each candidate seized upon to underscore his argument.
Obama pointed to the second straight month of unemployment below 8 percent as evidence that the country was making real progress; Romney said the report was more evidence of how frustratingly slow the recovery has been.
The president challenged Romney's effort to seize the banner of change.
"Now, Governor Romney, he's a very gifted salesman. So he's been trying in this campaign, as hard as he can, to repackage these ideas that didn't work, the very same policies that did not work, and he's trying to pretend that they're change," Obama said.
"Now, the thing is, we know what change looks like, and what he's selling ain't it."
These final pitches are always a tricky balance between inspiring the base to put their hearts into the last few days and winning over the few voters who are still making up their minds.
Along with his talk of putting political differences aside, the Republican challenger also unleashed a sharply partisan attack, warning that reelecting Obama would lead to another showdown in Congress next year over the debt ceiling, followed by a possible government shutdown and default on debts. Democrats insist that Republicans are the ones guilty of intransigence on those issues.
Obama, for his part, blasted Romney on Friday for using "scare" tactics in claiming that U.S. car companies are moving jobs to China. He accused Romney of frightening Americans with false claims of job losses "just to scare up some votes."
Appearing in Hilliard, Ohio, about 12 miles northwest of Columbus, Obama made his first extended remarks about a Romney television commercial in wide circulation in the state. The ad, saying that General Motors and Chrysler are expanding in China, may leave some Ohioans with the impression that U.S. jobs, including at Toledo-based Jeep, are moving there.
Democrats have attacked the ad as untrue, and independent analysts, including The Washington Post's Fact Checker, have criticized it as misleading. Chrysler announced a year ago it would add 1,100 jobs at its Toledo plant.
Obama told a crowd of 2,800 at the Franklin County Fairgrounds that the ad has prompted workers at the Jeep plant to call their employer to ask if they will lose their jobs.
"The reason they're making the calls is because Governor Romney is running an ad that says so. Except it's not true," Obama said. "The car companies themselves have told Governor Romney to knock it off. GM said we think creating jobs in the United States should be a source of bipartisan pride. I could not agree more."
Despite the criticism the ad has received, which has included condemnation by auto company executives, Romney aides say it is accurate and provides important context on an issue Obama has run on for months.
Romney kicked off the final leg of the campaign in Wisconsin, a state that has not voted for a Republican presidential candidate since Ronald Reagan in 1984. Its 10 electoral votes now are central to both campaigns' calculations.
Romney hopes the deep ground organization that Republican Gov. Scott Walker built in Wisconsin earlier this year to fend off a recall effort — as well as his selection of Ryan, a native of Janesville, southwest of Milwaukee, as his running mate — will pay dividends at the polls Tuesday.
Along with his high-altitude themes, Romney also pointed to tangible problems, such as rising gasoline prices, that he has calculated could help him pry away suburban voters who may be leaning toward Obama.
Noting that gas costs roughly twice what it did in 2008, Romney said that "we're going to change course on energy — and I know just how much energy means to middle-class families."
Romney said he would open more federal lands to oil drilling, approve construction of the Keystone pipeline and loosen government regulations on coal development — a proposal he thinks might give him a lift in the coal regions of Ohio, Pennsylvania and Virginia.
- - -
David Nakamura, traveling with Obama, and William Branigin and Alice Crites in Washington contributed to this report.
Join our new commenting forum
Join thought-provoking conversations, follow other Independent readers and see their replies