Teacher accused of gagging pupil with cerebral palsy by sticking tape across her mouth
Nesa Johnson texted Rosa Smith's mother with picture of prank saying, 'Help. She won't be quiet!!!', Michigan court hears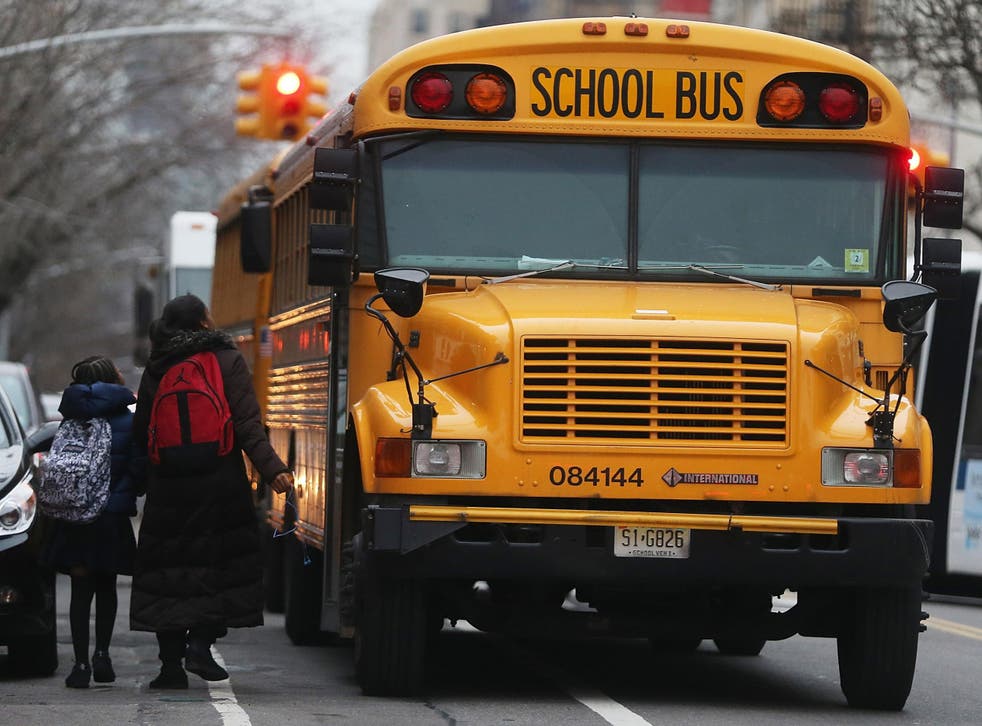 In March 2016, Doreen Smith received a text message from her daughter's teacher. It contained a picture of Rosa, her daughter, who has cerebral palsy. Rosa was grimacing as four pieces of tape covered her mouth.
"Help. She won't be quiet!!!!" the teacher wrote in a follow-up text message that included two emojis, according to court documents.
Months later, Rosa was said to have been locked in a school bathroom for several hours as a punishment for "gargling her spit."
These are among several allegations detailed in a federal lawsuit that Smith recently brought against her daughter's teacher and other employees at a special-education school in Ann Arbor, Michigan. Smith alleged that her daughter was abused and neglected several times over a span of more than a decade, stretching to 2004. In February, a school bus driver saw an employee slapping Rosa in the face several times, the lawsuit says.
For years, Smith made a "plethora of complaints" to the school, the lawsuit says. But officials did nothing, she claimed, at times telling her that her daughter's injuries, which included a third-degree burn, a bloodied scab and bruises, were either accidental or self-inflicted.
Smith's attorney, Jonathan Marko, did not respond a call from The Washington Post on Sunday, but he told reporters during a news conference on Thursday that school officials ignored complaints from Rosa's parents.
"The school assured them that they were taking care of it, that they (the parents) were overreacting, that whatever was happening, whatever they saw or thought was going on, that it was the student's fault," Marko said, adding that the lawsuit is seeking damages in the seven figures.
The lawsuit was filed on Wednesday against Nesa Johnson, who was the teacher at the time; the school's then-principal, Anne Nakon; the school district; and two unnamed employees.
The Washtenaw Intermediate School District (ISD) said in a statement that district officials had not been aware of the alleged abuse.
"The Washtenaw ISD wants to assure the parents of our district that we take the health, safety, and education of all of our students very seriously. As to the subject of this lawsuit, the family did not report this, or any other complaint to the district until nearly a year after it occurred. During that subsequent year, the student continued attending school, in the same classroom, with the same teacher. When we were first informed of the family's concern, we immediately conducted a complete investigation and took appropriate remedial action," the district said.
School district spokeswoman Emma Jackson declined to answer questions about the investigation or what type of remedial action was taken, and she referred The Post to the district's attorney, who did not return a call seeking comment. Jackson told The Detroit Free Press that Nakon and Johnson no longer work for the district, though they were not fired. It's unclear whether they left because of the abuse allegations.
The Post was unable to reach Johnson on Sunday, though a man who said he is her husband said his wife is not facing criminal charges. Nakon did not return a call from The Post, but she said in an email to The Free Press that she was "unaware of any misconduct toward this student or any student" until she was contacted about the allegations several months ago.
"I would never condone such a behaviour and, had I been made aware or suspected any mistreatment of a student, would have immediately investigated the situation to protect the student," she told the paper.
Rosa, 27, is wheelchair-bound, unable to talk and completely relies on others for the most basic functions. She is four-foot-11 and weighs 62 pounds.
She had been attending High Point School with other students with similar disabilities since at least 2004. The lawsuit says she previously had a different teacher and was transferred to Johnson's class that year after scalding hot coffee was spilled on her leg, causing third-degree burns. School officials told Smith that Rosa had caused the injuries to herself, although she could not have been able to knock over a container of liquid, the lawsuit says.
Three years later, in July 2007, Smith saw a deep gouge and a bloodied scab on Rosa's forearm. School officials, again, said it was self-inflicted, although Rosa is not physically capable of injuring herself, the lawsuit says.
The majority of the alleged abuse happened last year, including an incident in March in which Johnson is accused of taping Rosa's mouth shut to keep her from making noises. The lawsuit described the act as "torturous," as Rosa breathes out of her mouth.
Last fall, according to the lawsuit, Rosa came home from school with her diapers completely soiled or wet, leading Smith to suspect that school staff had let her sit for hours with dirty diapers.
At one point, Rosa went to school with a cold. She's unable to clear her nasal passages by herself, so they need to be suctioned to keep phlegm from accumulating. When Smith called to check on her daughter, she was told that Rosa had been placed in a bathroom for hours because she wouldn't stop "gargling her spit," the lawsuit says.
World news in pictures

Show all 50
Smith withdrew her daughter from school earlier this year, the lawsuit says, after she learned that a school employee had slapped Rosa while she was outside waiting for her school bus. School officials said that employees would "pat" disabled children to quiet them down and that it wasn't slapping, according to the lawsuit.
Marko, the lawyer, said Rosa's parents didn't pull their daughter out of the school sooner because they didn't realise the extent of the abuse, The Free Press reported.
Rosa no longer qualifies for special-education services and programmes. The federal age limit is 21, though rules vary across states. In Michigan, eligibility begins at infancy and ends at age 25. High Point School provides free education to special-needs students from ages three to 26.
The Washington Post
Register for free to continue reading
Registration is a free and easy way to support our truly independent journalism
By registering, you will also enjoy limited access to Premium articles, exclusive newsletters, commenting, and virtual events with our leading journalists
Already have an account? sign in
Register for free to continue reading
Registration is a free and easy way to support our truly independent journalism
By registering, you will also enjoy limited access to Premium articles, exclusive newsletters, commenting, and virtual events with our leading journalists
Already have an account? sign in
Join our new commenting forum
Join thought-provoking conversations, follow other Independent readers and see their replies