Ryan Seacrest sexual harassment allegation investigated by police
'Those who work with Ryan seem to hope I will just go away. Well, I'm not going away. I'm thriving in the truth and feel more inspired than ever'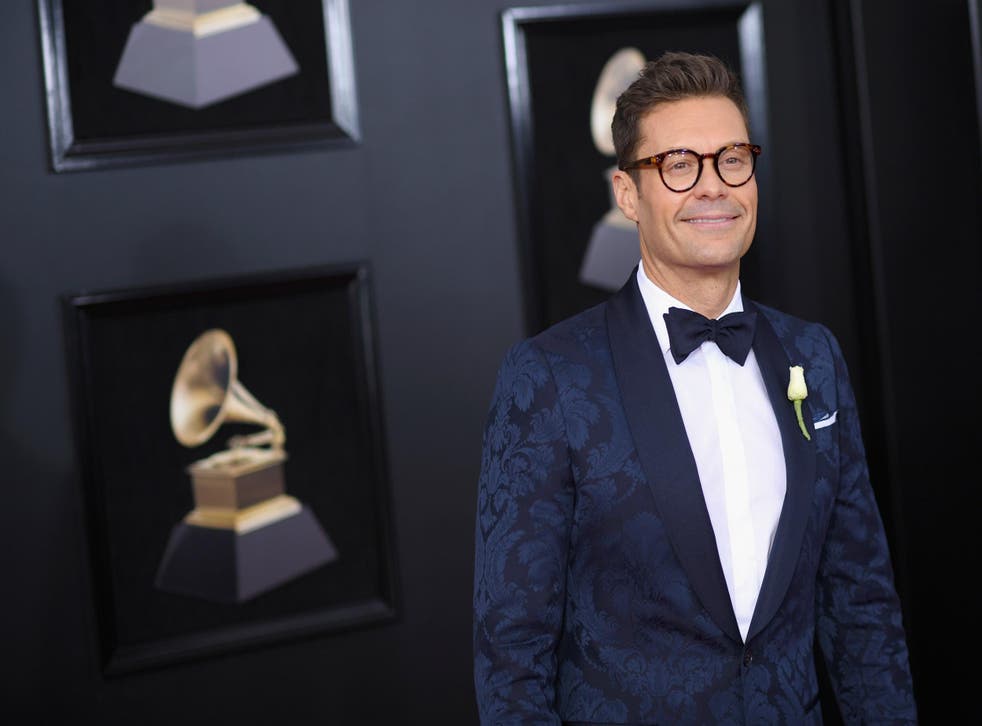 The former colleague of Ryan Seacrest accusing the TV host of sexual harassment has said she has filed a police report over the allegation.
Seacrest's lawyer responded in a statement that he "will again be cleared of any wrongdoing"; the host has previously denied accusations from his former personal stylist that he sexually harassed her for six years.
Suzie Hardy alleged that the American Idol presenter made aggressive and unsolicited advances towards her when she worked for him at entertainment network, E! News.
She told Variety magazine that he would slap her, hug her while just wearing underwear and repeatedly cup her crotch with his hand.
Seacrest made the allegations public himself in November, several months before the Variety article, where he denied the "reckless" accusations and insisted he was an "advocate for women".
"Recently, someone that worked as a wardrobe stylist for me nearly a decade ago at E! News, came forward with a complaint suggesting I behaved inappropriately towards her," he said in a statement at the time. "If I made her feel anything but respected, I am truly sorry. I dispute these reckless allegations and I plan to cooperate with any corporate inquiries that may result."
E! carried out an internal inquiry into Ms Hardy's accusations, but in January it said that it had discovered insufficient evidence to back up her claims.
Oscars 2018: Mary J. Blige and Diane Warren explain why they stopped for an interview with Ryan Seacrest
Though Ms Hardy, whose employment with the network ended in 2013, claimed the investigation was incomplete and one-sided, E! said in a statement its investigation by an external lawyer was "extremely comprehensive and thorough" and that "any claims that question the legitimacy of this investigation are completely baseless".
However, she has now stated she "will not stand by silently", penning a guest column in The Hollywood Reporter in which she wrote: "Those who work with Ryan seem to hope I will just go away. Well, I'm not going away. I'm thriving in the truth and feel more inspired than ever. I recently contacted the LAPD and filed a police report so I'm guaranteed a real investigation this time."
The Los Angeles Police Department confirmed a report had been filed against Seacrest and that the matter would be investigated. It did not confirm the nature of the allegations.
In a statement, Seacrest's attorney, Andrew Baum, said: "After Mr. Seacrest denied each and every one of Ms. Hardy's decade old claims, after Mr. Seacrest refused to pay Ms. Hardy any money whatsoever, and after an independent legal investigation did not support her claims, Ms. Hardy went to the press attacking the legitimacy of the investigation."
"Now, after being refused money and unhappy with the independent legal investigation, Ms. Hardy now claims to have spoken to the authorities. We will continue to cooperate and we remain confident that Mr. Seacrest will once again be cleared of any wrongdoing."
Seacrest is also the producer of hit show Keeping Up With The Kardashians, and also presents American morning talk show Live With Kelly And Ryan alongside Kelly Ripa.
Register for free to continue reading
Registration is a free and easy way to support our truly independent journalism
By registering, you will also enjoy limited access to Premium articles, exclusive newsletters, commenting, and virtual events with our leading journalists
Already have an account? sign in