Texas to debate which gun will be its state symbol as it relaxes conceal carry laws
Politicians accused of making 'symbolic gestures' while 3,200 people shot dead each year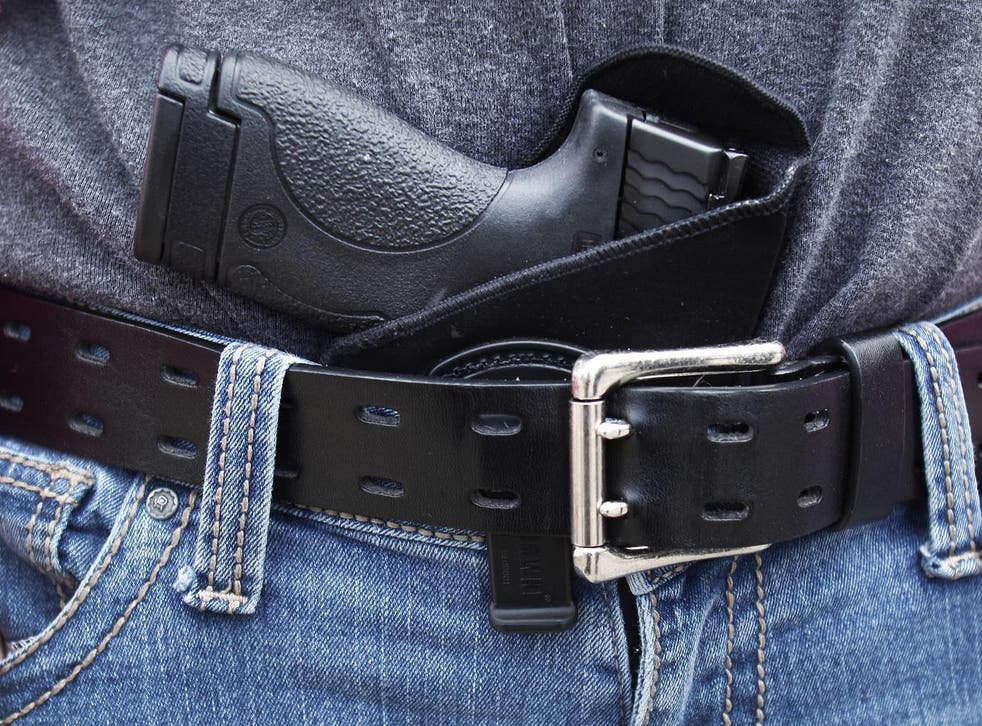 Politicians in Texas have been accused of making "symbolic gestures" as they debate which gun to adopt as the official symbol for the state where 3,200 people are shot dead every year.
A proposal nominating the cannon passed its first legislative hurdle in the state senate last week, while another suggests 1847 Colt Walker pistol should represent Lone Star State.
A third proposal calls for the Bowie knife to be designated Texas' official state knife. The state already has an official tree (the pecan), fish (the Guadalupe bass) and cooking device (the cast-iron Dutch oven).
The cannon is a popular choice for the state's official weapon because it was used in the first military engagement of the Texas Revolution, which eventually led to the state separating from Mexico.
During the 1835 Battle of Gonzales, Mexican soldiers tried to take a cannon from a group of Texans who resisted and taunted their foes with a flag featuring the phrase 'Come and take it'.
Don Huffines, a Republican state senator who is leading the campaign to adopt the cannon told The Guardian: "Obviously the cannon is the most significant symbol we have for the state of Texas, our sense of independence, our strength of being responsible as individuals and not reliant on the government, our sense of liberty, our sense of virtue.
"A cannon is symbolic, it's not about promoting violence, but our history speaks for itself, our heritage speaks for itself, and it is a heritage, a history, of using the cannon for our liberty and our independence. It's the spirit of Texas. We don't have people down here complaining about cannon control."
Protests call for stricter gun-control laws in Washington DC

Show all 12
Politicians could end up approving a number of official weapons.
"There's room for all three, there really is," said Mr Huffines in reference to proposals in favour of the cannon, the Colt pistol and the Bowie knife.
As some US states consider tougher gun control regulations, Texas has moved in the other direction. Last year it introduced new rules allowing Texans to openly carry handguns providing they first secure a permit, while gun owners can now legally carry concealed weapons on university campuses.
Politicians are also considering a proposal to allow handguns to be carried without the need for a licence.
Critics accused Texas' politicians of making "symbolic gestures" rather than acting to tackle gun violence in a state where 3,200 people are shot dead every year.
"There is so much more we need to do in Texas to protect our families and law enforcement from gun violence", Alexandra Chasse, of the Texas branch of campaign group Moms Demand Action for Gun Sense in America, told The Guardian. "I hope legislators will work with us with those goals in mind, rather than focusing on symbolic gestures."
Join our new commenting forum
Join thought-provoking conversations, follow other Independent readers and see their replies