Sally Yates warned White House Michael Flynn could be blackmailed by Russia weeks before he was fired
'To state the obvious, you don't want your national security adviser compromised by the Russians,' Ms Yates says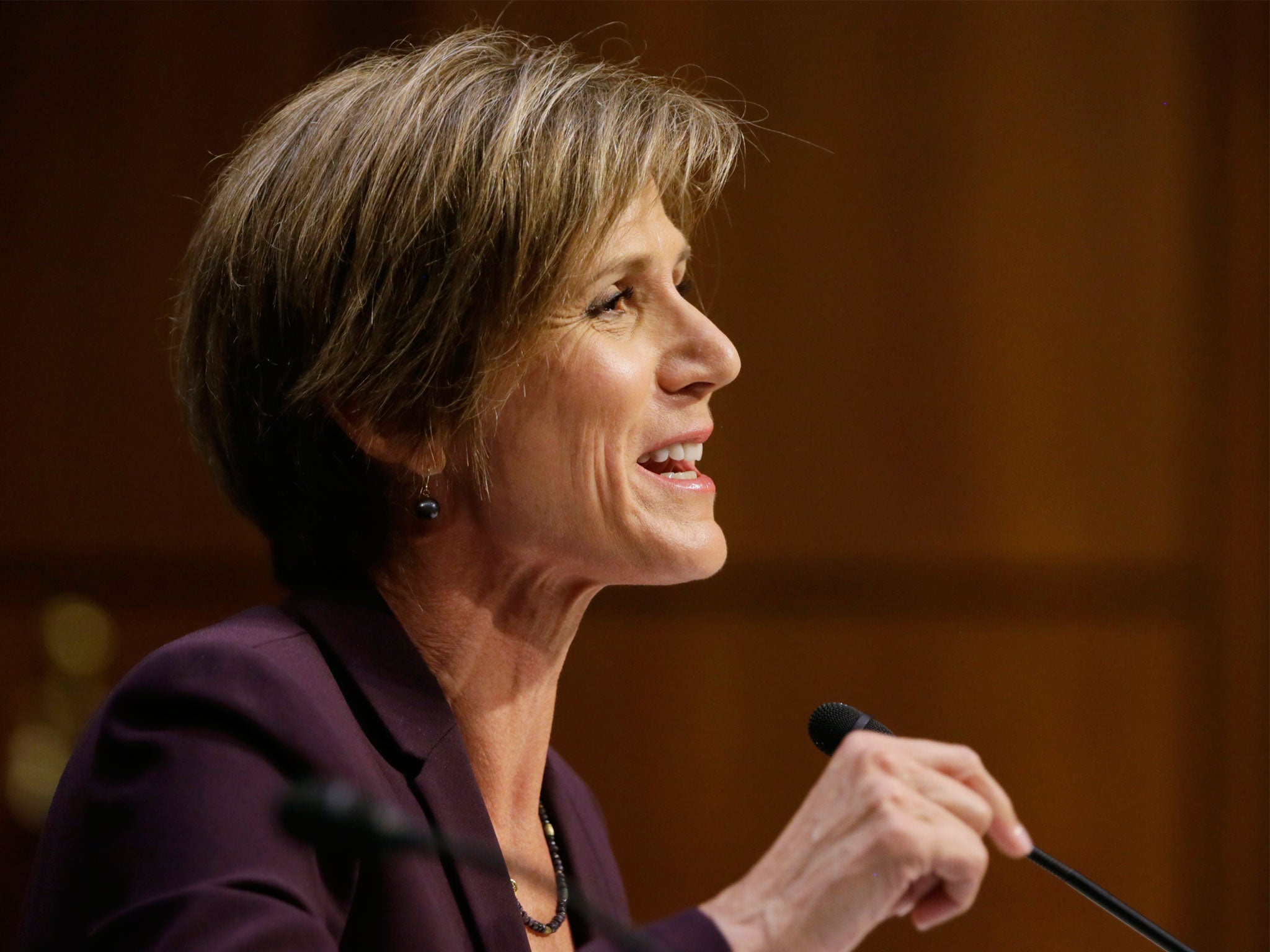 The White House knew that former National Security Adviser Michael Flynn was susceptible to blackmail by the Russian government at least three weeks before he was forced out, former Attorney General Sally Yates has claimed.
Russian officials were aware of Mr Flynn's conversations with the Russian ambassador – and that he had misled the US vice president as to the nature of those conversations, Ms Yates testified to a Senate subcommittee.
"The Russians also knew about what General Flynn had done, and the Russians also knew that General Flynn had misled the Vice President and others," Ms Yates said at a public hearing. "That created ... a situation where the national security adviser essentially could be blackmailed by the Russians."
Mr Flynn was removed from his post as national security adviser in February for misrepresenting his communications to Vice President Pence. But Ms Yates says she had alerted the White House of the issue three weeks before, on 26 January. On that day, Ms Yates said she met with White House Counsel Donald McGahn and informed him of her fears: Not only were the vice president and others being given false information, but the Russians knew this to be true – and had evidence.
"To state the obvious, you don't want your national security adviser compromised by the Russians," Ms Yates said.
Aside from her concerns about Russian blackmail, Ms Yates said went to Mr McGahn because she felt Mr Flynn's "underlying conduct" was "problematic." She also felt that the vice president, other officials, and the American public as a whole deserved to know that they were being misled.
White House Press Secretary Sean Spicer and Chief of Staff Reince Priebus had previously classified this meeting as a "heads up" to the White House. Both men said they brought the information to the White House legal team, which found nothing of issue.
Senator Amy Klobuchar asked Ms Yates on Monday if her message to the White House was more formal than a simple heads up.
"We were there to tell the White House about something we were very concerned about and emphasise [it] to them repeatedly so that they could take action," Ms Yates replied.
She would not reveal how she had obtained her information, citing classified intelligence.
Mr Flynn became the subject of public concern in early February, when the Washington Post reported he had discussed US sanctions against Russia with the country's ambassador. He stepped down shortly thereafter, when the White House revealed he had not disclosed the extent of these conversations to Mr Pence and others. Asked on Monday how the Post had received that information, Ms Yates said she did not know.
It was later revealed that Mr Flynn had also received payment from Russian state media outlet RT, and had taken $500,000 from the Turkish government to represent them in disputes with the US. The retired lieutenant general is currently under investigation by the Department of Defence for allegedly failing to properly disclose these payments.
Join our commenting forum
Join thought-provoking conversations, follow other Independent readers and see their replies