Salt Lake City votes to celebrate Indigenous Peoples' Day on Columbus Day
Resolution a 'symbol with power and meaning in acknowledging a wrong doing to Native Americans'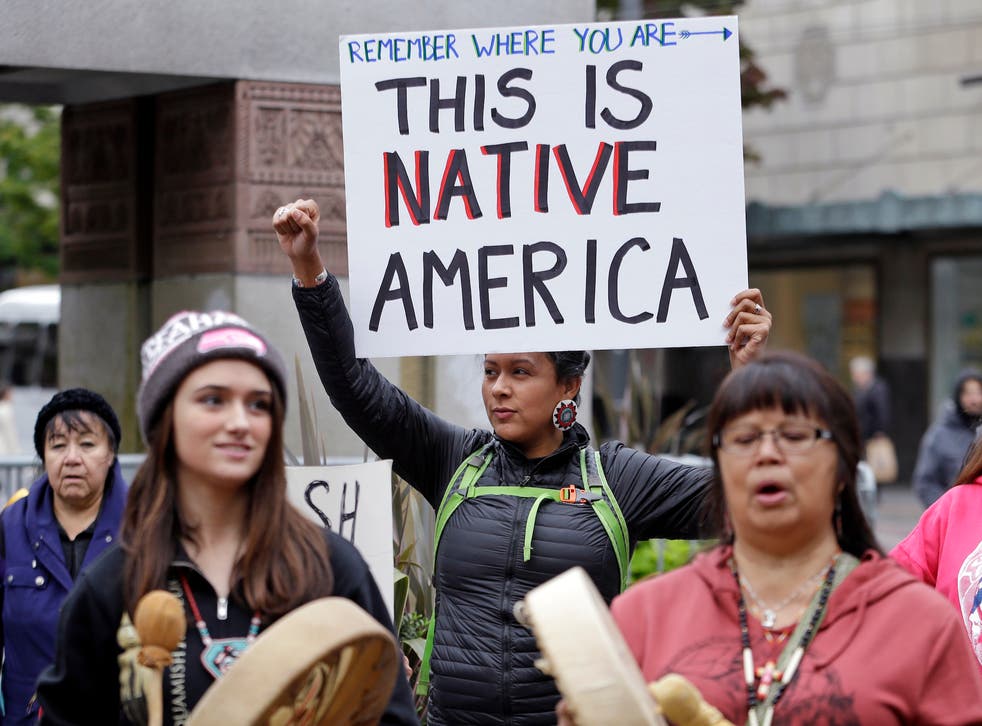 A US city has declared the second Monday in October – the day Columbus Day falls on – as Indigenous Peoples' Day.
To cheers from a packed room, Salt Lake City Council members unanimously signed a resolution that encourages citizens, businesses and schools to also celebrate the day.
"Celebrating the two holidays the same day is a way to inform our understanding of each other's contributions to our national fabric without demeaning the significance of either," Stan Penfold, council chairman, said.
Columbus Day is celebrated in countries around the Americas to celebrate the anniversary of Christopher Columbus's arrival on the continent on 12 October 1492. The moment marked the start of the European colonisation of the landmass and centuries of mistreatment towards the indigenous population.
Salt Lake City joins 18 other cities - including Los Angeles - in 2017 to introduce Indigenous Peoples' Day on the same date as Columbus Day.
Moroni Benally, Co-Founder of the Utah League of Native American Voters, said the resolution was a "symbol with power and meaning in acknowledging a wrong doing to Native Americans".
Native American tribe takes oil fight to the UN
"It represents a step towards correcting a history that has been sanitised," he added.
Senator Jim Dabakis, who failed to pass the bill at state level in 2016, said until now Native Americans had no day to celebrate.
"There's 50,000 Native Americans and they get diddly-squat. There's no remembrance, there's no celebration," he said.
The Italian-American Civic League sent a letter condemning the decision, branding it an "uncalled-for affront to our culture" and "degrading" to Italian-Americans.
Charlie Luke, vice-chair of the council, responded that it was not eliminating Columbus Day. "We are simply adding another group to honour on the same day," he said.
Indigenous Peoples' Day will be celebrated this year on 9 October in Salt Lake City.
Register for free to continue reading
Registration is a free and easy way to support our truly independent journalism
By registering, you will also enjoy limited access to Premium articles, exclusive newsletters, commenting, and virtual events with our leading journalists
Already have an account? sign in
Register for free to continue reading
Registration is a free and easy way to support our truly independent journalism
By registering, you will also enjoy limited access to Premium articles, exclusive newsletters, commenting, and virtual events with our leading journalists
Already have an account? sign in
Join our new commenting forum
Join thought-provoking conversations, follow other Independent readers and see their replies