San Bernardino shooters 'were radicalized before' online dating
FBI chief reveals Syed Rizwan and his wife Tashfeen Malik exchanged views on 'jihad' while dating online 
Massoud Hayoun
New York
Thursday 10 December 2015 21:15 Comments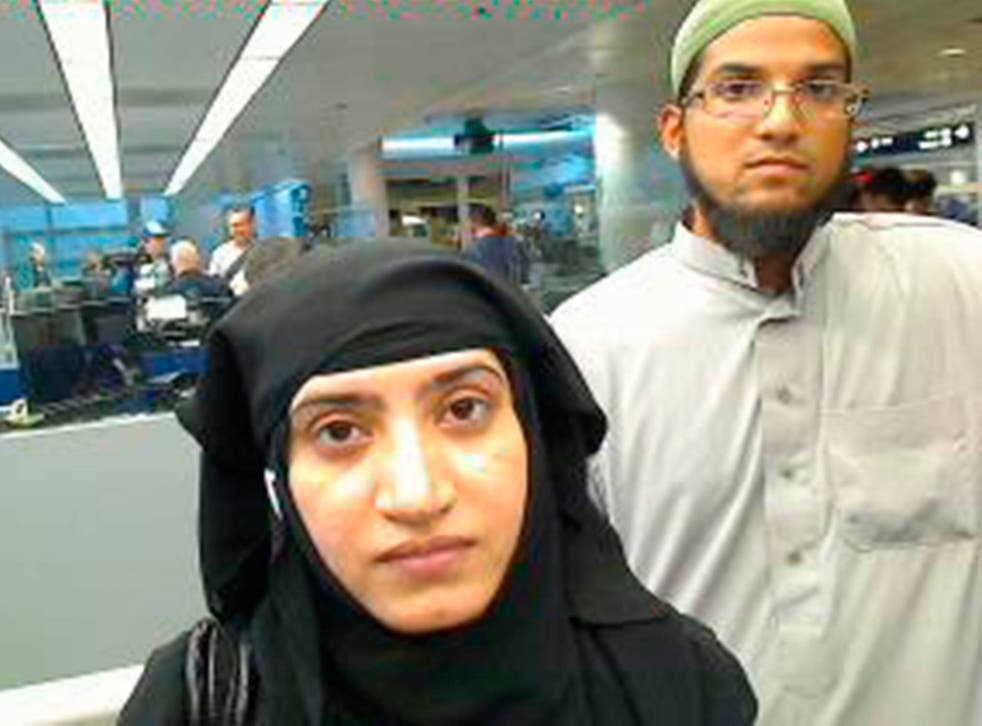 The shooters who gunned down 14 people in San Bernardino, California last week were radicalized well before they met online, the US Federal Bureau of Investigation (FBI) has revealed.
"Our investigation to date, which I can only say so much about at this point, indicates that they were radicalized before they starting courting or dating each other online," FBI director James Comey, Jr. told a US Senate committee on judiciary affairs Wednesday.
"And online, as early as the end of 2013, they were talking to each other about jihad and martyrdom before they became engaged and then married and lived together in the United States."
On December 2, US-born Syed Rizwan and his wife Tashfeen Malik, a Pakistani national and US resident, shot dead 14 people at a San Bernardino County Department of Public Health function. Rizwan was a Department health inspector.
Mr Comey did not indicate whether the FBI investigation had established a substantial link between the couple and the Islamic State in Iraq and Syria (ISIS) armed group. But he did say that they had been inspired by terrorists operating abroad. Mr Rizwan
Still, a number of questions remain, Mr Comey said.
"We are working very hard to understand exactly their association and their source of inspiration. We are also working very hard to understand whether there was anybody else involved with assisting them, with supporting them, with equipping them. And we're working very, very hard to understand did they have any other plans, either for that day or earlier. And that work continues," Mr Comey added.
In the aftermath of the attacks, American Muslims have told The Independent of an apparent surge in alleged Islamophobic hate crimes, including the brutal beating Saturday of a New York City store owner.
Mr Comey praised the American Muslims who inform the FBI on suspicious behavior and asked that they come forward if they witness or suspect a hate crime so that it can be properly investigated.
The San Bernardino attacks have also become a topic for 2016 presidential candidates. Donald Trump, the Republican presidential ticket frontrunner, on Monday suggested that the US bar Muslims from entry until the exact motive in the San Bernardino attacks is known. The comment provoked international criticism, but on Thursday, a CBS-New York Times poll showed Mr Trump with 13 more per cent in the polls since October — giving him an all time high of 35 per cent of voting Republicans polled. Mr. surged past his main competitor, Ted Cruz, who came in second place with 16 per cent.
Register for free to continue reading
Registration is a free and easy way to support our truly independent journalism
By registering, you will also enjoy limited access to Premium articles, exclusive newsletters, commenting, and virtual events with our leading journalists
Already have an account? sign in
Join our new commenting forum
Join thought-provoking conversations, follow other Independent readers and see their replies