San Bernardino shooting: Attackers did not express support for Isis on social media and were not part of terror cell
Reports wrongly claimed Tashfeen Malik, who killed 14 people with her husband, pledged allegiance to Isis on Facebook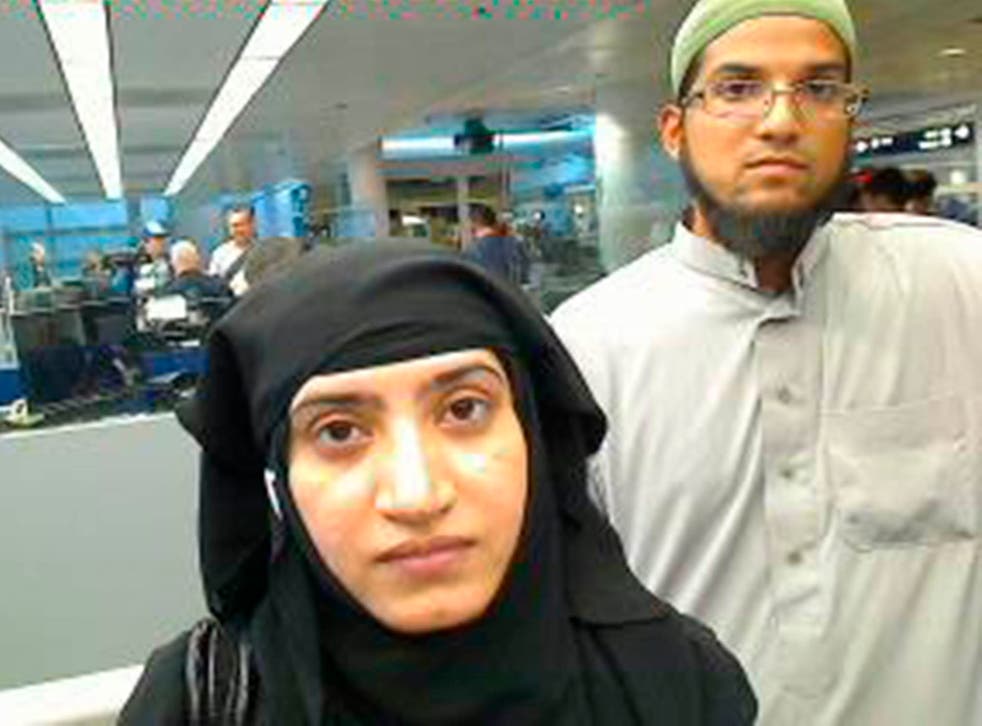 The couple who shot 14 people dead in a massacre in California did not write about their support for Isis on social media, the FBI has said.
Previous reports claimed that Tashfeen Malik pledged allegiance to leader Abu Bakr al-Baghdadi using an account under a different name.
She and husband Syed Rizwan Farook walked into a conference centre where his firm was holding a party in San Bernardino and opened fire with assault rifles and hand guns on 2 December.
The couple fled in a car but were chased and killed by police in a shoot-out.
USA: San Bernardino shooting "an act of terrorism" - Obama
Home-made bombs were found at the scene of the rampage and 5,000 rounds of ammunition, 12 pipe bombs and equipment to make more were discovered at the home they shared with their baby daughter.
Speaking at a press conference on Wednesday, FBI director James Comey said Malik and Farook talked about their goal of "jihad and martyrdom" in private emails and messages but did not write about the issue on social media.
The FBI has found no evidence the couple were part of an organised cell or had any contact with overseas terror groups.
Isis praised the pair as "martyrs" through its official propaganda channels days after the mass shooting, calling them "followers of the Islamic State".
In pictures: San Bernardino shooting

Show all 15
It did not claim its militants or leadership had been involved in the California plot.
Mr Comey said Isis has "revolutionised" terrorism by seeking to inspire small-scale individual attacks around the world through social media, encrypted communications and slickly produced propaganda.
"Your parents' al-Qaeda was a very different model than the threat we face today," he added, saying hundreds of separate investigations were underway in almost every US state into plots potentially inspired by Isis.
Mr Comey assured the audience that he was convinced security services and technology companies could overcome encryption concealing communication between extremists.
Discussing the group's use of social media to radicalise recruits, he continued: "Twitter works as a way to sell books, as a way to promote movies, and it works as a way to crowdsource terrorism - to sell murder."
Additional reporting by Reuters
Join our new commenting forum
Join thought-provoking conversations, follow other Independent readers and see their replies