San Bernardino shooting: Father reads text message from daughter caught up in attack
'Shooting at my work. Shot people. In office waiting for cops. Pray for us.'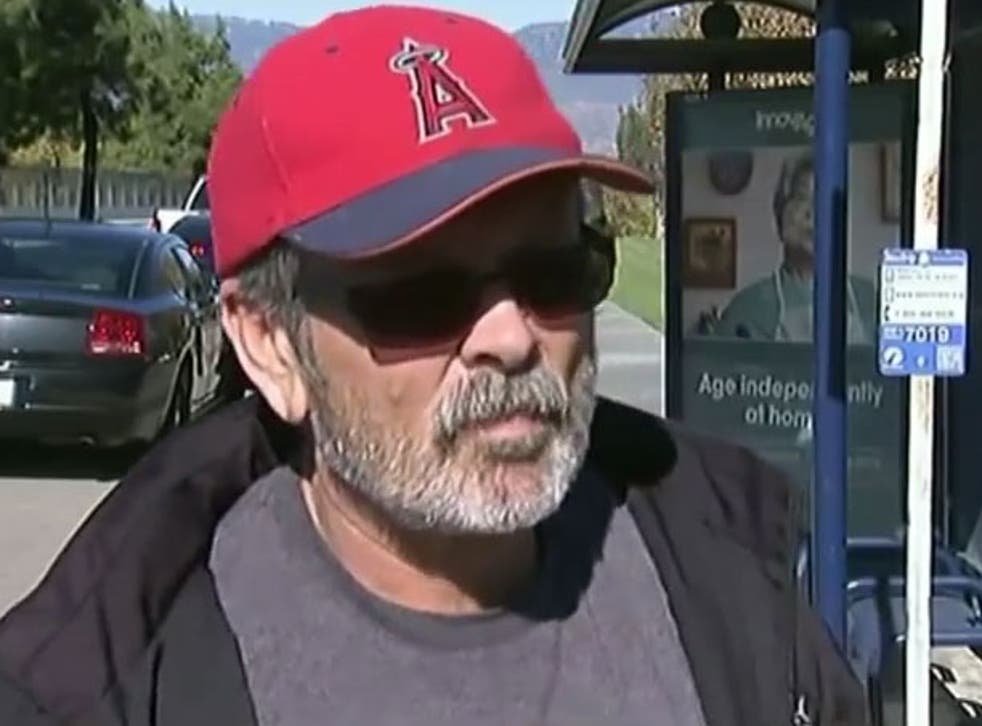 The father of a woman hiding in a social services facility in southern California tearfully readout a text message he received from his daughter as two attackers stormed the building with assault rifles and handguns.
Terry Pettit read out the message from his daughter Holly, who works at the Inland Regional Centre in San Bernardino, as he stood outside the facility, which provides services to developmentally disabled people.
Mr Pettit said the message read: "Dad shooting at my work. Shot people. In office waiting for cops […] Pray for us."
Footage of Mr Pettit reciting the message on Wednesday shows him choking back sobs as he reads his daughter's words, while sirens from ambulances and police cars wail in the background.
In response to Holly's message he responded: "Hide. Find a good spot. Hide Now."
Police received an emergency call at 11am on Wednesday reporting at least two people wearing ski masks and military gear, armed with assault rifles and handguns, had stormed a Christmas party for employees of the San Bernardino county health department and opened fire indiscriminately.
Mr Pettit told Los Angeles' KABC news: "She said that someone had come in and started shooting and they ran into an office and she's hiding with some other people."
"Our friend's daughter is in there too and she texted, and so they're both hiding. That's all I know."
Mr Pettit's daughter claimed between 10 and 20 had been shot in the facility. At present 14 people are believed to have been killed and 17 wounded in the incident.
Holly is understood to have escaped from the building and was not injured in the attack, the Sydney Morning Herald reports.
A couple suspected of the committing the mass shooting have been identified by authorities as Syed Rizwan Farook, 28, and his wife Tashfeen Malik, 27. Both were later slain in a shootout with police.
At a press conference, San Bernardino Police Chief Jarrod Burguan said the authorities had yet to rule out terrorism as a motive for the attack, however he said it is unlikely to have been a spur-of-the-moment incident.
"There has to be some degree of planning," he said.
The attack is the most deadly mass shooting in the US since the murders of 20 young children and six teachers at Sandy Hook Elementary School in Connecticut three years ago.
Yesterday's attack is also the 355th mass shooting in the US in 2015.
Additional reporting by Associated Press
Register for free to continue reading
Registration is a free and easy way to support our truly independent journalism
By registering, you will also enjoy limited access to Premium articles, exclusive newsletters, commenting, and virtual events with our leading journalists
Already have an account? sign in
Register for free to continue reading
Registration is a free and easy way to support our truly independent journalism
By registering, you will also enjoy limited access to Premium articles, exclusive newsletters, commenting, and virtual events with our leading journalists
Already have an account? sign in
Join our new commenting forum
Join thought-provoking conversations, follow other Independent readers and see their replies