Santa tracker: Volunteers set to help children follow Father Christmas
This year marks the 60th anniversary of the joint US-Canadian mission that uses defence radar to track Santa's sleigh
Alexander Sehmer
Wednesday 23 December 2015 09:57 Comments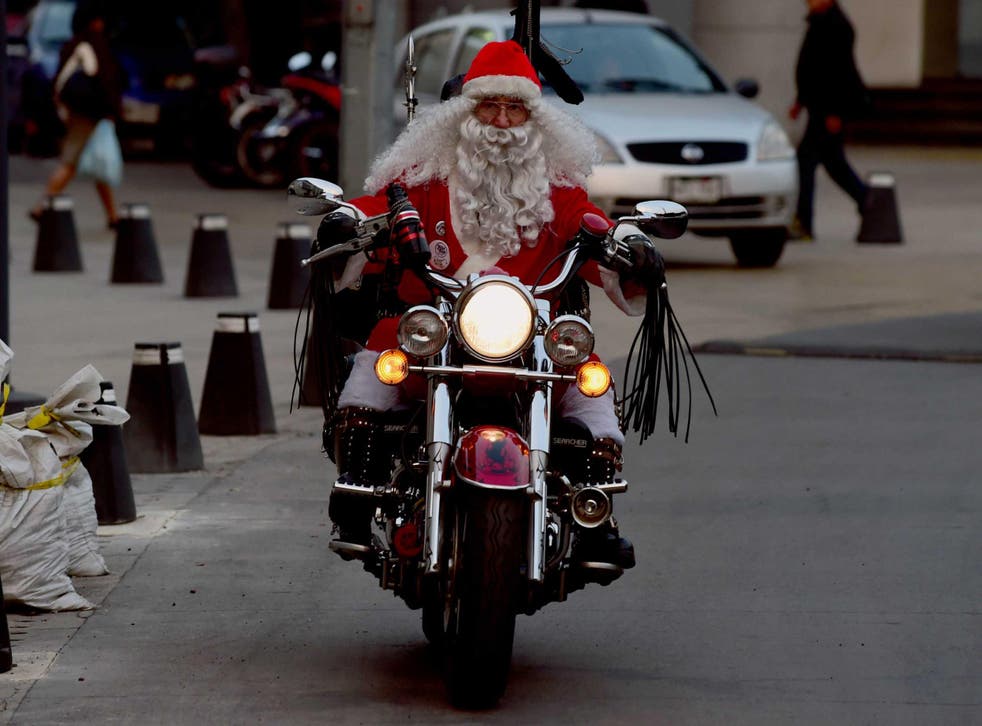 American and Canadian military personnel and their helpers are gearing up for the annual Christmas mission to track Father Christmas, or rather Santa Claus, as he makes his deliveries on Christmas Eve.
Volunteers at Peterson Air Force Base in Colorado Springs will answer an estimated 125,000 calls from children around the world who need to know where Santa is, and at what point he'll be arriving at their house.
This year is the 60th anniversary of the North American Aerospace Defence Command's (NORAD) Santa Tracker.
What exactly is the Santa Tracker?
As NORAD, a join mission between the US and Canadian military, explains it, it is the use of sophisticated monitoring and defence equipment to track Santa's sleigh using the heat signature from Rudolf's nose.
This allows NORAD to provide callers with real time updates on Satna's progress.
And it doesn't stop there. NORAD explains that fighter pilots "often escort Santa's sleigh through North American airspace", while the navy and coast guard secure the seas beneath him.
Seriously? How long has this been going on?
NORAD, or rather its predecessor the Continental Air Defence Command (CONAD), started tracking Santa in 1955.
The story goes that on Christmas Eve in 1955, with CONAD watching out for a nuclear strike, a child called the Red Phone in CONAD's secure bunker.
When CONAD chief Colonel Harry Shoup answered it, the child asked to speak to Santa.
Girl mistakes man for Santa
It turns out the Sears department store had published an advert featuring Father Christmas with a phone number with the caption, "call me on my private phone, and I will talk to you personally any time day or night".
A typo meant the phone number listed was the Red Phone.
Winnie the Pooh at Christmas - in pictures

Show all 7
Are you kidding me?
Well, without wanting to be a Grinch about this, if the secure Red Phone was linked to the public phone system then I'll eat my Santa hat.
Okay, so what exactly are you saying?
I'm saying the Santa tracker started life as a cynical Cold War PR campaign.
You're frostier than a snowman. Where's your Christmas spirit?
Okay, there probably is some truth in the story.
Colonel Harry Shoup did get a call from a child asking about Santa that night, and it has sparked a Christmas tradition that sees people give up their time to bring a bit of festive cheer.
That's better. So how do I track Santa?
NORAD is partnered with Microsoft on this and you can visit their dedicated website or download the app for your phone.
Alternatively, as Santa is getting a lot of high-tech help these days, you can also check out Google's Santa Tracker - Google is tracking Santa using Google maps.
They have an Android app, and a website that, in the build up to Christmas, has a selection of games and videos.
Register for free to continue reading
Registration is a free and easy way to support our truly independent journalism
By registering, you will also enjoy limited access to Premium articles, exclusive newsletters, commenting, and virtual events with our leading journalists
Already have an account? sign in
Join our new commenting forum
Join thought-provoking conversations, follow other Independent readers and see their replies