'Sexually sick' Fox News covers up breasts and genitals in Pablo Picasso's Women of Algiers
Painting sold for record $179 million (£114 million) at Christie's in New York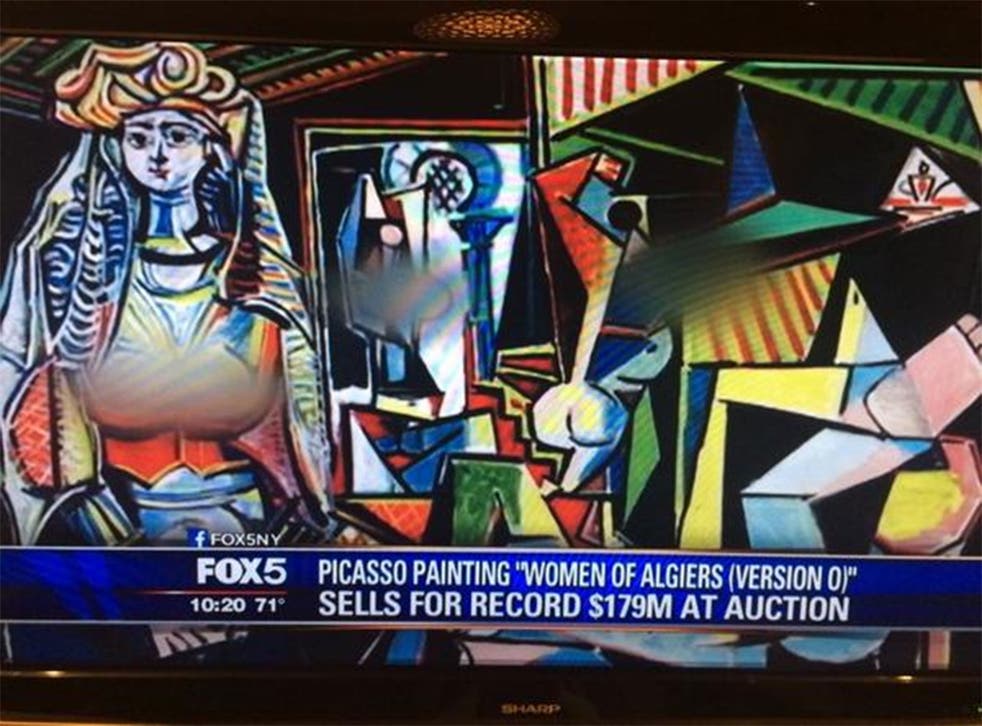 Art experts have become the latest group to be offended by Fox News, after the US broadcaster covered up the depiction of women's breasts and genitals in a report on the sale of a Pablo Picasso masterpiece.
The Women of Algiers (Version O) became the most expensive painting sold at auction on Monday when it went for $179 million (£114 million) at Christie's in New York.
Jerry Saltz, a senior critic at the New York magazine, wrote on Twitter that the decision to blur parts of the masterpiece betrayed the "sick minds" of those reporting. "How sexually sick are conservatives and Fox News?" he said.
The artist and author Gonzalo W Benard said it was "pathetic", while art writer Aruna D'Souza said sarcastically: "Glad Fox News is protecting its audience from Picasso's smutty mind." Another Twitter user commented with the hashtag "#FreeTheNipple".
The sale on Monday also featured Alberto Giacometti's life-size sculpture Pointing Man, which sold for $141m, earning it the title of most expensive sculpture ever sold at auction.
Neither the buyers of the Picasso nor the Giacometti sculpture were revealed to the public – though one Fox presenter helpfully speculated that "they're probably Chinese – that's my bet".
Fox News 'finest moments'

Show all 13
The Associated Press said Women of Algiers, once owned by the American collectors Victor and Sally Ganz, was inspired by Picasso's fascination with the 19th-century French artist Eugene Delacroix.
It was part of a 15-work series Picasso created in 1954-55 designated with the letters A through O, and has appeared in several major museum retrospectives of the artist.
Join our new commenting forum
Join thought-provoking conversations, follow other Independent readers and see their replies