Sister of slain Muslim student challenges Donald Trump after 'pig blood' comments
The Republican frontrunner made his comments while campaigning in South Carolina
Angela Chen
New York
Monday 22 February 2016 19:35 Comments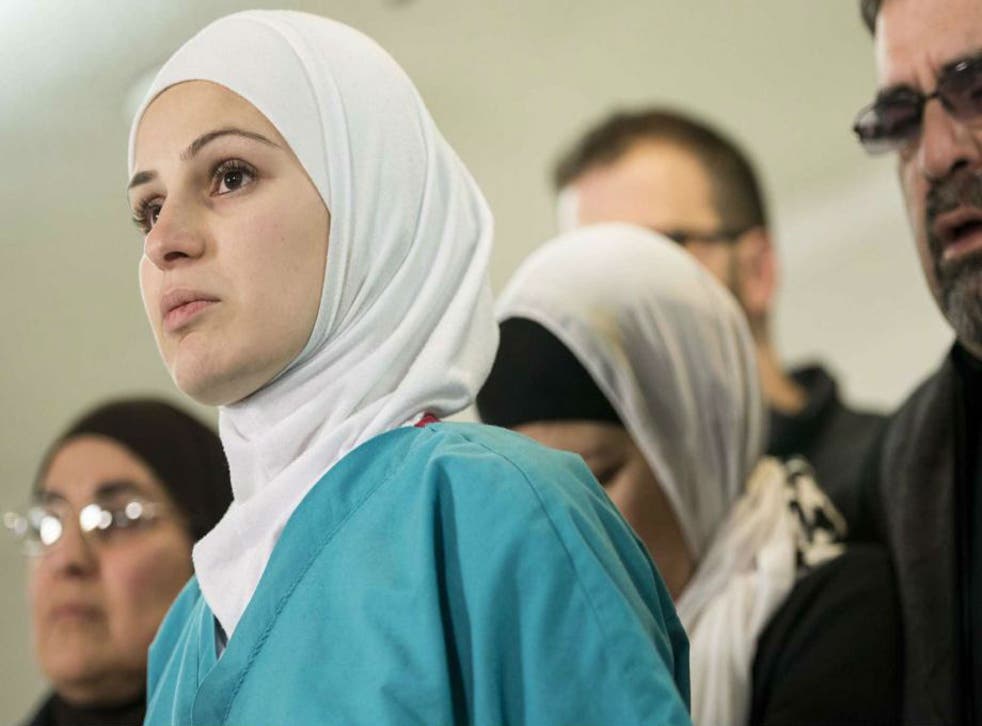 The sister of a Muslim student killed in North Carolina last year has challenged Donald Trump to meet with her after the Republican presidential candidate made admiring comments about executing Islamic terrorists with "bullets coated in pig blood".
Suzanne Barakat, 28, is the sister of Deah Barakat, who was fatally shot alongside his wife, Yusor Abu-Salha, 21, and her sister, Razan Abu-Salha, 19, a little more than a year ago. The couple had been married two months earlier and both were students at the school of dentistry at the University of North Carolina-Chapel Hill. Razan was a second-year student at North Carolina State University.
Their neighbour, Craig Hicks, turned himself in to police later that day and has been charged with three counts of murder. Investigators are determining whether it was a hate crime, though his wife has said that the attack began over a parking dispute.
Campaigning ahead of the South Carolina primary last Saturday, Mr Trump illustrated his belief in the importance of being tough on terror with a war story about Gen John Pershing. In his recounting, which has not been historically verified, Pershing once captured 50 militants and had his soldiers kill 49 of them with bullets dipped in pigs' blood.
"This is something you can read in the history books,'' Mr. Trump said. "Not a lot of history books, because they don't like teaching it.''
After hearing his comments, Ms Barakat issued her invitation on Twitter on Sunday night. She asked Mr Trump to "meet me in person and tell me my brother, Yusor & Razan were deserving of the bullets."
"Trump speaks as if he is the authority on American Muslims," she told the New York Times. "Well, if you mean it then call me up and meet with me and let's have a chat."
Mr Trump, who easily won the South Carolina Republican primary, has not yet responded to Ms Barakat's request.
Register for free to continue reading
Registration is a free and easy way to support our truly independent journalism
By registering, you will also enjoy limited access to Premium articles, exclusive newsletters, commenting, and virtual events with our leading journalists
Already have an account? sign in
Join our new commenting forum
Join thought-provoking conversations, follow other Independent readers and see their replies