Democrats demanding gun control stage Congress sit-in
The action came after US politicians failed to pass a series of gun control measures
Andrew Buncombe
New York
Wednesday 22 June 2016 17:46 Comments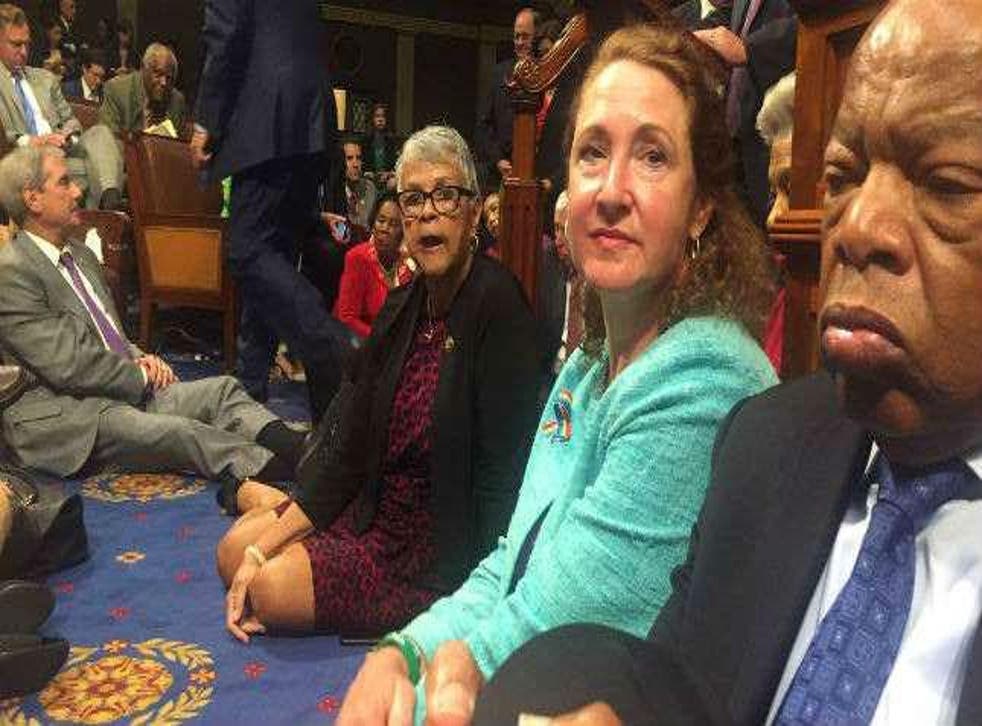 Two days after US politicians failed to pass a series of gun control proposals, around 40 Democrats held a sit-in at the House of Representatives chamber to try and force another vote.
Led by civil rights veteran John Lewis, the politicians took to the floor of the chamber, to try and embarrass their Republican counterparts into action in the aftermath of the Orlando massacre.
"Now is the time for us to find a way to dramatise it, to make it real," said Mr Lewis, according to the Associated Press. "We have to occupy the floor of the House until there is action."
The move came after the US Senate on Monday voted down four proposed gun-control measures introduced in the wake of the recent Orlando massacre, the deadliest mass shooting in modern US history.
Following the 12 June shooting, which left 49 dead and another 53 injured at an LGBT nightclub in Orlando, Democratic Senators had staged a 15-hour filibuster to demand new gun-control legislation.
Four such measures arrived on the Senate floor on Monday – two from Republicans and two from Democrats – but none amassed sufficient bipartisan support to succeed. With 54 Republicans and 46 Democrats or Independents in the Senate, any such proposals faced an uphill struggle to attract the 60 votes they needed to pass under congressional rules.
On Wednesday, Congressman James Clyburn of South Carolina, led the Democrats in a prayer on the House floor. Visitors in the public gallery stood and joined in.
"No bill, no break," the Democrats chanted loudly as they returned to sitting on the floor.
The protest is not being televised because the House has not formally gaveled into session. As a result, members took to social media to lodge their protests using the hashtag #NoBillNoBreak and #goodtrouble.

Register for free to continue reading
Registration is a free and easy way to support our truly independent journalism
By registering, you will also enjoy limited access to Premium articles, exclusive newsletters, commenting, and virtual events with our leading journalists
Already have an account? sign in
Join our new commenting forum
Join thought-provoking conversations, follow other Independent readers and see their replies