Small explosive is discovered during Pope's sanctuary visit in Brazil
Around 300 people clashed with riot police, as Pope Francis embarks on tour of potentially dangerous locations across Brazil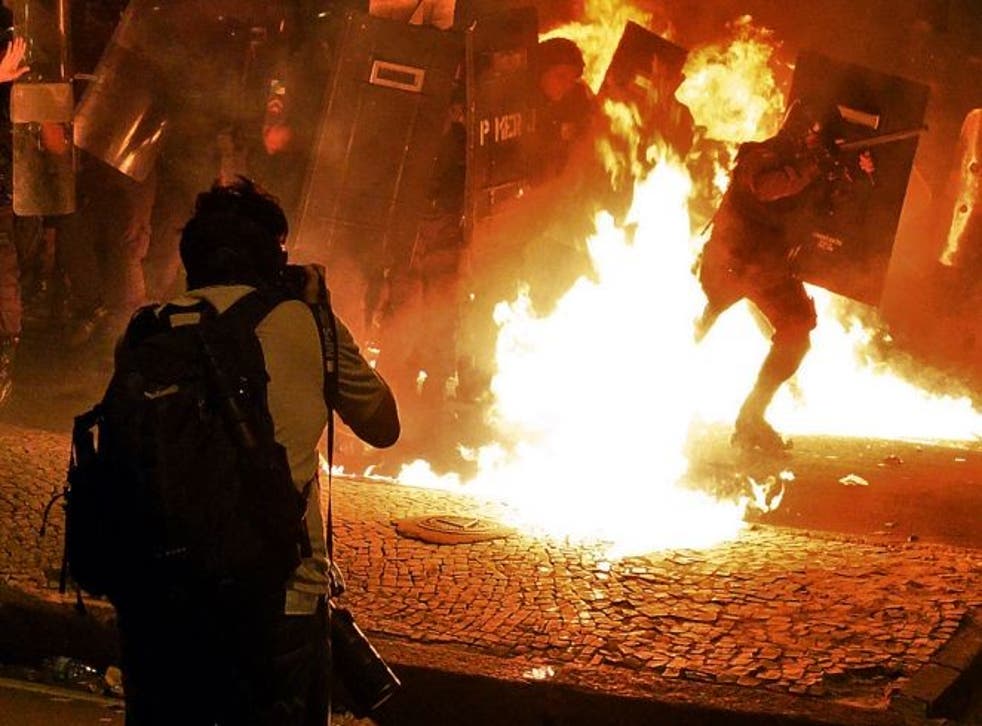 A series of small, scattered street protests broke out across Rio de Janeiro less than an hour after Pope Francis visited the city.
Around 300 demonstrators hurled firebombs at riot police who responded by firing rubber bullets. Dozens of people were hurt and several arrests were made.
There is widespread anger over government spending on the 2016 Olympics and 2014 World Cup, and it is believed these protests were largely in response to the cost of the papal visit.
Student Andre Ribeiro said: "The problem is the government's spending. They've spent more than 50 million dollars on his visit and that's way too much. It could have been invested in health or education. This is not a religious protest, it's a political protest. It has nothing to do with the Pope."
It has been reported that the Brazilian government will spend US$53m in public funds on Pope Francis's seven-day visit, which is his first trip abroad since becoming head of the Catholic Church in March.
Vatican spokesman Federico Lombardi said the protests would not affect the Pope's itinerary.
Pope Francis has built much of his schedule in the world's largest Catholic country around visits to unpredictable, potentially dangerous environments — without the protection of the bulletproof popemobile.
On Thursday, he will visit a tiny chapel in the Varginha slum, one of Rio's 1,000-plus hillside shantytowns. Many such slums are controlled by drug gangs or militias.
Police swooped on Varginha in January to clear out traffickers, but the gangs remain a shadowy presence.
Friday will see Francis pay a visit to Copacabana beach to walk the Stations of the Cross along with an expected 1m young Catholics gathered for World Youth Day.
He will travel in an open-topped vehicle, a plan that will require an exceptionally well-planned security operation.
A small homemade bomb was found ahead of the Pope's visit to a shrine outside of Rio de Janeiro yesterday. It was detonated safely and it is unknown whether it was related to the pontiff's visit.
Join our new commenting forum
Join thought-provoking conversations, follow other Independent readers and see their replies