Standing Rock protests against Dakota access pipeline erupt anew as world focuses on Donald Trump
Police arrest 27 people in fresh protests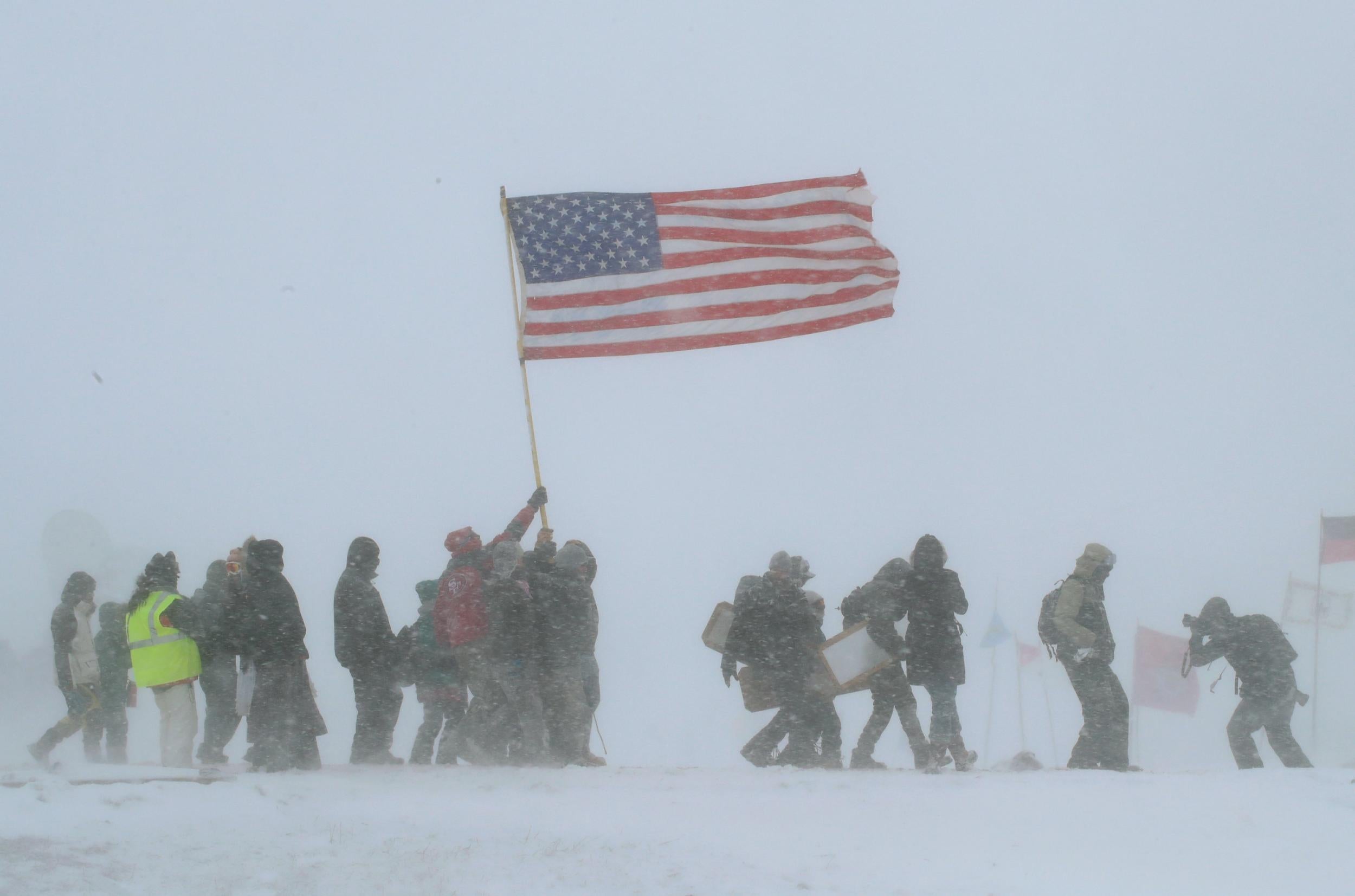 In the days leading up to President Donald Trump's inauguration, three nights of protests and riots broke out at Standing Rock as demonstrators continue to oppose the Dakota Access Pipeline.
Thousands of Native Americans, environmental activists and protesters have since August stood in protest of the $3.8 billion (£3 billion) project that had intended to cross underneath North Dakota's Lake Oahe, a water source upstream from the Standing Rock Sioux reservation. Protesters fear the pipeline could damage drinking water and desecrate sacred grounds.
In December a US Department of Defence agency denied permission for the pipeline to pass under the lake. Members of the Standing Rock Sioux have since asked protesters to "head home with our most heartfelt thanks". Many have, but some have remained, with further clashes seen between protesters and police over the past week.
A total of 27 people were arrested over the course of Monday, Tuesday and Wednesday last week when protesters accessed Backwater Bridge, according to Morton County Sheriff's Department.
Reports claim police used tear gas, pepper spray and rubber bullets on the protesters. A statement from members of the Sacred Stone Camp in Standing Rock claimed protesters were unarmed when, on Martin Luther King day, they led a prayer walk to the razor wire barricade 700 feet away from the drill pad where the pipeline had been set to cross the Missouri river.
Police posted a video of the protesters using wire cutters to cut through the barbed wire and claimed these were then turned into circular, Frisbee shapes and thrown at officers. A total of 16 people were arrested on Monday and Tuesday for a number of offences, including engaging in a riot and assault on a peace officer.
On Wednesday protesters allegedly "became more aggressive by throwing projectiles" at officers, who then deployed less-than-lethal munitions of direct impact sponge rounds, drag stabilizer bean bag rounds, hand deployed pepper spray canisters and smoke riot control CS canisters.
Sioux from Standing Rock claim victory over Dakota Pipeline
Show all 21
One protester, who had been injured in the face, was taken to the Sanford Medical Centre in Bismark by ambulance.
The North Dakota National Guard had deployed a missile defense system to the area near the protest site, but it was unarmed and being used only for observation purposes, said Amber Balken, a spokeswoman for the North Dakota National Guard.
The number of people arrested since 10 August is now 624, police said.
On Wednesday, the US army began gathering information to prepare an environmental impact statement on the easement to cross Lake Oahe.
President Trump has not commented specifically on the pipeline, which had been intended to carry oil from western North Dakota to a shipping point in Illinois, but his press secretary Sean Spicer hinted that the President may move forward with the project.
"I'm not going to get in front of the President's executive actions, but I will tell you that areas like the Dakota and Keystone pipeline, areas that we can increase jobs, increase economic growth, and tap into America's energy supply more, that's something that he has been very clear about," he said this week.
Additional reporting by Reuters
Join our commenting forum
Join thought-provoking conversations, follow other Independent readers and see their replies