Standing Rock protesters 'won't back down' over Dakota Access Pipeline after Donald Trump executive action
'Water protectors' say they will continue their opposition to project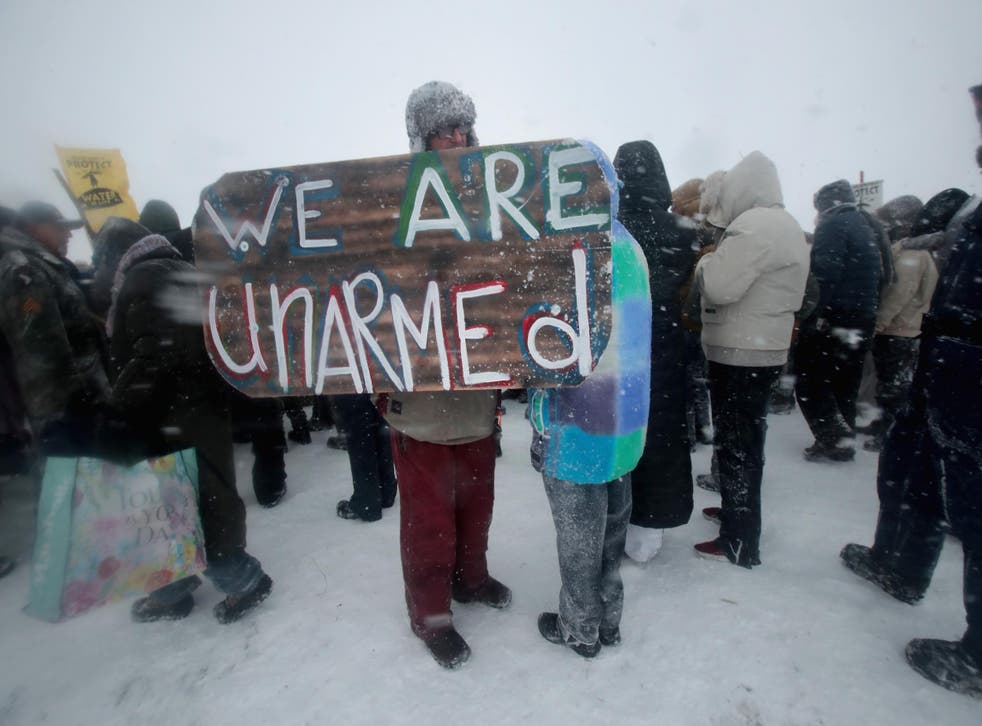 Native American protesters have vowed not to back down after US President Donald Trump signed an executive action allowing construction of the Dakota Access Pipeline to move forward.
Last November the US Army Corps of Engineers denied the permit to build the $3.8bn (£3bn) pipeline amid months of protest outside the Standing Rock Sioux Reservation in North Dakota. The tribe said the project would contaminate its water supply.
Lawyers for the tribe said Mr Trump's action was done "hastily and irresponsibly", and they will pursue legal action.
Linda Black Elk, a Catawba Nation member who works with Standing Rock medics, told The Guardian: "We can't back down now. We have to continue to stand to protect the water for future generations. I'm not scared for myself, but I admit I am frightened for the future."
"We are not opposed to energy independence," Standing Rock chairman David Archambault II said. "We are opposed to reckless and politically motivated development projects, like DAPL, that ignore our treaty rights and risk our water. Creating a second Flint does not make America great again."
Authorities and residents in Flint, Michigan, have been dealing with a public health crisis relating to contaminated water since 2014.
Join our new commenting forum
Join thought-provoking conversations, follow other Independent readers and see their replies