States clash over transgender laws in the US South
'Religious freedom' bills are protested across multiple states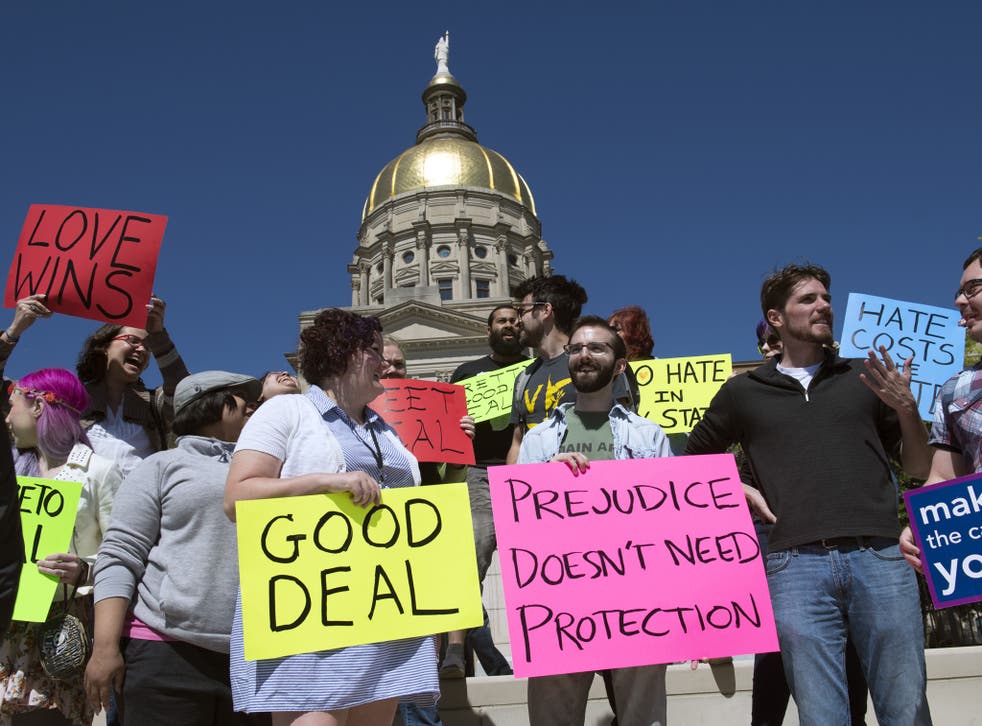 Amid the wave of laws sweeping the American South to regulate the bathroom usage of transgender people, is sparking a debate amongst legislators and protests from the LGBT community and its allies.
Louisiana Gov John Bel Edwards issued an executive order Wednesday protecting LGBT people in the state. According to the Associated Press, the order protects state employees and contractors from harassment or discrimination based on race, color, religion, sex, sexual orientation, gender identity, national origin, political affiliation, disability, or age.
"While this executive order respects the religious beliefs of our people, it also signals to the rest of the country that discrimination is not a Louisiana value, but rather, that Louisiana is a state that is respectful and inclusive of everyone around us," Mr Edwards said in a statement, alluding to "religious freedom" laws just passed in North Carolina and Mississippi.
At a Wednesday hearing at the South Carolina Senate, a group of transgender people showed up to speak against a new bill that would mirror that of the state's northern neighbour.
The South Carolina bill would require people use that multi-stall bathrooms on public property based on their "biological sex." The bill goes even further to prohibit municipal governments from allowing businesses to let transgender people use bathrooms based on their gender identity.
"I've about had enough of this," Republican Sen Lee Bright, who introduced the bill, said in the hearing. "I mean, years ago we kept talking about tolerance, tolerance, and tolerance, and now they want men who claim to be women to be able to go into bathrooms with children."
Mr Bright added that he does not believe transgender people are necessarily poedophiles, but that "grown adult men would use this as protection to violate women in the restroom."
The AP reported that US Attorney Bill Nettles, who attended the hearing, said that he could not find any instances of transgender people verbally or physically assaulting anybody.
Both Tennessee and Missouri have introduced similar bills moving through their congresses.
In Tennessee, a "religious freedom" bill that awaits a vote in the Senate would allow counselors and therapists to deny service of LGBT individuals if it conflicted with their "sincerely held religious beliefs," NBC reported. The state also has a bathroom measure awaiting a vote.
CEOs of major businesses in the state — including Airbnb, T-Mobile, and Dow Chemical — urged lawmakers to kill the bill.
Missouri lawmakers debated Senate Joint Resolution 39 [SJR39] for four hours on Tuesday. The bill proposes an amendment to the state Constitution to protect businesses and individuals who refuse service to same-sex couples based on religious beliefs. The hearing did not end in a vote.
Earlier in April, Georgia Gov Nathan Deal vetoed a "religious liberty" bill, finding it discriminatory against the LGBT community.
"Our people work side by side without regard to the colour of our skin, or the religion we adhere to," Mr Deal said following the veto. "We are working to make life better for our families and our communities. That is the character of Georgia. I intend to do my part to keep it that way."
Join our new commenting forum
Join thought-provoking conversations, follow other Independent readers and see their replies