Steve Bannon interview cancelled after planned New Yorker festival headline appearance sparks outrage and boycott
High-profile names including Judd Apatow and Jim Carrey had threatened to pull out after former White House strategist's appearance was announced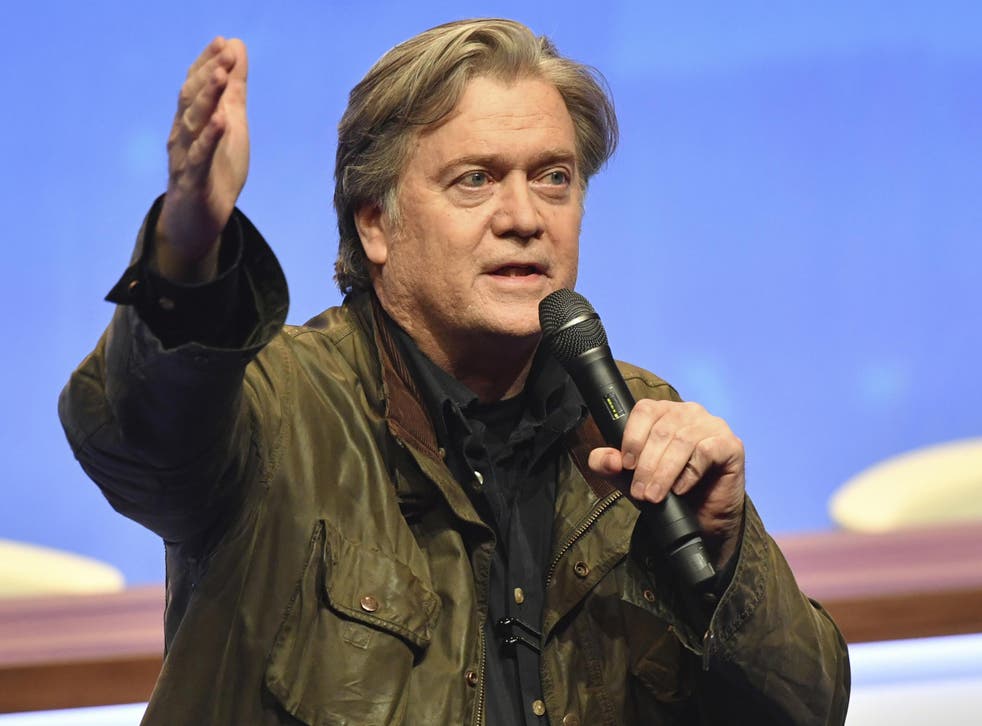 The New Yorker has dropped plans for Steve Bannon to headline its arts and politics festival after his announcement caused a storm of controversy and prompted other high-profile names to pull out.
The magazine's editor, David Remnick, had been billed to interview Donald Trump's former chief adviser in front of an audience at the event next month but said he had "reconsidered" after an outcry from staff, readers and participants.
Mr Remnick - an outspoken critic of the president - had previously promised a "combative conversation" with Mr Bannon, who he said would face "difficult questions".
But the former White House strategist's announcement prompted an intense backlash and threats of a boycott from other panellists.
Filmmaker Judd Apatow, actor Jim Carrey, and comedian John Mulaney were among the cultural heavyweights who said they would cancel scheduled appearances at the festival in New York City.
"I will not take part in an event that normalises hate," said Apatow.
Carrey tweeted: "Bannon? And me? On the same program? Could never happen."
Kathryn Schulz, a Pulitzer-winning staff write at The New Yorker, said she was "beyond appalled" by the announcement of Mr Bannon's appearance.
"I have already made that very clear to David Remnick. You can, too," she tweeted, providing the editor's email address.
In a later statement issued by The New Yorker, Mr Remnick said: "I've thought this through and talked to colleagues — and I've re-considered."
He said he had planned a "rigorous interview" in which he "put pressure on the views" of Mr Bannon, who he argued was a legitimate subject for interview because of his "enormous impact on Trump".
But he added: "There is a better way to do this. Our writers have interviewed Steve Bannon for The New Yorker before, and if the opportunity presents itself I'll interview him in a more traditionally journalistic setting as we first discussed, and not on stage."
Mr Bannon called Mr Remnick "gutless" following the backtrack.
"The reason for my acceptance was simple: I would be facing one of the most fearless journalists of his generation," he told The New York Times. "In what I would call a defining moment, David Remnick showed he was gutless when confronted by the howling online mob."
World news in pictures

Show all 50
Other guests at the New Yorker festival include Emily Blunt, Zadie Smith and Sally Yates, who Mr Trump fired as deputy attorney general after she refused to back his initial ban on travellers from Muslim countries.
The ban was advocated by Mr Bannon, then senior White House adviser.
Mr Bannon's scheduled appearance at a festival organised by The Economist has also led to controversy.
According to the magazine, attendees at the Open Future event in New York City on 15 September will "discuss the most urgent issues of our time and remake the case for liberal values".
British writer Laurie Penny has dropped out, tweeting on Monday that she "cannot in good conscience appear at an event which chooses to dignify a neo-nationalist like Steve Bannon".
Register for free to continue reading
Registration is a free and easy way to support our truly independent journalism
By registering, you will also enjoy limited access to Premium articles, exclusive newsletters, commenting, and virtual events with our leading journalists
Already have an account? sign in
Register for free to continue reading
Registration is a free and easy way to support our truly independent journalism
By registering, you will also enjoy limited access to Premium articles, exclusive newsletters, commenting, and virtual events with our leading journalists
Already have an account? sign in
Join our new commenting forum
Join thought-provoking conversations, follow other Independent readers and see their replies