Subway shop slammed for mocking Titanic sub implosion on billboard
'This kind of comment has no place in our business,' Subway says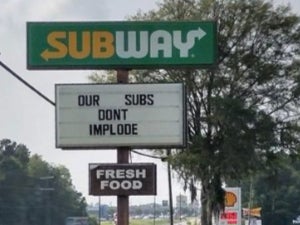 Sandwich chain Subway has come under fire after making mocking reference to the Titan submersible disaster in its advertising.
A billboard outside one Subway restaurant in Georgia featured the slogan: "Our subs don't implode".
But the pun didn't go down well with customers, with one describing the move as "distasteful" and "sad", and another adding: "talk about poor taste".
It was not immediately clear from the images of the sign shared on social media whether it was a genuine post from the branch of the sandwich chain or whether the sign had been photoshopped, as some users suggested.
However, the chain admitted that the sign was genuine, telling US media in a statement that it was the work of a franchise operator. "We have been in contact with the franchise about this matter and made it clear that this kind of comment has no place in our business," the chain said in a statement.
The ill-fated Titan submersible imploded during a voyage to see the wreck of the Titanic off the coast of Newfoundland in Canada last month, killing all five people on board.
Among the passengers were Shahzada Dawood and his teenage son Suleman, British billionaire Hamish Harding, French diver Paul-Henri Nargeolet and OceanGate CEO Stockton Rush.
Prior to the discovery of fragments of the imploded sub, an international search was conducted to locate the missing vessel and save the passengers before they ran out of oxygen. However, it is now believed that the crew would have died almost as soon as the sub imploded underwater.
During the search, a number of social media users were criticised for making insensitive comments about the incident, with Subway's billboard just the latest in a string of incidents that appear to make light of the deaths of the five passengers.
Join our commenting forum
Join thought-provoking conversations, follow other Independent readers and see their replies