Supreme Court justice defends his five-year vow of silence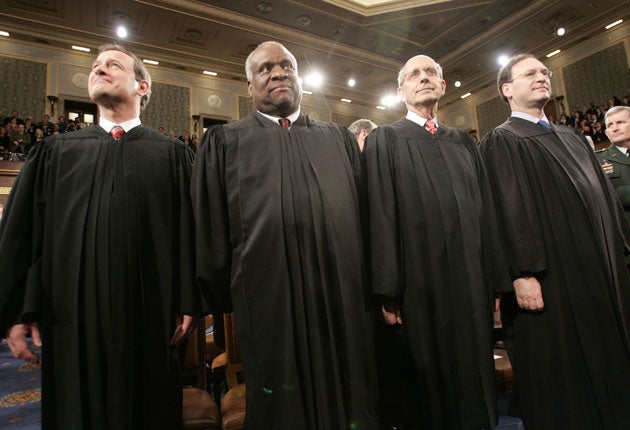 As Justice Clarence Thomas approaches the 20th anniversary in October of his ascent to the US Supreme Court after fending off the still famous sexual harassment charges from Anita Hill, he finds himself under fire for a different milestone in his controversial career: five years of staying mum.
It might serve Justice Thomas well to break into song or perhaps a one-man poetry jam when the Court resumes its winter session to ponder new intractable cases and deliver weighty verdicts next Tuesday. That's because it will also be the fifth anniversary of his having not spoken a word during oral arguments.
Each year that passes with Thomas still keeping his counsel while his colleagues routinely interrupt anxious lawyers with questions and demands for clarification, brings fresh media comment. This time the New York Times that has given the puzzle of his monkish restraint front-page treatment.
"If he is true to form," the Times' reporter notes, "Justice Thomas will spend the arguments as he always does: leaning back in his chair, staring at the ceiling, rubbing his eyes, whispering to [his colleague] Justice Stephen G. Breyer, consulting papers and looking a little irritated and a little bored. He will ask no questions."
For Justice Thomas, the questions about his non-loquacious style on the bench – he is said to be chatty in private – may be a minor irritation. He has answered them in various ways in the past. One explanation is that he grew up speaking Geechee, an obscure patois of the coastline of Georgia, and even now finds public speaking intimidating. The other is that the eight other justices talk far too much as it is.
The anniversary comes, meanwhile, just as another tempest is breaking around him concerning his wife, Virginia Thomas, and revelations of her ties to groups committed to undoing the recently passed healthcare reform laws just as a case on the constitutionality of those reforms are heading towards the Court and her husband.
"My colleagues should shut up," Justice Thomas once told a conference when asked about why he remained silent during oral arguments; it may have been a joke, of course. Quizzed on the topic on another occasion by C-Span television, he said: "I would like to... be referred to as the 'listening justice'. I still believe that, if somebody else is talking, somebody should be listening."
The contrast with his colleagues is certainly stark. Records show that over a 20-year period ending in 2003, the Justices together averaged no fewer than 133 questions per hour while lawyers made their pitches. Among the most probing is Antonin Scalia.
Those questions are pored over by court observers and lawyers for clues as to which way each justice might be bending on a case. That Justice Thomas stays schtum always does not render the Court especially opaque, however, because like Scalia, he is conservative in his legal and political instincts.
It is the conservativism of his lobbyist wife, however, that is giving some liberals pause. Justice Thomas drew criticism for only belatedly revealing in his income disclosure statements that she had earned $700,000 (£436,480) from the Heritage Foundation, which is committed to killing the healthcare reforms. She in the meantime recently set up a new lobbying firm with the Tea Party identified as a charter client.
Last week 74 Democratic congressmen wrote a letter to Justice Thomas asking that he recuse himself, if, as seems likely, the Court is asked eventually to rule on whether the so-called Obamacare reforms violate the constitution and should be repealed in part or in their entirety. "The line between your impartiality and you and your wife's financial stake in the overturn of healthcare reform is blurred," they contended.
The Weird world of justices
* Justice William Cushing is the only judge to have worn a white wig to the Supreme Court, at its first session in 1790. President-to-be Thomas Jefferson told him to discard the wig, saying it made "English judges look like rats peeping through bunches of oakum".
* Chief Justice William Howard Taft Taft is the only person to have held the post of President and Chief Justice of the United States. In his latter role, he also became the only former President to have sworn-in subsequent Presidents.
* Chief Justice Salmon P. Chase Chase is the only justice to appear on American currency. He served between 1864 and1873 and appeared on the now obsolete $10,000 bill.* Justice Anthony KennedyThis month, he became the only Supreme Court Justice to preside over a mock trial of Shakespeare's fictional protagonist Hamlet, to determine if he was sane when he stabbed Polonius.
Join our commenting forum
Join thought-provoking conversations, follow other Independent readers and see their replies