Syria crisis: Obama turns decision on military action over to Congress
President makes strong case for air strikes – but there is no guarantee the legislature will back him
David Usborne
Sunday 01 September 2013 16:34 Comments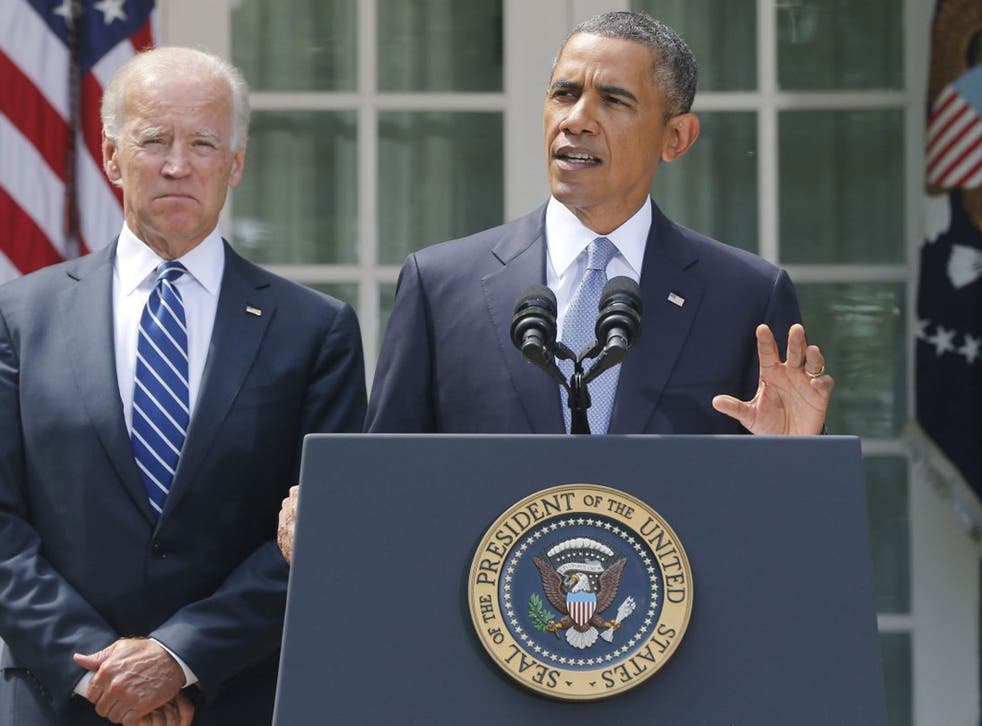 Pulling back from the brink, a lonely President Barack Obama indicated last night that he would not order military strikes over Syria until he has received authorisation from the United States Congress – putting an unexpected brake on what had seemed like impending action.
Mr Obama made clear that he had the authority to order a strike in response to the Assad regime using chemical weapons against civilians, and stands ready to do so at any time. But announcing a delay that stunned many, he pledged: "I will seek authorisation for the use of force from the American people's representatives in Congress. We should have this debate because the issues are too big for business as usual."
In a statement from the Rose Garden that was watched by the world, Mr Obama reiterated the US intelligence conclusion that the Syrian regime was responsible for the gas attacks. "This attack is an assault on human dignity," he declared, and warned that it could lead to escalating use of chemical weapons.
"This menace must be confronted. But having made my decision as command-in-chief, I am also mindful that I am president of the world's oldest constitutional democracy."
With Congress not due to return to Washington until 9 September – a week tomorrow – the decision means any attack will not happen before a G20 summit in St Petersburg later this week. His about-turn will sit well with many members of Congress, with the United Nations and probably even Russia. There is no guarantee Mr Obama would win a vote, and so he risks a fate similar to that suffered by David Cameron at Westminster.
In the speech, President Obama described Britain as "our closest ally" and acknowledged that what had happened in Parliament last week had shaped his strategy.
The announcement will be viewed in Downing Street as a victory for Mr Cameron's approach, despite the mistakes about parliamentary tactics and the misreading of the Conservative Party's mood. However, Congress will be emboldened by how Parliament voted last Thursday. There will also be relief in No 10 and the Foreign Office at the President's reaffirmation of the special relationship, after the US Secretary of State, John Kerry, earlier rebuffed Britain and described France, willing participants in a strike, as "our oldest ally".
In his first comments on the crisis, Russia's President, Vladimir Putin, said evidence compiled by the UN pinning blame on the regime of Bashar al-Assad was "utter nonsense", and that if Washington was so confident it had proof, it should submit it to the United Nations before acting.
The Syrian government warned earlier it was ready to retaliate in the face of attack. "The Syrian army is fully ready, its finger on the trigger to face any challenge or scenario that they want to carry out," the Prime Minister, Wael al-Halqi, said in comments carried on state television. At the same time, rebel leaders said they were ready to launch operations to take advantage of any damage done to regime forces by strikes.
On Friday, the US administration released an unclassified version of its intelligence assessment, concluding it had "high confidence" that the regime was responsible for the gas attacks. Mr Kerry gave a passionate defence of the administration, saying 1,429 people had been killed, far higher than earlier estimates.
Polls in the US, however, suggest that the public is divided on the wisdom of striking Syria, but by a very wide margin expects Mr Obama to do a better job of consulting Congress before taking action. Top members of the President's national security team, including Mr Kerry and the Defence , Chuck Hagel, were thus giving additional unclassified briefings on the intelligence to senior members of the US Senate last night.
Mr Putin ended his silence during a visit to Vladivostok. "While the Syrian army is on the offensive, saying that it is the Syrian government that used chemical weapons is utter nonsense," he said. "I would like to address Obama as a Nobel Peace Prize laureate: before using force in Syria, it would be good to think about future casualties."
Mr Putin pointed to the vote in London on Thursday blocking British participation. "The British Parliament's decision on Syria is an absolute surprise to me. It shows that there are people guided by common sense there," he said. He also urged Mr Obama to await the G20 summit later this week in St Petersburg to debate the situation.
The departure early yesterday of UN inspectors from Syria had theoretically opened a window for a US strike, a notion that a UN spokesman, Martin Nesirky, described as "grotesque". The team crossed into Lebanon by road and flew to the Netherlands with samples gathered in the affected areas of the Damascus suburbs. The material, which will be sent to laboratories for testing, include urine and blood samples from victims and soil samples.
The UN Secretary-General, Ban Ki-moon, has made clear he believes Mr Obama should await the outcome of the inspectors' mission. "The United Nations mission is uniquely capable of establishing in an impartial and reliable manner the facts of any use of chemical weapons based directly on evidence collected on the ground," Mr Nesirky said, adding that results will provide "a picture of what happened". He did not say how soon they would be available.
Word on the readiness of the rebels was carried by Qassim Saadeddine, spokesman for the rebels' Supreme Military Council. "The hope is to take advantage when some areas are weakened by any strikes. We ordered some groups in each province to ready their fighters for when the strike happens," he told Reuters.
Even in France, polls showed that a pledge to support action by President François Hollande faced scepticism. A survey released by Le Parisien showed 64 per cent of respondents opposed military action, 58 per cent did not trust Mr Hollande to conduct it, and 35 per cent feared it could "set the entire region ablaze".
Register for free to continue reading
Registration is a free and easy way to support our truly independent journalism
By registering, you will also enjoy limited access to Premium articles, exclusive newsletters, commenting, and virtual events with our leading journalists
Already have an account? sign in
Join our new commenting forum
Join thought-provoking conversations, follow other Independent readers and see their replies