Tamir Rice shooting: Police release video showing 12-year-old being shot – seconds after officers arrive
Tamir was killed by police on Saturday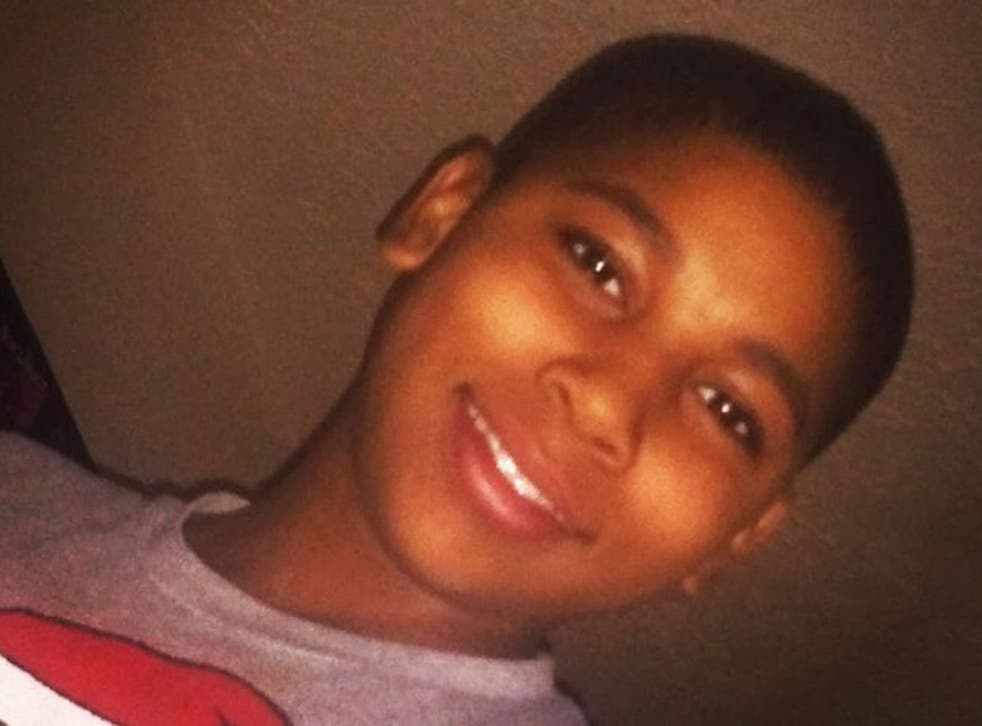 Video footage of Tamir Rice carrying a toy gun being fatally shot by police in the US has been released by the police.
The grainy, stuttering footage shows the child in a park in Cleveland before police arrive. At one point, he holds the pistol — which fired small plastic pellets — in two hands and points it at something out of the camera's view.
A police car is shown arriving and the 12-year-old boy, standing in a bandstand-style structure, is shot within seconds of the officers' arrival.
Cleveland Police said the gun looked like a real firearm and that officers ordered Tamir to show his hands three times before he was shot on Saturday. He died in hospital the following day.
Police said the video, which has no sound, was being released at the request of Tamir's family. They also released audio of an emergency call reporting a gun and a dispatcher directing officers to the scene.
"This is not an effort to exonerate. It's not an effort to show the public that anybody did anything wrong," Deputy Chief Edward Tomba said.
"This is an obvious tragic event where a young member of our community lost their life. We've got two officers that were out there protecting the public that just had to, you know, do something that nobody wants to do."
Mr Tomba refused to comment on what the officers said in their statements, including whether Tamir made any comments to them.
Police identified the responding officers as 26-year-old Timothy Loehmann, who was appointed to the force this year and was identified as the officer who fired at Tamir, and 46-year-old Frank Garmback, who has been with the department since 2008.
Police said Tamir was told to raise his hands three times, then reached into his waistband for what appeared to be a firearm. Police later determined it was an airsoft gun, which are sold with orange safety indicators at the end of the barrel, but police said Tamir's toy did not have one.
The shooting came as protesters across the United States decried a grand jury's decision not to indict a white police officer who killed an unarmed 18-year-old, who like Tamir was black, in Ferguson, Missouri.
Register for free to continue reading
Registration is a free and easy way to support our truly independent journalism
By registering, you will also enjoy limited access to Premium articles, exclusive newsletters, commenting, and virtual events with our leading journalists
Already have an account? sign in
Register for free to continue reading
Registration is a free and easy way to support our truly independent journalism
By registering, you will also enjoy limited access to Premium articles, exclusive newsletters, commenting, and virtual events with our leading journalists
Already have an account? sign in