14-year-old Muslim schoolboy Ahmed Mohamed arrested after taking homemade clock to school
The 14-year-old was questioned by five police officers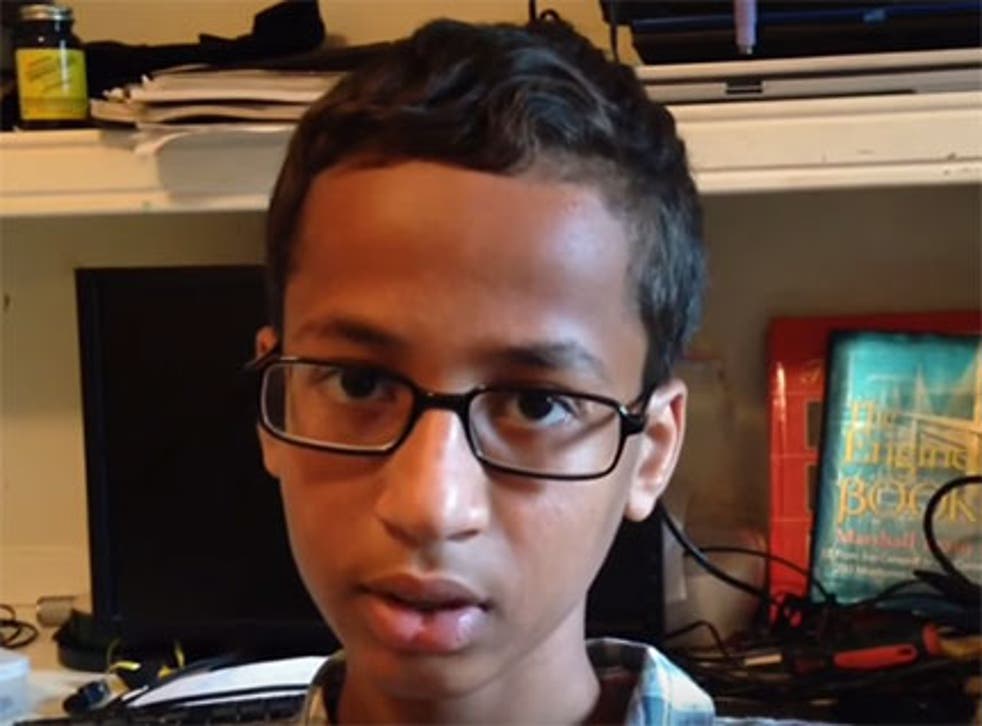 A teenager has been arrested and could face charges of making a hoax bomb after his teachers thought his homemade clock looked like an explosive device.
Ahmed Mohamed, 14, from Irving, Texas, made the clock - a circuit board and power supply wired to a digital display stuffed inside a hologram case – and bought it into school to show his engineering teacher.
Ahmad's engineering teacher said the clock was "nice" but advised him against showing anyone, the Dallas Morning News reported.
It was then confiscated during his English lesson because the alarm kept beeping. He told the outlet that his teacher said: "It looks like a bomb. I told her, 'It doesn't look like a bomb to me.'"
Later that day, he was taken out of his class by the principal and questioned by five police officers before being taken to a juvenile detention centre where he had his fingerprints taken. Mohamed, from the ninth grade, was suspended from school.
He said he was unable to contact his parents during the questioning. In a video from the Dallas Morning News, he said the incident made him feel like he "wasn't a human", but a "criminal".
Irving Independent School District Spokesperson Lesley Weaver issued the following statement, NBC-DFW reported: "We always ask our students and staff to immediately report if they observe any suspicious items and/or suspicious behaviour… We will always take necessary precautions to protect our students and keep our school community as safe as possible."
The boy's father and attorneys planned to meet with the police chief and principal on Wednesday, WFAA reported.
Police spokesperson James McLellan told Dallas Morning News: "We have no information that he claimed it was a bomb. He kept maintain it was a clock, but there was no broader explanation. It could reasonable be mistaken as a device if left in a bathroom or under a car. The concern was what was this thing built for? Do we take him into custody?"
The Council of American-Islamic Relations said it was investigating the incident.
Join our new commenting forum
Join thought-provoking conversations, follow other Independent readers and see their replies