Teenager, 13, drowns after riding inner tube through Las Vegas floodwater and getting trapped under vehicle
Father of teen who drowned in the Las Vegas flooding warns others that the waters are "not a joke or to be played with"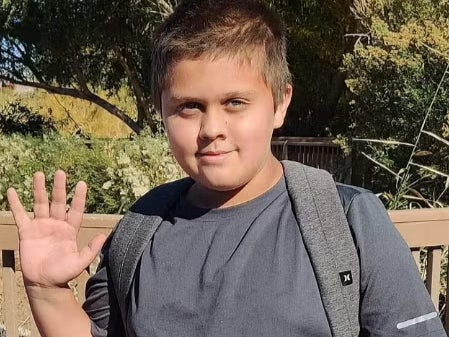 A 13-year-old boy has drowned after floating on an inner tube while playing in the floodwaters in the East Valley, Las Vegas.
The teen, identified as Ryan Taylor by the Clark County coroner's office, was found on Saturday at 3.17pm in the 5600 block of Boulder Highway, near Tropicana Avenue.
Local witnesses, such as Jennifer Webb said the teen turned a bend on the inner tube and fell into a 'gully'.
"He was waving at everybody like he was having a great time, and then he got around that curve over there," said Ms Webb to 3News.
Another resident nearby, named John Cruz, joined in to help try and rescue Mr Taylor who got trapped under the car. "I didn't know firsthand what was happening. The water is still flowing in hard, and I pushed through that and ended up helping bring that boy out," said Mr Cruz.
Officials said they found Mr Taylor injured near a busy intersection around eight miles east of the Las Vegas Strip. Once the paramedics arrived, they could not find a heartbeat.
"He reportedly had been floating on an innertube in floodwater when he was injured and taken to Sunrise Hospital," reported county officials on Monday.
Mr Taylor died of his injuries in hospital the following day.
Medical examiners ruled Taylor's death as an accidental drowning. According to his parents, he got stuck underneath a car when he drowned
"We wish to extend our sincere condolences to Ryan's family and friends," county officials said.
Mathew Taylor, the teen's father, said in a statement: "Words cannot express the pain of losing your child. We lost our firstborn, a friend to so many, and big brother to his brother and sisters. So quickly things can change from fun," he told KLAS.  "Floodwaters are not a joke or to be played with. Social media videos can make it seem safe, fun, or comical but [the] power of water is unimaginable. Thank you to the brave residents who helped lift the car and pull him out with me. And the first responders for all of their efforts. I'm sorry to everyone who knew my son. Please remember his life and memories and help him live on through our love."
Irene Reynaga, Mr Taylor's mother, set up a GoFundMe page in remembrance of her son to cover memorial costs.
"Ryan was such an amazing kid. He was so helpful with his siblings and had such a big heart," Ms Reynaga said on the fundraiser page.
The teen's death follows another suspected drowning of a man in the Las Vegas floodwaters over the weekend, Clack County reported to KTNV.
The man's body was found in a detention basin near Rainbow Boulevard and Westcliff Drive on Saturday morning.
Two days of torrential rainfall caused major flooding across streets in Las Vegas in the aftermath of a powerful storm that hit Nevada over Labour Day weekend.
Traffic has been backed up, there have been reports of power outages, as well as cars and homes have been completely flooded with muddy water.
Around 3.9 inches of rain caused flash floods all through the usually arid and dry desert.
Join our commenting forum
Join thought-provoking conversations, follow other Independent readers and see their replies