Texas man dies of cardiac arrest following attack by aggressive swarm of bees
Wife returned home from shopping to find husband 'covered'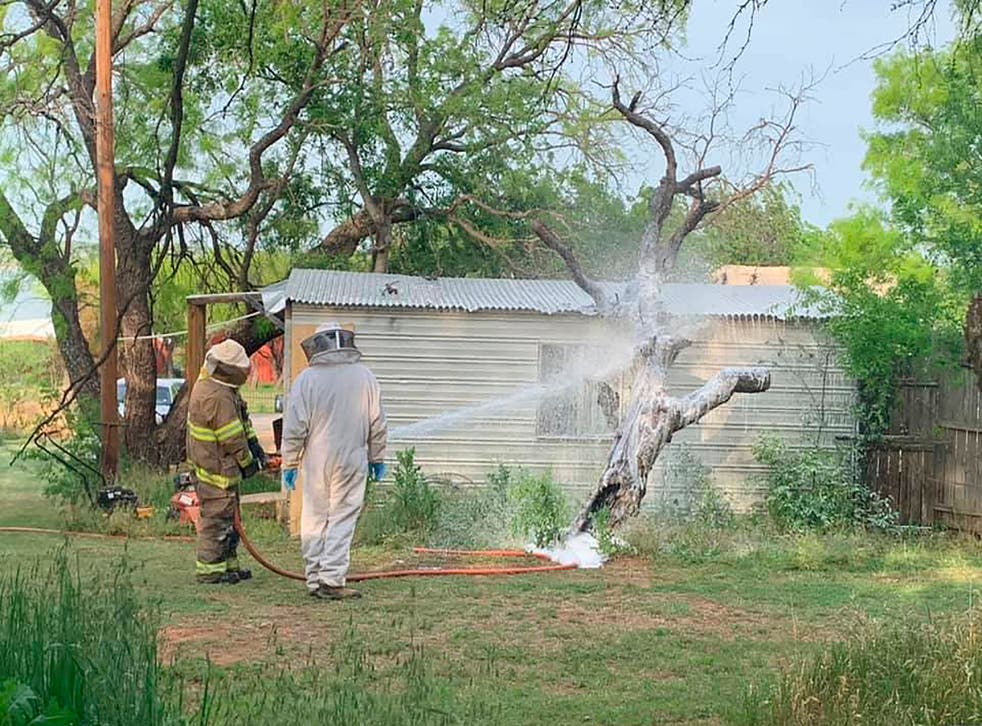 A Texas man died after an attack by an "aggressive" swarm of bees caused a cardiac arrest, authorities said.
Thomas Hicks, of Breckenridge, was mowing the lawn outside his home on Monday when he was repeatedly stung by the bees.
The Breckenridge Fire Department said first responders faced "very aggressive bee activity" when they arrived, with a man in "cardiac arrest".
Zoni Hicks, his wife, told TV station KTAB that she warned her 70-year-old husband not to approach a "back area, because those bees are back there".
She returned from shopping to find her husband screaming and covered in bees, and phoned 911.
"You couldn't even see his back and his whole head – he was just covered," she told the station. "I had to do CPR until they [first responders] got here."
She went on: "They worked on him for over an hour and they realised that they couldn't bring him back so I had to let him go."
The fire department said Ms Hicks was also stung and was transferred to a hospital, where she received treatment and was released.
The hive was located inside a hollow tree and destroyed by firefighters and a local bee handler, Joey Venecamp, authorities said.
Mr Venecamp told KTAB that the bees were "formerly docile" but were facing "a battle for the queen [bee]", so were acting aggressively.
The fire department, who afterwards advised nearby residents of the risks of bee attacks, said: "Please keep this family in your thoughts and prayers during this traumatic and sad day."
"First responders were faced with the daunting task of patient care and treatment during the attack and remained professional through the event," said the department. "Prayers again for this family."
Additional reporting by the Associated Press.