The mysterious group that's picking Breitbart apart, one tweet at a time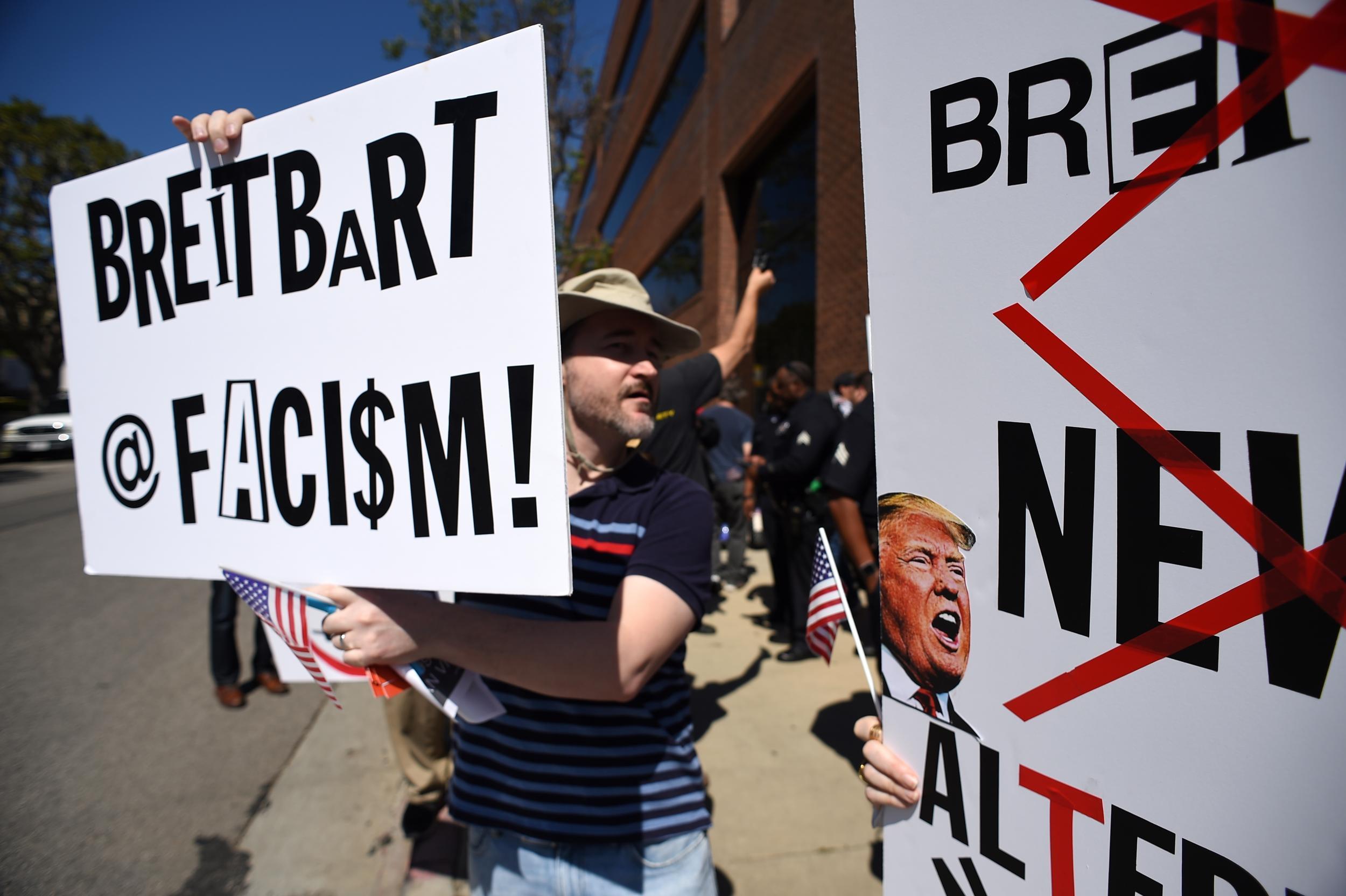 Hardly anyone paid attention last November when a strangely named Twitter account, Sleeping Giants, sent its first tweet into the digisphere. "Are you aware that you're advertising on Breitbart, the alt-right's biggest champion, today?" read the tweet, aimed at a consumer lending outfit called Social Finance. "Are you supporting them publicly?"
Within 30 minutes, Social Finance replied, tweeting that it would stop running ads on Breitbart.
It was, it turns out, the start of an odd, and oddly effective, social media campaign against Breitbart.com, the influential conservative news site headed by Stephen Bannon, President Donald Trump's former campaign chairman and ex-White House chief strategist.
Sleeping Giants is a mysterious group that has no address, no organizational structure and no officers. At least none that are publicly known. All of its leaders are anonymous, and much of what it claims is difficult to independently verify. A spokesman for the group wouldn't identify himself in interviews for this story.
But the group does have a singular purpose, pursued as relentlessly as Ahab chasing a whale: It aims to drive advertisers away from Breitbart. "We're trying to defund bigotry," the spokesman says.
Sleeping Giants' basic approach is to raise awareness among Breitbart's advertisers that they are, in fact, Breitbart advertisers. Many apparently don't know this, given that Web ads are often bought through third-party brokers, such as Google and Facebook. The brokers then distribute them to a network of websites according to algorithms that seek a specific target audience (say, young men) or a set number of impressions.
As a result of such "programmatic" buying, advertisers often are in the dark about where their ads end up. They can opt out of certain sites, of course, but only if they affirmatively place them on a blacklist of sites.
So when an ad appears on Breitbart, Sleeping Giants or one of its 109,000 Twitter followers and 35,000 Facebook followers flag the advertiser, often accompanied by an image of the sponsors' ad next to a Breitbart story.
The other day, for example, a Sleeping Giant follower tweeted at Country Inns, a hotel chain, informing the company that it was advertising on "the racist Breitbart site." Within a day, the company tweeted back: "Thank you for your concern . . . We have added Breitbart to our blacklist of ads."
This apparently happens a lot. Sleeping Giants' database lists nearly 2,900 companies that have declared Breitbart off limits since November - an astonishing figure, though one hard to confirm because some ad buys recur. Nevertheless, it's not an implausible number. During one 24-hour period, advertisers such as the air-conditioning manufacturer Rheem, transport operator Caltrain, Sutter Health Plus and Rose Medical Center of Denver all publicly acknowledged that they had blacklisted Breitbart in response to a Sleeping Giants tweet.
Breitbart, based in Los Angeles and Washington, D.C., says it doesn't know how many advertisers have blocked it, nor has it calculated how much revenue it has lost as a result. But the financial impact appears to be significant enough for Breitbart to take the group seriously.
"What they're doing is a very dangerous thing," said Alexander Marlow, Breitbart's editor in chief. "They are trying to impose corporate censorship and corporate segregation on us, and they're doing it anonymously." He disputes the group's underlying claim, calling it "a lie" that Breitbart promotes hate speech of any kind.
Marlow also takes issue with the group's mysterious origins, suggesting it could be funded by a "left-wing [political] group or a foreign entity." But he admits he doesn't know. It might just be "a bunch of trolls obsessed with Breitbart typing away in their basements," he said.
Closer to the latter description, Sleeping Giants' spokesman said. "We are doing this on a voluntary basis, so we need to keep our day jobs going," he said.
Hence, the anonymous nature of the group. The spokesman said some of its leading members are employed by companies that might not take kindly to their employees engaging in a prolonged activist effort. On the other hand, many of its thousands of supporters openly identify themselves on Twitter when tweeting at Breitbart's sponsors.
The group decided to single out Breitbart almost by happenstance. "It really happened as a reaction to Steve Bannon's rise," the spokesman said. "We weren't familiar with Breitbart at the time and [we] were obviously pretty shocked at the articles . . . To be honest, we weren't familiar with [other conservative] sites," so those weren't even considered, he said.
The group has raised about $1,500 from T-shirt sales and about $7,000 from an online fundraiser, but it otherwise operates with little overhead, he noted. "If I had a nickel for every claim that we're being funded by [liberal billionaire activist] George Soros, I'd be well off. It's crazy. There's not much need for funding. Tweeting is free."
Breitbart has fought back with limited success against what it has called "left-wing totalitarians." When Kellogg Co. became one of the first major sponsors to blacklist Breitbart last year, the site responded by launching a petition drive promoting a boycott of the breakfast-food maker. The petition has attracted some 500,000 signatures, according to Marlow. But it hasn't brought Kellogg back.
For its part, Sleeping Giants has been notably unsuccessful in getting three of the tech-world's giants to pay any attention to it at all.
Facebook and Google - two of the biggest Web-ad distributors - have never responded to Sleeping Giants, which wants the two companies to impose a blanket ban on serving ads to Breitbart. It has gotten the same non-reaction from Amazon.com. The giant Internet retailer has stayed mum in the face of an employee petition and protests at its annual meeting aimed at cutting its advertising on Breitbart (Amazon's chief executive, Jeffrey Bezos, owns The Washington Post). Sleeping Giants even raised money to put up a billboard outside Amazon's headquarters in Seattle in May reading, "Amazon, Stop Funding Bigotry" - all to no avail. (Amazon didn't respond to a request for comment).
Even if Sleeping Giants convinced every advertiser to avoid Breitbart, it seems unlikely to threaten its existence or even impose severe financial hardship. Breitbart is directly funded, and partially owned, by Robert Mercer, a tech-industry billionaire with an extensive portfolio of investments in conservative causes and candidates. Among others, Mercer has financed the campaigns of Republican Sen. Ted Cruz (Tex.) and Trump himself. It's likely he views Breitbart more as a media platform and political megaphone than as an ordinary business proposition.
Marlow, Breitbart's editor, says the threat posed by activist groups like Sleeping Giants isn't to just his company but to free speech generally. "No one [in the media business] has said anything to defend Breitbart," he said. "No one is standing up and saying, 'This is about Breitbart now. But it could be about us tomorrow.' "
Join our commenting forum
Join thought-provoking conversations, follow other Independent readers and see their replies