'The people of the Falklands are British' says Foreign Office as David Cameron rebuffs Argentina over 'colonialism' attack
Argentinian president launched a fierce attack on British "colonialism" and demanded the return of "Las Malvinas", in a letter published as an advert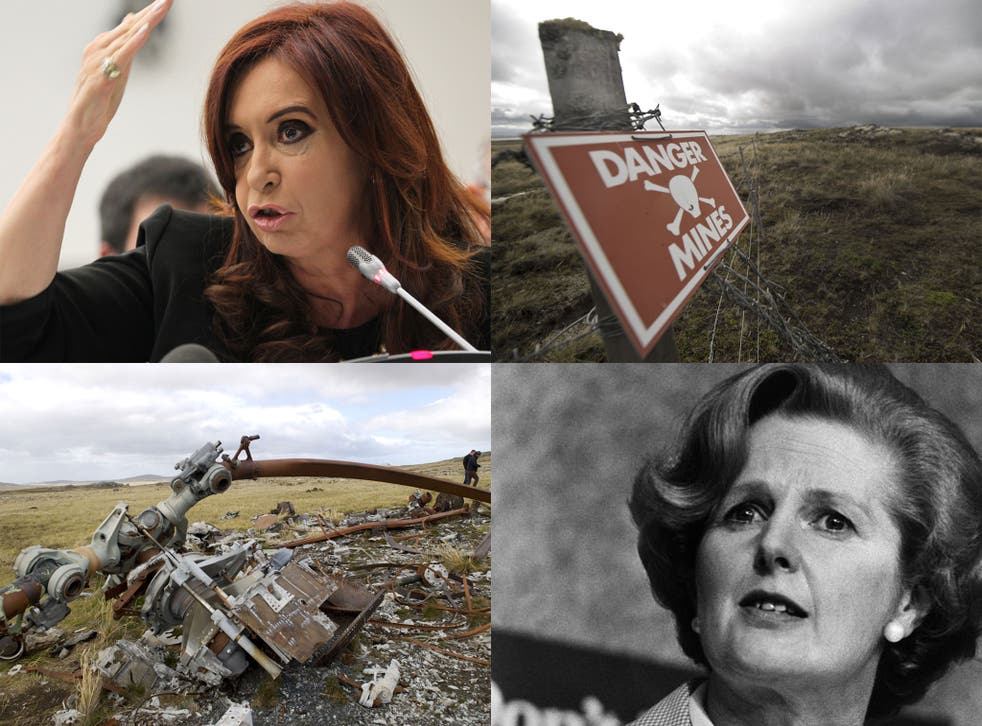 David Cameron has rebuffed a renewed demand by Argentina to hand back the Falklands, insisting the islands' residents had his "100 per cent backing" in their determination to remain British.
He hit back after the Argentinian president, Cristina Fernandez de Kirchner, denounced British "colonialism" and said the United Kingdom should start talks on the Falklands' sovereignty.
Mr Cameron retorted that she should listen to the result of a referendum to be held on the islands this year.
He said: "The future of the Falkland Islands should be determined by the Falkland Islanders themselves, the people who live there.
"Whenever they have been asked their opinion, they say they want to maintain their current status with the United Kingdom."
The Foreign Office also commented today using the micro-blogging site Twitter.
The official FCO account said: "The people of the Falklands are British and have chosen to be so. They remain free to choose their own futures and have a right to self-determination as enshrined in the UN charter. There are three parties to this debate, not just two as Argentina likes to pretend. There can be no negotiations on the sovereignty of the Falkland Islands unless and until such time as the islanders so wish."
Ms de Kirchner's intervention comes with relations between London and Buenos Aires at a low point.
She made several calls in 2012 – the 30th anniversary of the two countries going to war over the Falklands – for Britain to surrender the islands. She clashed face to face with the Prime Minister over the issue at the G20 summit in Mexico last June.
In response to toughening language from Buenos Aires, the Prime Minister chaired a meeting of the National Security Council last year to discuss the Falklands, explaining he wanted to "make sure our defences and everything else is in order".
Last month Argentina also denounced the decision by the Government to name a huge tract of Antarctica, which it also claims, in honour of the Queen.
Yesterday Ms de Kirchner intensified the diplomatic row in a letter to Mr Cameron in which pointed out the "Malvinas" were 14,000km (8,700 miles) from London and claimed Argentina was forcibly stripped" of the islands in 1833.
She wrote: "The Argentines on the islands were expelled by the Royal Navy and the United Kingdom subsequently began a population implantation process similar to that applied to other territories under colonial rule.
"Since then Britain, the colonial power, has refused to return the territories to the Argentine Republic, thus preventing it from restoring its territorial integrity.
"The question of the Malvinas islands is also a cause embraced by Latin America and a vast majority of peoples and governments around the world that reject colonialism."
Her argument was dismissed by Barry Elsby of the Falklands' Legislative Assembly. He said: "We are not a colony – our relationship with the United Kingdom is by choice."
Douglas Alexander, the shadow Foreign Secretary, said: "The Falkland islanders have an established right to self-determination as enshrined in the UN charter and it is right Britain continues to defend this right. "
Register for free to continue reading
Registration is a free and easy way to support our truly independent journalism
By registering, you will also enjoy limited access to Premium articles, exclusive newsletters, commenting, and virtual events with our leading journalists
Already have an account? sign in
Register for free to continue reading
Registration is a free and easy way to support our truly independent journalism
By registering, you will also enjoy limited access to Premium articles, exclusive newsletters, commenting, and virtual events with our leading journalists
Already have an account? sign in
Join our new commenting forum
Join thought-provoking conversations, follow other Independent readers and see their replies