The world has failed us: Ecuador ditches plan to save Amazon from oil drilling
Blow to climate change battle as President Correa tears up $3.6bn UN agreement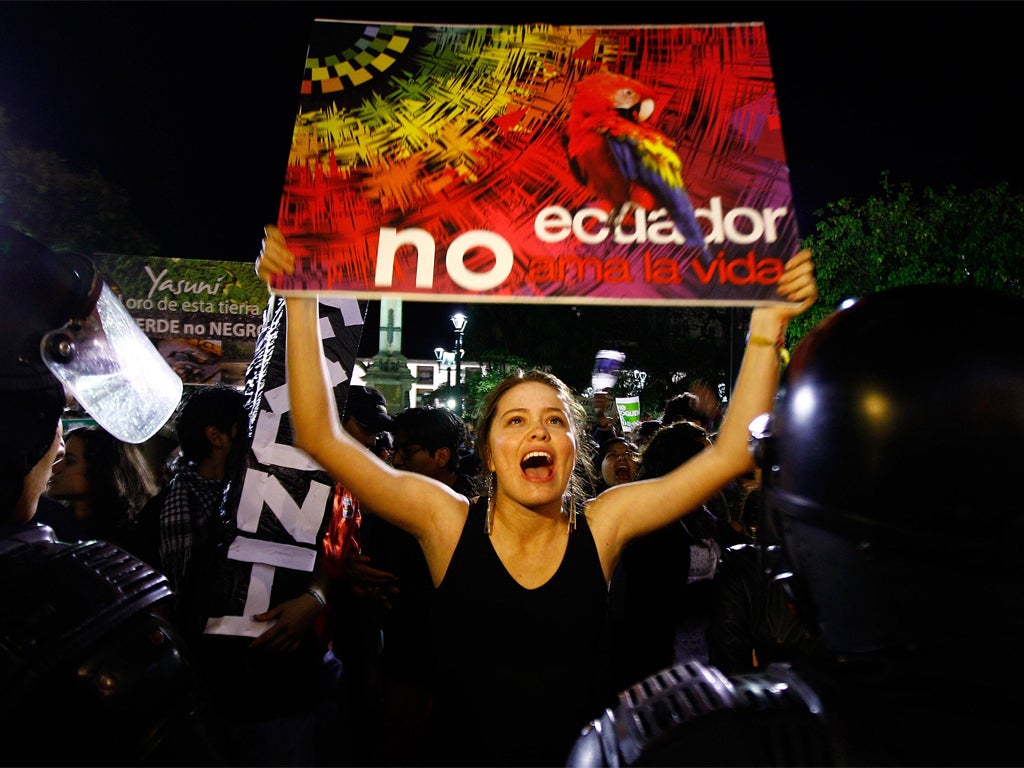 A ground-breaking scheme that would have preserved swathes of Ecuador's Amazon Rainforest has been abandoned after raising just $13m (£8.3m) of the $3.6bn it needed to operate.
In a development that human rights and environmental campaigners described as a "huge missed opportunity", President Rafael Correa has lifted a moratorium on drilling for oil in the remote Yasuni national park, which he had imposed in return for $3.6bn of compensation payments from wealthy governments.
However, three years after finalising the deal through the UN, Mr Correa is calling time on the trust fund set up after receiving pledges for just $116m – and only $13m of actual cash.
Dozens of protesters gathered in front of the presidential palace in Quito today to vent their frustration at the failure of the scheme, which campaigners said represented a blow in the global battle to combat climate change as well as for the 10,000 square mile National Park itself.
"The world has failed us," said President Correa in a nationally televised speech. He blamed "the great hypocrisy" of nations who emit most of the world's greenhouse gases. "It was not charity that we sought from the international community, but co-responsibility for climate change," he added.
Yasuni is home to two indigenous tribes living in voluntary isolation and has been categorised by the UNESCO as a world biosphere reserve and one of the most biodiverse areas in the world. A single hector of Yasuni contains 644 species of tree, more than in the whole of North America.
SOS Yasuni, a campaign group for the national park, criticised President Correa's decision, saying the speed at which he has dismantled the agreement and awarded a drilling concession without public consultation "seems designed to ensure as quick a start to the oil exploration as possible".
Mr Correa had failed to appreciate the scope of the initiative, which was "not an isolated, one-off technical proposal, but rather a pathway, a transition. It embodied a proposal for genuine civilisational change," the group said in an open letter to the president. "This is fundamentally an ethical proposal that calls into question a model of extraction that destroys ecosystems, cultures and other models of production and consumption," a group spokesman said.
The $3.6bn the president sought represents half of the $7.2bn expected to be generated over the next decade from the 846 million barrels of heavy crude estimated to lie in the Yasuni area, representing 410 million tonnes of carbon emissions.
Although he sought to position himself as a global environmental champion by agreeing to effectively write off half the profits he could have made from Yasuni oil production, President Correa is not viewed as being particularly green in his home country. Oil production and mining are common elsewhere in Ecuador, including the Amazon.
"It's clear that oil exploration will be negative for the area," said Nick Molho, head of energy and climate policy at WWF UK, adding: "The lack of funding raised by the Ecuadorian Government is a stark reminder of the inadequacy of current political action to tackle climate change. The world's most developed economies must go beyond positive rhetoric and show substantial financial commitment to support the transition towards a low-carbon world economy."
Preserving the trees now under threat from oil production would have helped to curb climate change, since forests are a major carbon sink, absorbing the carbon dioxide that most scientists agree is a key contributor to global warming. Furthermore, chopping down those trees is doubly damaging to the environment because deforestation releases huge amounts of carbon dioxide into the atmosphere as well as removing its capacity to absorb fresh emissions.
But while this deforestation would play a small role in exacerbating climate change, the much bigger loss is that the scheme's failure means it is far less likely to become a major weapon against global warming by being repeated elsewhere.
"People have really missed a trick here," said Patrick Alley, founding director of Global Witness, the human rights and environmental group.
"It could have signalled a new way of thinking and it failed because global leadership isn't putting nearly enough thinking into this issue."
Join our commenting forum
Join thought-provoking conversations, follow other Independent readers and see their replies