Republican senator attacks Trump: There is no 'realistic comparison' between antifa and white supremacists
Tim Scott speaks out after the US President again blamed both right-wing extremists and left-wing counter protestors for the deadly clashes in Charlottesville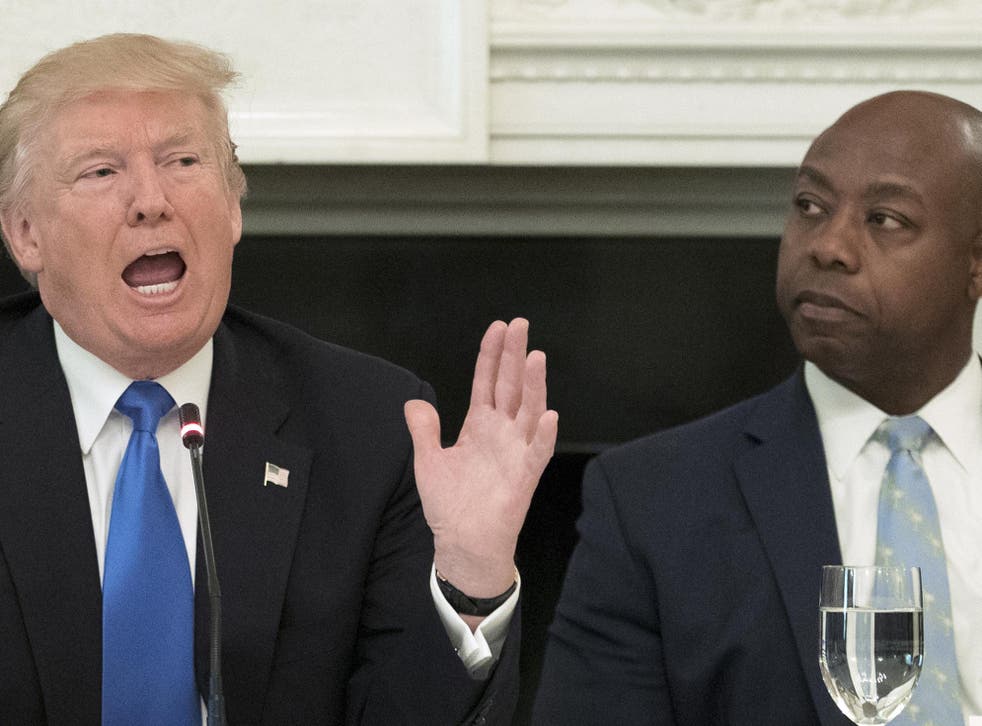 A senator from Donald Trump's Republican Party has lashed out at the US president and and insisted there was "no realistic comparison" between white supremacists and anti-fascists who clashed in Charlottesville.
Mr Trump was roundly condemned when he failed to equivocally denounce the ultra-right extremists groups who were blamed for the deadly violence that left one dead and 19 injured.
Senator Tim Scott admitted there were "bad" elements among the leftist demonstrators but it was wrong to liken them to right-wing radicals who "have been killing black Americans for centuries".
He lashed out after Mr Trump doubled down on his comments he made about there being blame on "all sides" for the violence in Charlottesville.
It came after the pair had a showdown meeting after Senator Scott accused the President of losing his "moral authority" over his remarks after the trouble last month.
Mr Trump told reporters on Air Force One that the pair had a "great talk" but stoked further tensions when he again accused "bad dudes" on both sides for the clashes.
Mr Trump said: "We had a great talk. I think especially in light of the advent of Antifa, if you look at what's going on there. You have some pretty bad dudes on the other side also, and essentially that's what I said.
World news in pictures

Show all 50
"Now, because of what's happened since then with Antifa — you look at really what's happened since Charlottesville, a lot of people are saying and people have actually written, 'Gee, Trump might have a point.' I said, 'You've got some very bad people on the other side also,' which is true."
Senator Scott, the Republican's only black senator, hit back at Mr Trump over his comments.
"In yesterday's meeting, Senator Scott was very, very clear about the brutal history surrounding the white supremacist movement and their horrific treatment of black and other minority groups," Senator Scott said in a statement. "Antifa is bad and should be condemned, yes, but white supremacists have been killing and tormenting black Americans for centuries."
"There's no realistic comparison. Period," he added.
Senator Scott said he was "encouraged" after his meeting with Mr Trump – which he called for an opportunity to explain "the real picture" around the deadly violence in Charlottesville last month.
"It has to do with the affirmation of hate groups who over three centuries of this country's history have made it their mission to create upheaval in minority communities as their reason for existence," Senator Scott said.
Join our new commenting forum
Join thought-provoking conversations, follow other Independent readers and see their replies