Toronto Mayor Rob Ford steps down from election battle after discovering tumour
Ford's brother, Doug, will take up scandal-rocked election campaign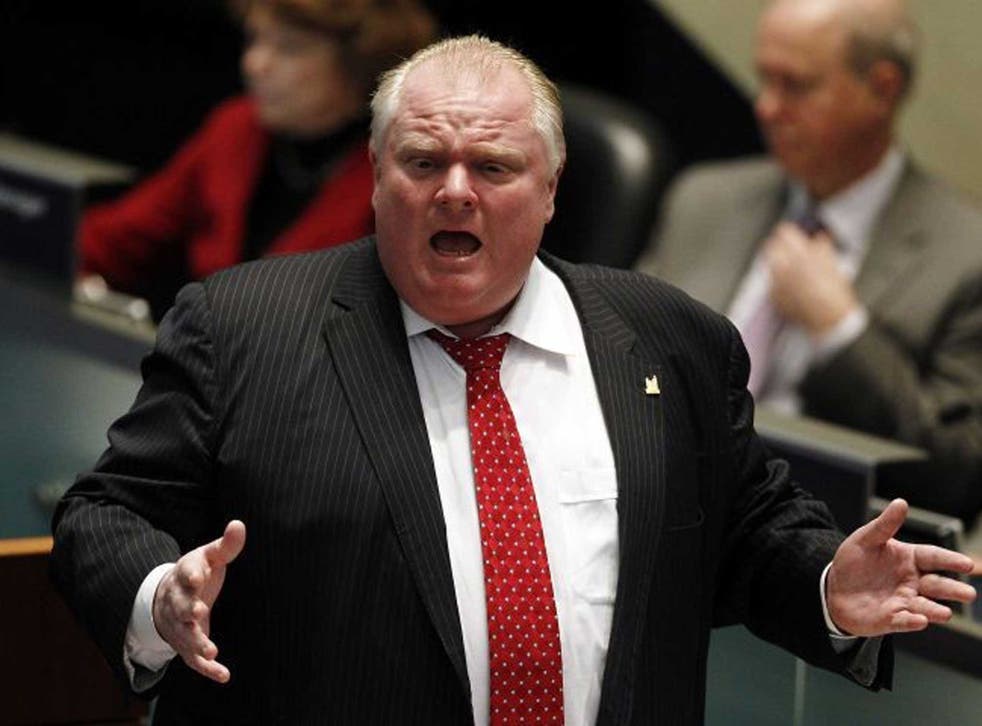 Controversial Toronto Mayor Rob Ford has pulled out of next month's mayoral election after being diagnosed with an abdominal tumour.
Up until this point the 45-year-old had stubbornly refused to step down from office despite admitting last year that he had smoked crack cocaine while Mayor and becoming embroiled in a number of harmful allegations.
Ford's brother, Doug, will now take up his scandal-rocked election campaign while Ford runs for a spot on the city council representing his home suburb of Etobicoke.
The change to the ballot came less than half an hour before a deadline for the register of candidates.
"My heart is heavy when I tell you that I'm unable to continue my campaign for re-election as your mayor," Ford said in a statement.
"I love our city and I love being your mayor. It has been an honour and a privilege to serve you."
The self-styled everyman is said to have complained of stomach pains before being admitted to hospital on Wednesday. It is not yet clear whether the tumour presents a cancer risk.
The spotlight first fell on Ford when in May last year when a video emerged on US website Gawker apparently showing him smoking a crack pipe, reported by the Toronto Star at the time.
The embattled Mayor denied the existence of the video for months but finally admitted to using the substance after police announced they had obtained a copy of the footage.
Ford has already been stripped of most of his powers by the city council.
His brother is widely considered to be the less charismatic of the two and has engaged in his own high-profile spats, including against renowned author Margaret Atwood.
He claimed "I don't even know her. If she walked by me, I wouldn't have a clue who she is," when the author defended library programmes under threat from his brother's proposed budget cuts.
Emmanuel Caisse, president of PRquant, a media and political analysis firm, said most of Doug Ford's media interactions had been "negative".
"Many times, the word 'bully' comes in when describing his behaviour. But while Rob did get called the same name, his image was softened by the constant stream of smiling selfies with Toronto residents, the many stories from happy residents who had an issue personally fixed by the mayor," he said. "Doug Ford doesn't have that."
The mayoral elections will take place on October 27.
Additional reporting by PA
Join our new commenting forum
Join thought-provoking conversations, follow other Independent readers and see their replies