Trayvon Martin to be awarded posthumous degree by Florida University
Bachelor of science degree in aeronautical science reflects 17-year-old's dream of becoming pilot before he was killed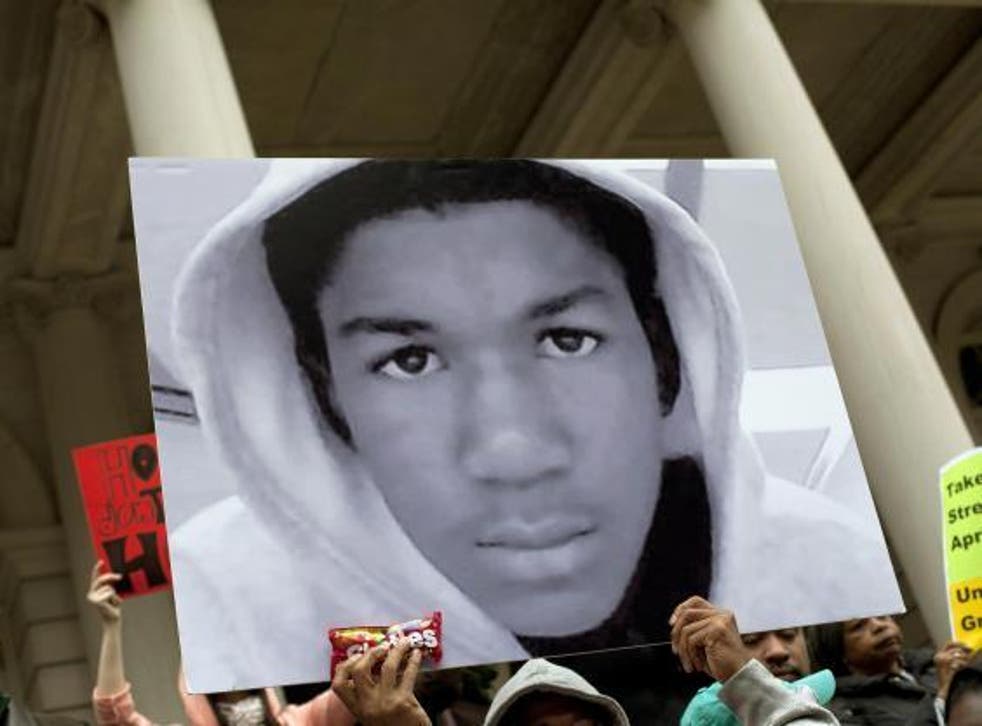 Trayvon Martin, the Florida teenager whose shooting death by a neighbourhood watch volunteer in 2012 prompted a national debate over racial profiling and civil rights, will be awarded a posthumous university degree in aeronautical science that reflects the 17-year-old's dream of becoming a pilot before he was killed.
Florida Memorial University announced this week that it would present a bachelor of science degree in aeronautical science, with a concentration in flight education, on May 13 to Martin's parents during its commencement ceremonies "in honour of the steps he took during his young life toward becoming a pilot."
His mother, Sybrina Fulton, who graduated from the university with an English degree, and his father, Tracy Martin, will accept the award for their son. The two have turned to advocacy work for victims of violence and their families, establishing the Trayvon Martin Foundation, a social justice organisation with headquarters on the campus.
"Sybrina, our alum, epitomises strength and dignity as she uplifts other victims of violence while effecting change for a more equal and just society," said Dr. Roslyn Clark Artis, the university president, in the statement announcing the award.
The university, in Miami Gardens, Florida, came up with the idea to give him a degree because this year is the fifth anniversary of his death, and, had Martin lived and completed university in a four-year program, he would have graduated this spring, Ceeon Smith, a university spokeswoman, said an interview Friday.
Fulton thanked the university on her Twitter account for the degree. In an interview Friday, she said that the experience would be emotional but that she hoped it would inspire other students to pursue their academic dreams.
"Of course anybody can imagine that I would much rather be sitting in the audience and watching Trayvon walking across the stage and getting his bachelor's degree," she said. He wanted to continue his education either as an aviator or mechanic, she added. "He had not decided which one he wanted to do. That was near and dear to his heart, and it is absolutely something near and dear to Tracy's heart and my heart."
Martin was shot dead by George Zimmerman, a neighbourhood watch volunteer, on Feb. 26, 2012, at a gated community in Sanford, Florida. Martin was unarmed at the time, and his death — and the initial absence of charges against Zimmerman — prompted a nationwide outcry.
He was ultimately charged with second-degree murder but was acquitted after a jury in 2013 rejected the prosecution's contention that he had deliberately pursued Martin because he assumed the hoodie-clad teenager was a criminal and instigated a fight. Zimmerman said he shot Martin in self-defence after the teenager knocked him to the ground, punched him and slammed his head repeatedly against the sidewalk.
Martin's death inspired documentaries, films, and books that touched on racial bias and gun violence, and put a spotlight on Florida as a symbol of self-defence laws.
In pictures: Protests across America following acquittal of George Zimmerman in Trayvon Martin case

Show all 24
Martin's love for flying was documented in news features after his death, including one in The Tampa Bay Times that said he had attended the George T. Baker Aviation School, and was inspired by his uncle, Ronald Fulton, who had a brief career in aviation, the newspaper report said.
Sybrina Fulton said that Martin had studied with Barrington Irving, the first black person to pilot a plane around the world solo in 2007, in after-school and summer programmes.
Florida Memorial University is a private, historically black institution with undergraduate and graduate degree programmes. Established in 1879, it has about 1,400 students.
The New York Times
Join our new commenting forum
Join thought-provoking conversations, follow other Independent readers and see their replies