Trillion-dollar war in Afghanistan achieved its goal, says Barack Obama
Afghanistan is 'not going to be a source of terrorist attacks again,' says US president
Tim Walker
Friday 26 December 2014 19:09 Comments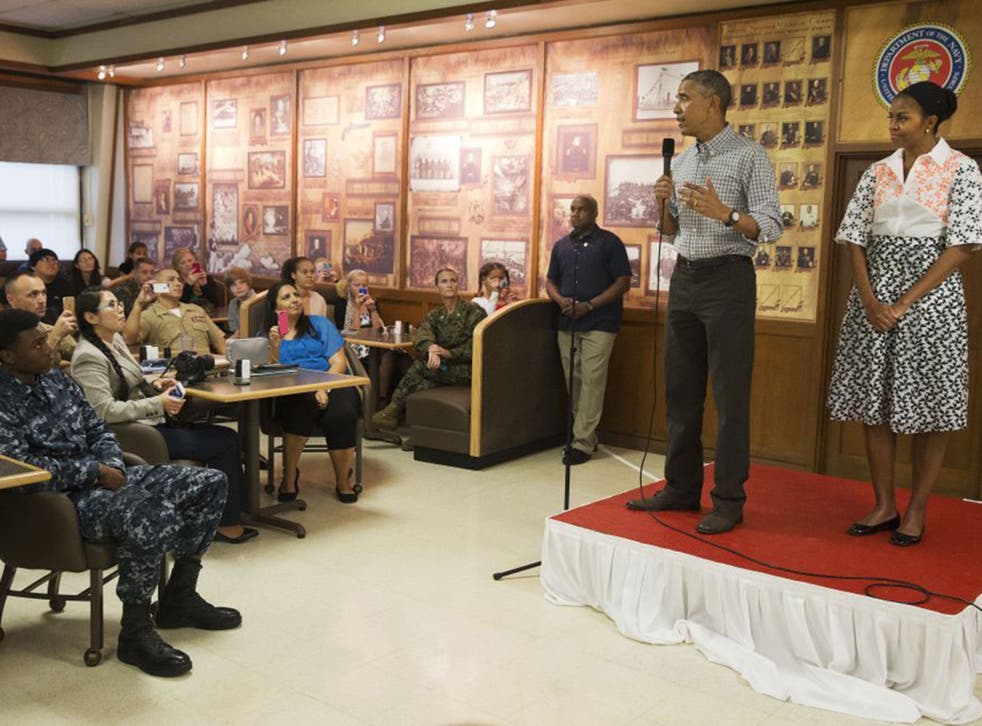 A week before the official end of the long US combat mission in Afghanistan, President Barack Obama has thanked troops at a Marine Corps base in Hawaii, telling them that the conflict has made the world "safer", and that Afghanistan is "not going to be a source of terrorist attacks again."
The President and his wife, Michelle, interrupted their annual holiday to visit troops and their families at the ocean-front base in Kanoehe Bay on Christmas Day, where Mr Obama told an audience of more than 400 people: "Because of the extraordinary service of the men and women in the American armed forces, Afghanistan has a chance to rebuild its own country." Mr Obama has long promised to bring the war in Afghanistan to a close, and his confirmation that the combat mission was almost over was greeted by the traditional Marine cheer of "Hooah".
Mrs Obama has focused her attention on military families, and, in a joint Christmas radio address with her husband, she said: "As our troops continue to transition back home... it's up to all of us to serve them as well as they have served us."
Camp Bastion: Last soldiers leave military base

Show all 9
US troops first arrived in Afghanistan less than a month after the 9/11 attacks on New York and Washington DC, unseating the Taliban before bedding in for a conflict, which has claimed the lives of more than 2,000 US military personnel. Some 13 years later, and after spending more than $1 trillion on the war, the US is preparing to pull most of its combat troops out before the end of this year.
In 2010, there were 140,000 US and Nato troops in Afghanistan. By 2015 there will be just 13,500, including around 10,000 Americans, who will move from combat roles to training and battlefield support for the Afghan security forces. But 2014 has been the bloodiest year of the entire war, with Afghan military casualties rising in line with their increased responsibility.
More than 4,000 Afghan soldiers and police have been killed in the past 12 months. Insurgent groups have occupied large swathes of Afghanistan, raising fears that Islamic radicals may reclaim control when the US and its allies exit.
Register for free to continue reading
Registration is a free and easy way to support our truly independent journalism
By registering, you will also enjoy limited access to Premium articles, exclusive newsletters, commenting, and virtual events with our leading journalists
Already have an account? sign in
Join our new commenting forum
Join thought-provoking conversations, follow other Independent readers and see their replies